San Francisco crush slumping Arizona
The San Francisco 49ers flexed their muscles with a dominant 24-3 road win over the slumping Arizona Cardinals on Monday to stretch their lead at the top of the National Football Conference West to two games.
In a matchup of two stout defenses, it was the 49ers (6-2) who lived up to their reputation by holding Arizona (4-4) to just seven yards rushing and handing them a fourth straight defeat.
San Francisco quarterback Alex Smith rebounded from his four interceptions in the previous two games to toss three scores without a turnover. He also completed 18 of his 19 pass attempts to keep the visiting team marching forward.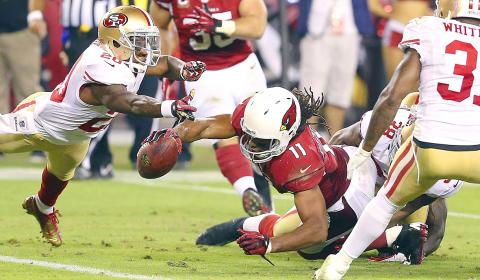 Larry Fitzgerald of the Arizona Cardinals, center, is denied a last-second touchdown by the San Francisco 49ers defense in their NFL game in Phoenix, Arizona, on Monday.
Photo: Reuters
"He was on fire," 49ers coach Jim Harbaugh said of his signal-caller. "We were running the ball extremely hard and physical. [Receivers] Michael Crabtree and Randy [Moss] had some great runs after the catch."
Crabtree caught a pair of touchdowns in the first half as the 49ers ran out to a 17-0 lead, before Moss broke the game open with a 47-yard reception for a score in the third quarter.
Arizona quarterback John Skelton was sacked four times and the team's running game simply failed to get going on another forgettable day for the Cardinals.
"It was a big test for us tonight and everyone saw how it went," Cardinals coach Ken Whisenhunt said. "It was disappointing to say the least. We have things to fix and we have the guys to do it. We're going to go back to work."
Arizona were one of the surprise stories of the season after starting 4-0, but their Cinderella story quickly took a dark turn.
Skelton was injured in the season opener and his replacement Kevin Kolb went down two weeks ago. The Cardinals have found little offense this campaign and Monday was no different.
Pro Bowl receiver Larry Fitzgerald suffered a head injury in the first half and returned to the game only after taking a concussion test. He finished with five catches for 53 yards as Skelton threw for 290 yards and one interception.
The 49ers set up their big passing day with 112 hard-fought yards on the ground.
However, it was Moss who provided the highlight of the night when he caught a short pass, sidestepped two defenders and raced down the sideline for a score.
It was the 156th touchdown of the 35-year-old's NFL career, putting him level with Terrell Owens in fourth place on the all-time list.
"He's still got it," Smith said. "He shows flashes here and there, it was great to see tonight."
Comments will be moderated. Keep comments relevant to the article. Remarks containing abusive and obscene language, personal attacks of any kind or promotion will be removed and the user banned. Final decision will be at the discretion of the Taipei Times.