NFL: Buccaneers bounce back to upset rampant Vikings
LESSON LEARNED: After giving up a big lead against the Saints last week, the Buccaneers rebounded, with rookie running back Doug Martin notching up two touchdowns
The Tampa Bay Buccaneers upset the Minnesota Vikings with an impressive 36-17 win at Mall of America Field in Minneapolis on Thursday night, their first road win since September last year.
Having given up a big lead against the New Orleans Saints last week, the Buccaneers ensured there would be no repeat by keeping the foot on the gas after rushing out to an early 13-0 advantage.
Quarterback Josh Freeman completed 19 of 36 passes for 262 yards and three touchdowns, but it was rookie running back Doug Martin who caught the eye, notching up two touchdowns with 135 yards on the ground and 79 yards from three pass receptions.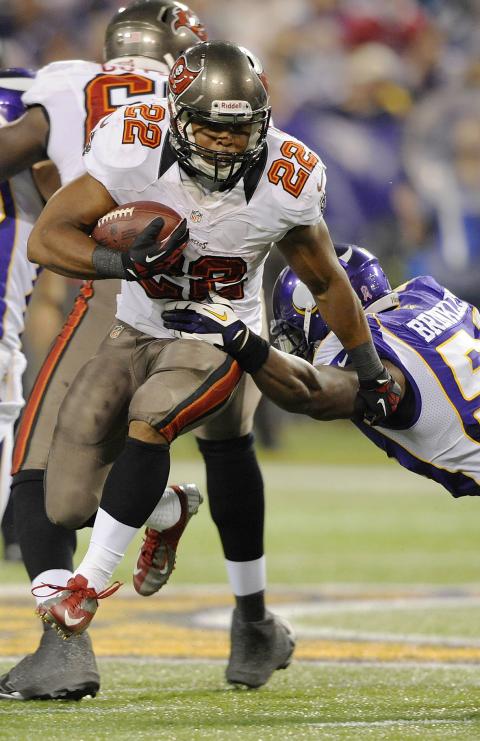 Doug Martin of the Tampa Bay Buccaneers, second left, avoids a tackle by Jasper Brinkley of the Minnesota Vikings during the first quarter of their game on Thursday at the Hubert H. Humphrey Metrodome in Minneapolis, Minnesota.
Photo: AFP
"It feels nice, but I just did my job," Martin said. "We just wanted to come out and play good Buc football and that includes running the ball."
"The line did a good job of opening holes and staying on blocks as well as the receivers staying on blocks. It opened up nicely for me," he added.
Freeman paid special tribute to Martin, but made sure to spread the love to all of his teammates, who improved to 3-4 to jump to second in the NFC South.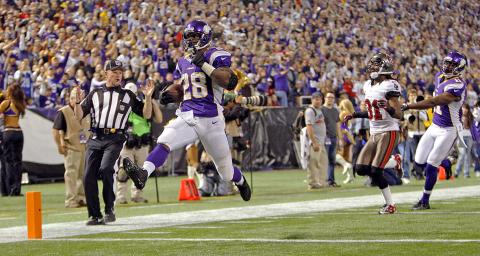 Minnesota Vikings running back Adrian Peterson runs into the endzone for a 64 yard touchdown against the Tampa Bay Buccaneers in the second half of their NFL game in Minneapolis, Minnesota, on Thursday.
Photo: Reuters
"Doug is a gamer, I mean he practices extremely hard and prepares extremely hard, but when the game comes the moment is never too big for Doug. He is a tremendous addition to our team," Freeman said.
"I thought it was great how our guys rebounded after the tough loss last Sunday. We lost a close one to a divisional rival in the Saints and it took a lot out of us, but the way the guys came back and prepared throughout the week, and ultimately came out tonight and executed, I've got to give it up to my teammates," he added.
A win for the Vikings would have given them a sixth victory in eight games and kept up their momentum in an extremely tight race for the NFC North lead.
Now at 5-3, the Vikings remain behind the Chicago Bears (5-1) and have given the Green Bay Packers (4-3) a chance to catch them in second place, should they beat Jacksonville at home tomorrow.
"It's really a tough loss for us," Vikings head coach Leslie Frazier said.
"We definitely did not play good football in any phase. Credit to what Tampa did, but we didn't do a good job. I didn't do a good job in getting our guys prepared for a game like this and we did not play well. We have to learn from it," Frazier added.
To make matters worse, Minnesota cornerback Chris Cook left the field early with a suspected broken wrist, which could rule him out for the season.
Comments will be moderated. Keep comments relevant to the article. Remarks containing abusive and obscene language, personal attacks of any kind or promotion will be removed and the user banned. Final decision will be at the discretion of the Taipei Times.