Isolated and empty Formula One circuit fails to woo crowds
Red Bull team principal Christian Horner saw the Yeongam circuit in a rosier light than others after Sebastian Vettel won the Korean Grand Prix, but Formula One still has a job on its hands to get local fans to make the long journey to the isolated track.
"I've always said it's a lovely place. We should have another 17 rounds here," Horner joked to reporters in the Formula One team's hospitality area.
The race is back on the calendar next year after speculation that it might be dropped, but the sport would seem to have a hard sell to persuade South Koreans to flock to the circuit in significant numbers.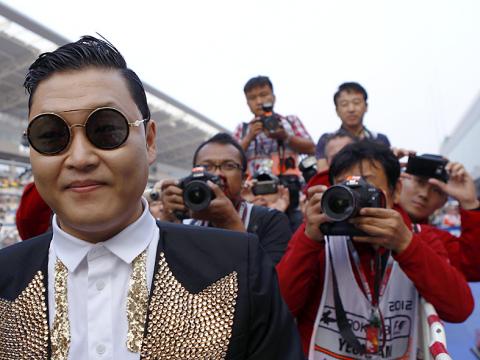 South Korean singer Psy poses for photographers before the South Korean F1 Grand Prix in Yeongam on Sunday.
Photo: Reuters
Organizers said 62,000 turned out on Sunday, when rapper Psy waved the chequered flag and also performed his Gangnam Style pop hit after the race, but to others in the paddock that appeared an exaggeration.
The circuit is 400km south of the capital Seoul, which would be a more popular choice of venue, near the industrial port city of Mokpo and one of the world's major shipbuilding centers. By bullet train, the journey takes just over three hours.
The traveling Formula One family is put up mainly in motels, some of them more used to a clientele of amorous couples checking-in after nightfall, in a city center full of bright lights and bars.
The contrast with Japan's grand prix at Suzuka, where local Formula One fans turn out in force and wait patiently even in the rain at the entrances to catch a glimpse of arriving drivers, a weekend earlier was marked.
"Suzuka is one of the best circuits for the crowd and atmosphere. Here in front of the pits and paddock, the grandstand is not that busy," McLaren's Jenson Button told reporters after Saturday qualifying.
"Out at turn three there are a lot more people in the grandstands ... but for sure it's not one of the busiest grand prix and in terms of atmosphere it's not the same," the Briton added.
Yeongam is not alone in that, with the 20-race calendar taking in parts of the world without a motor racing heritage, but with strong economies and a desire to be noticed on the international stage.
India is next up, where ticket sales are reported to be considerably slower than when the race near New Delhi made its debut last year, followed by Abu Dhabi and a new racetrack in Austin, Texas.
The South Korean circuit facilities are modern and impressive, even if strips of astroturf were ripped up by cars in Sunday's race, but there is little else for fans to watch other than the main event.
A support race on Sunday kept the media center amused with a range of cars of various sizes and capacity on track together.
"This facility is good, the track is good and interesting in many ways, but Formula One has to work harder if we are going to get people to drive four or five hours out of Seoul to come and see it," McLaren principal Martin Whitmarsh said.
"This doesn't have a natural catchment area of fans so you've got to make a fairly compelling case if people are really going to come. With this economy, this culture, we can make a success of it here but we've got to probably think of the formula and how we are going to do that," he added.
Comments will be moderated. Keep comments relevant to the article. Remarks containing abusive and obscene language, personal attacks of any kind or promotion will be removed and the user banned. Final decision will be at the discretion of the Taipei Times.