Sachin Tendulkar to receive the Order of Australia
Indian cricket great Sachin Tendulkar is set to receive a rare civic honor from longtime on-field rival Australia.
Prime Minister Julia Gillard yesterday said during her first visit to India as Australia's leader that Tendulkar was to be made an honorary member of the Order of Australia.
The diminutive 39-year-old batsman has scored more runs in Test and limited-overs cricket than any other player and is adored by fans in India and across the cricket world. He already has received the highest praise possible for a cricketer in Australia, with the great batsman Don Bradman reportedly telling his wife before he died that Tendulkar reminded him of himself.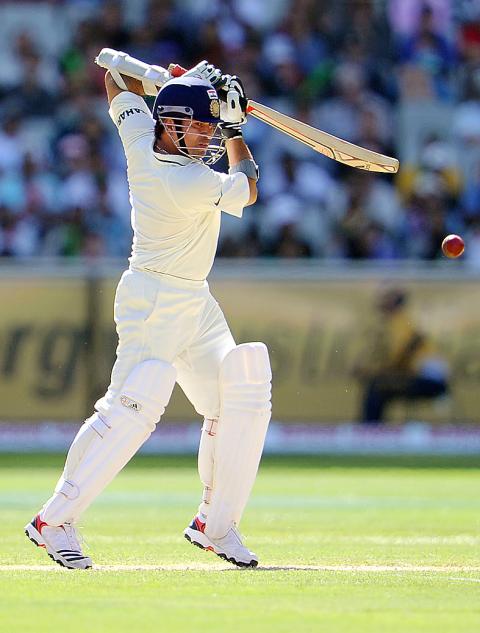 India's Sachin Tendulkar bats during a game against Australia in Melbourne, Australia, on Dec. 27 last year.
Photo: AFP
Gillard told reporters Tendulkar helped strengthen the bond between Australia and India. Only three other non-Australian cricketers have received the award.
Tendulkar was in South Africa for the Champions League Twenty20 tournament during Gillard's visit, and is expected to receive the award later from another Australian minister.
The "Little Master" — as Tendulkar is affectionately known — has played Australia more than any other cricketer, and has toured the country five times for Test series dating back to 1991.
He has played 190 Test matches since his debut in 1989 and scored 15,533 runs including 51 centuries. In 463 limited-overs internationals, he has scored 18,426 runs and his 49 centuries in that format makes him the only batsman to have 100 international hundreds.
CROWE HAS CANCER
AFP, WELLINGTON
Former New Zealand captain Martin Crowe has been diagnosed with cancer, leaving his family "in shock," the batting great's manager has revealed.
Crowe, 50, was still coming to terms with the news he had the ancer lymphoma, his manager Louise Henderson said.
"The family is still in shock and obviously dealing with the understanding that life as they know it for the unforeseeable future is different," she said in a statement late Monday.
Henderson did not provide details of how advanced Crowe's illness was, saying the family had requested privacy.
Crowe, a cousin of Hollywood actor Russell Crowe, played 77 Tests for the Black Caps, averaging 45.36 with the bat. His 17 Test centuries is still a New Zealand record.
Comments will be moderated. Keep comments relevant to the article. Remarks containing abusive and obscene language, personal attacks of any kind or promotion will be removed and the user banned. Final decision will be at the discretion of the Taipei Times.