Injuries torment Ravens' Super Bowl dreams
The Baltimore Ravens' Super Bowl hopes were dealt a massive blow as Ray Lewis and Lardarius Webb were both ruled out for the rest of the National Football League (NFL) season with injuries, the team said on Monday.
Lewis, a 13-time Pro Bowl linebacker, tore his right triceps in Sunday's 31-29 victory over the Dallas Cowboys while Webb, regarded as Baltimore's top cornerback, suffered an anterior cruciate ligament tear in his left knee during the same game.
"I'm disappointed for those guys," Ravens head coach John Harbaugh told reporters after announcing the season-ending injuries. "It doesn't matter how I or someone else feels about it. It's their thing. These are guys that put so much heart and soul into what they do."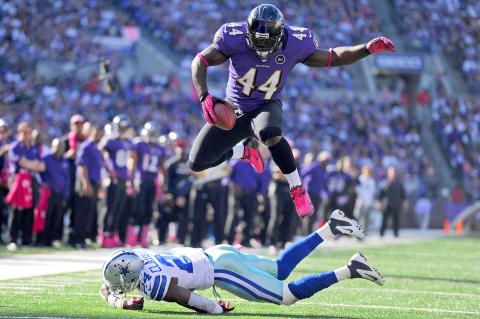 Baltimore Ravens fullback Vonta Leach leaps over the Cowboys' cornerback Morris Claiborne at the M&T Bank Stadium in Baltimore, Maryland, on Sunday.
Photo: AFP
In NFL veteran Lewis, the Ravens will be missing a player viewed as their "heart and soul" who has led the team in tackles in every season when he has been healthy.
He played in just five games in 2002 due to a shoulder injury, six games in 2005 because of a hamstring injury and sat out four games last year with a toe injury.
"I admire Ray Lewis," Harbaugh said. "I've said that many times. I think everybody in this room does. Everybody that knows him feels that way."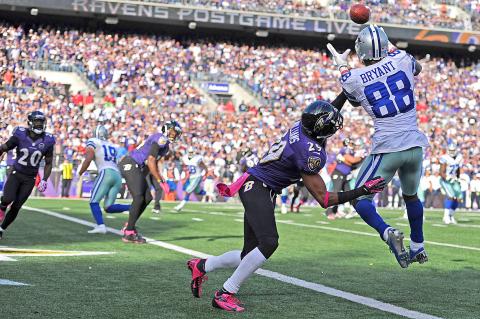 Dallas Cowboys wide receiver Dez Bryant pulls in a pass over the Baltimore Ravens' Cary Williams at the M&T Bank Stadium in Baltimore, Maryland, on Sunday.
Photo: AFP
Asked whether the 37-year-old linebacker could be forced into retirement by his latest injury, Harbaugh replied: "You know I'm not going to make any comment on that. That's for Ray to speak on. I look forward to seeing what he says about that."
The Ravens, who came one win shy of a Super Bowl berth last season, have made a strong 5-1 start to the NFL campaign to tighten their grip on the AFC North division lead despite having to cope with a heavily depleted defense.
They rank 26th in the league in average yards allowed per game and have surrendered more than 200 rushing yards in their last two outings.
Lewis was their leading tackler this season with 57 stops. In his absence, the Ravens will try to plug a yawning gap with Jameel McClain, Dannell Ellerbe and Albert McClellan.
"Guys who are going to be playing are the same guys that stepped up and played last year to a large extent," Harbaugh said. "Those guys have played a lot of football and we have a lot of confidence in those guys."
BUFFALO BILLS
Reuters
Eight weeks after being cut by the Buffalo Bills, former Pro Bowl defensive end Shawne Merriman rejoined the National Football League team on Monday to help alleviate a spate of injuries.
The Bills are already without defensive end Mark Anderson, who had surgery last week to repair an injured left knee, and defensive tackle Spencer Johnson, who has missed two games because of an ankle injury.
"You can never have too many guys that we believe can rush the passer," Buffalo head coach Chan Gailey told reporters. "We would rather not go into a game with just three defensive ends. We do not know how long Spencer is going to be, so we are going to sign Shawne back and hopefully he will give us some pass rush off of the edge."
Merriman, a 28-year-old former first round draft pick of the San Diego Chargers who was nicknamed "Lights Out" because of his hard hits, was released by the Bills on Aug. 20 after an injury-plagued stint with the team.
Buffalo had originally acquired Merriman off waivers in 2010 in hopes that the player who led the NFL with 39.5 sacks from 2005 to 2007 could help bolster their pass rush.
However, an Achilles injury suffered in his first practice with the Bills prevented Merriman from playing that season. He had one sack in five games last year before being sidelined again to have surgery on his Achilles and to heal a shoulder injury.
Fellow defensive end Chris Kelsay was delighted to see Merriman back.
"It is always nice when you can bring a guy back that is acquainted and comfortable with the scheme and the system that we are in," Kelsay said. "A guy that is a veteran who knows how to go about his business, he knows what is expected and he is going to come right in and pick up right where he left off."
Comments will be moderated. Keep comments relevant to the article. Remarks containing abusive and obscene language, personal attacks of any kind or promotion will be removed and the user banned. Final decision will be at the discretion of the Taipei Times.