Giants stomp Reds in huge comeback
FIERY REDS: It was a shock defeat for Cincinnati, who captured the National League Central Division this season with 97 wins — their best display since 1976
Buster Posey smashed a grand slam in a six-run fifth inning as San Francisco advanced to the second round of the Major League Baseball playoffs with a 6-4 win over Cincinnati on Thursday.
The Giants became just the second National League team to win a first-round best-of-five series after dropping the first two games.
Brandon Crawford collected two hits, an RBI and scored a run for the Giants, who won the World Series championship two years ago.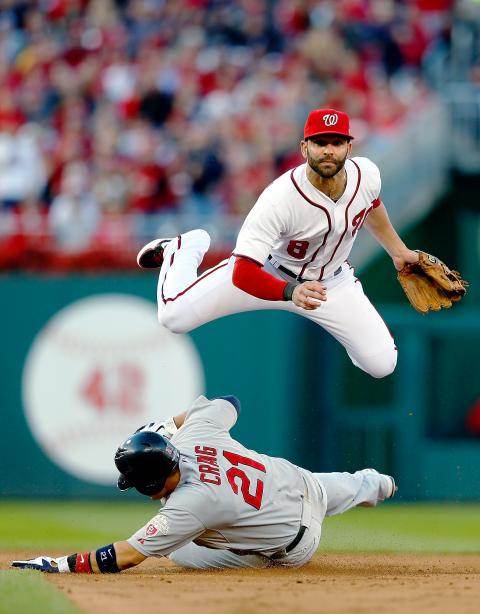 The Cardinals' Allen Craig slides safely into second base as Danny Espinosa of the Washington Nationals throws the ball in the top of the sixth inning during Game Four of the National League Division Series at Nationals Park in Washington on Thursday.
Photo: AFP
"It was huge, coming back from 0-2," Giants pitcher Matt Cain said. "Winning three games in this ballpark is not something that's easy to do, especially in this situation."
The 1981 Los Angeles Dodgers also rallied from 0-2 to win their NL series against Houston.
The NL West champions advance to face the winner of the Washington and St Louis series. That second round series will be a best-of-seven.
In the other NL playoff game on Thursday, slugger Jayson Werth hammered a solo homer in the bottom of the ninth to lift Washington to a 2-1 victory over the Cardinals in game four of their series at Nationals Park.
In Cincinnati, Pablo Sandoval finished with two hits and scored a run for the Giants, while Angel Pagan also drove in a run for San Francisco.
Starting pitcher Cain lasted 5-2/3 innings, allowing six hits and three runs, while walking two and striking out five. Sergio Romo posted his first career playoff save by recording the last four outs of the contest.
Ryan Ludwick homered and drove in two runs and Brandon Phillips added two hits and two RBI for the Reds, who have not won a playoff series since they beat the Dodgers 17 years ago.
"Everyone in this clubhouse did a tremendous job this year," Ludwick said. "It's sad to see it end, but it is and we're all going to move on."
Reds pitcher Mat Latos worked 4-1/3 innings and was rocked for seven hits and six runs. He finished with four strikeouts and one walk. Cincinnati captured the NL Central division after winning 97 games in the regular season. It was the most wins for them in a season since they went 102-60 in 1976.
San Francisco broke the game open in the fifth inning. Gregor Blanco led off with a single and scored when Crawford hit a ball into the right-field corner for a triple.
Two batters later, Reds shortstop Zack Cozart mishandled a Pagan grounder and Crawford scored to make it 2-0.
Marco Scutaro walked and Sandoval's line single to left field loaded the bases for San Francisco. Then Posey's blast landed in the left-field seats.
Sam LeCure struck out the next two batters to keep it 6-0 for the Giants. In Washington, Werth's blast set up a deciding game five which was set to take place yesterday in the US capital, where fans are enjoying the city's first playoff series since 1933.
Werth came out on top in a thrilling 13-pitch duel with St Louis pitcher Lance Lynn, smashing a fastball into the visiting bullpen.
"I felt good going into that at bat," Werth said. "We won this game and all bets are off for tomorrow."
Adam LaRoche also homered for the Nationals, who managed just three hits in the game.
Ross Detwiler held the Cardinals to one unearned run on three hits over the first six innings. Washington's Drew Storen earned the victory with a scoreless top of the ninth in which he struck out two St Louis batters.
Comments will be moderated. Keep comments relevant to the article. Remarks containing abusive and obscene language, personal attacks of any kind or promotion will be removed and the user banned. Final decision will be at the discretion of the Taipei Times.