Taiwanese fail to capitalize in Straits Cup opening games
After failing to preserve first-half leads as large as nine points, Pure Youth Construction suffered a second-half collapse to drop their opener against the Zhejiang Guangsha Lions in the Straits Cup Basketball Invitational Tournament 84-70 at the Taipei Physical Education College gymnasium in Tianmu, Taipei, last night.
With three of their projected starters unable to play for unspecified reasons, the Builders surprised the visitors with a fast start behind the stellar play of Tsai Wen-cheng to claim a narrow 24-23 lead after the first quarter.
Pure Youth extended their lead to as many as nine points with Lin Chin-bang and Wei Shih-jeh converting from the perimeters, before the Lions capitalized on their height advantage inside the paint with 218cm center Wang Cheng and Zhang Wei hitting from close range to reduce Pure Youth's lead to two at the half.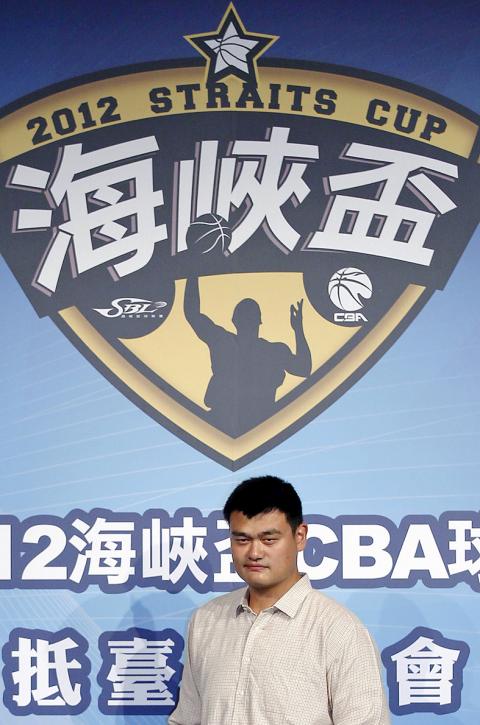 Former NBA basketball player Yao Ming attends a news conference for the 2012 Straits Cup basketball tournament in Taipei yesterday.
Photo: Reuters
That was as close as the Builders got as the Lions continued to attack the low-post area with Wang taking control of the game to help his team take a 10-point lead by the end of the third quarter. That made the eventual blowout win a foregone conclusion long before the final buzzer sounded.
Sharks 76 Tigers 69
With former NBA great Yao Ming in attendance in his capacity as the visiting team's chairman, it was the Shanghai Maxxis Sharks who topped the Dacin Tigers 76-69 in the second game at the Taipei Physical Education College gymnasium.
A pair of three-pointers by the home Tigers put them ahead 7-2 in the opening minutes as they relied heavily on perimeter shots against a bigger Chinese team that has several players taller than 210cm.
The success from the outside shots proved short-lived as fatigue quickly kicked in, allowing a dominant Chinese inside attack that looked to center Zhang Zhao-shu to pull off the eventual victory despite a late-game rally by Dacin.
Taiwan's Tseng Wen-ding, who left the Yulon Luxgens for the Sharks, also had a lot of floor time in his first game in Taiwan in a Chinese team uniform.
Comments will be moderated. Keep comments relevant to the article. Remarks containing abusive and obscene language, personal attacks of any kind or promotion will be removed and the user banned. Final decision will be at the discretion of the Taipei Times.