LONDON 2012 OLYMPICS: Consistency makes blind South Korean archer a hit
South Korean archer Im Dong-hyun is so accurate with the bow he could probably hit a bull's-eye from 70m away with his eyes closed. Given that he is legally blind, shooting with his eyes wide open would hardly make a difference.
The former world No. 1 and double Olympic gold medalist has compensated for his poor vision with an amazing consistency, reproducing the same drawing action over and over again in training to imprint it into his muscle memory.
The 26-year-old, who won gold in the team event in Athens and Beijing, has learned to "feel" the shot to such an extent he spurned offers of laser surgery to correct his vision.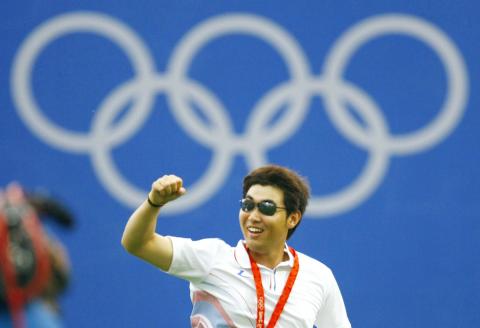 Im Dong-hyun of South Korea celebrates on Aug. 11, 2008, after the men's team archery gold-medal match at the 2008 Beijing Olympic Games.
Photo: Reuters
Im suffers from strong myopia, but refuses to wear corrective lenses when he shoots as they make him uncomfortable.
"I don't have any problem or difficulty when I shoot, so I don't wear glasses. The target looks somewhat unclear, but it's not much of an inconvenience," Im said.
While Im has slipped to No. 2 in the world behind Brady Ellison of the US, the South Korean has been in devastating form in the lead-up to the Olympics and will be the favorite for the individual gold medal in London.
Im broke his own 72-arrow world record at the Olympic test event at Lord's by shooting 693 in October last year, then improved that mark again to 696 at a World Cup event in Turkey in May.
Im said Ellison had benefited from the training of South Korean Lee Ki-sik, who became the US team coach in 2006.
"I think he has been taught systematically, including basic skills, since he met a Korean coach. I believe he has good 'feel' as an archer now," Im added.
While South Korean men have dominated the team archery event, winning gold in Sydney, Athens and Beijing, the individual title has always eluded them.
Im plans to change that in London, but even if he fails to win the gold, he has no plans to hang up his bow.
"I have never thought about retiring. I will keep being an archer for as long as I can until I achieve my goals. I have no plan to retire at all," Im said.
However, he confirmed he would be making one big change after London.
"The rumor is true. I will get married when the Olympic Games are over," he said, adding that a date for the wedding had not yet been fixed.
"My girlfriend was an archer as well, and I met her during my college days. She's not an archer anymore, she's a school teacher," he said.
Comments will be moderated. Keep comments relevant to the article. Remarks containing abusive and obscene language, personal attacks of any kind or promotion will be removed and the user banned. Final decision will be at the discretion of the Taipei Times.