Fighter Serena claims fifth title
BACK ON TOP: Serena Williams matched her sister Venus' haul of five titles by becoming the first thirty-something to win since Martina Navratilova in 1990
She was born a fighter and on Saturday Serena Williams proved she is the ultimate survivor as she completed her "unbelievable journey" from a pit of despair to win a fifth Wimbledon crown.
Seventeen months after a life-threatening blood clot in her lungs almost ended her glittering tennis career, Serena blotted out the mental and physical scars to climb back into the Grand Slam winner's circle by snuffing out Agnieszka Radwanska 6-1, 5-7, 6-2.
Almost everyone but those closest to her thought the days when Williams would be holding aloft one of the four major trophies were all but over, but at the age of 30, the American, who grew up practicing on cracked public courts in Compton, California, surrounded by drug dealers and drive-by shootings, showed the world what she was still capable of as she blazed a backhand winner to win her 14th Grand Slam trophy.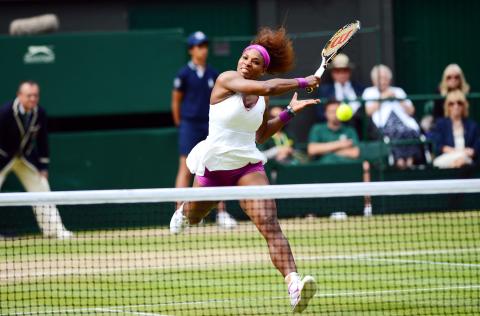 Serena Williams of the US returns to Poland's Agnieszka Radwanska in the Wimbledon women's singles final at the All England Lawn Tennis Club in London on Saturday.
Photo: AFP
It was little wonder she collapsed on to her back in her moment of glory and still lying on the ground, she covered her face for several seconds, no doubt thinking about all the injuries, illnesses and surgery she has had to endure in the past two years.
"I can't even describe it. I almost didn't make it a few years ago. I was in hospital, but now I'm here again and it was so worth it. I'm so happy," a beaming Serena, with her voice quivering, told the crowd as she hugged the Venus Rosewater Dish.
"I never dreamt of being here again, being so down," added the American, whose tale of woe started when she sliced her foot on a piece of glass in a Munich restaurant soon after winning her 13th Grand Slam title at Wimbledon in July 2010.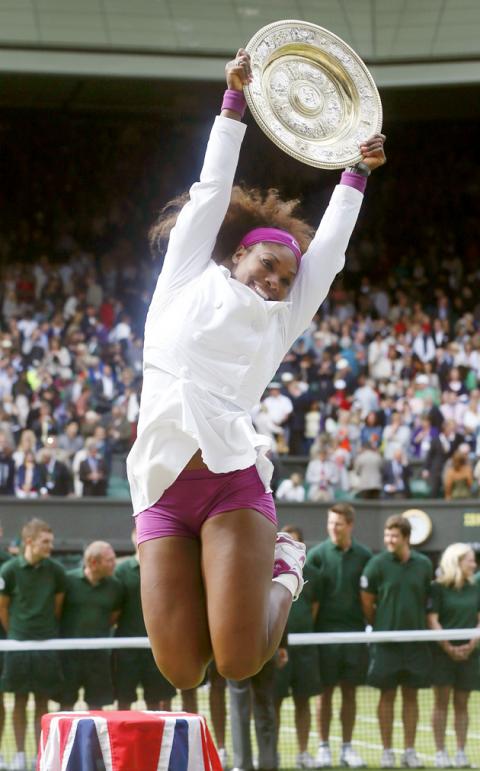 Serena Williams jumps with the trophy after winning the Wimbledon women's singles final in London on Saturday.
Photo: Reuters
"Gosh, right before that I had the blood clot, I had lung problems. I had a tube in my stomach and it was draining constantly," she said. "I had two foot surgeries. It was a lot. I just felt down, the lowest of lows."
On Saturday, she enjoyed the highest of the highs as she matched sister Venus' haul of five Wimbledon trophies by becoming the first thirty-something to win the title since Martina Navratilova achieved the feat in 1990.
"Coming here and winning today is amazing because literally last year I was ranked almost 200. It's been an unbelievable journey for me," the world No. 6 said.
That journey almost took a backward slide just five weeks ago when Serena lost in the opening round of the French Open, but just as many started writing Serena's tennis obituary, she roared back to stop Radwanska from becoming the first Polish Grand Slam winner.
Radwanska's title hopes had already looked rather bleak as she prepared for the biggest match of her career. She was battling respiratory problems, which she blamed on the rain and blustery winds.
The damp, chilly and gloomy conditions on Centre Court would have done little to lift Radwanska's mood and it was not long before she was being blown away by a gale force named Serena.
As Serena moved within one point of blanking out Radwanska from the first set, it led one fan to tweet: "This final will be over before you can put a kettle on."
Radwanska could have done with a hot drink herself as she sniffled and coughed during the changeovers, and she got a chance to warm her throat when the players were briefly forced off court at the end of the first set when a slight drizzle started to fall.
The short respite did nothing to halt Serena's charge as she steamed to a 4-2 lead, but just when it seemed that Serena would be wrapping up one of the most one-sided finals, Radwanska's game suddenly caught fire and she leveled for 4-4.
The 23-year-old Pole drew Serena into lengthy rallies and when the American netted a backhand to surrender the second set, the crowd erupted into wild applause.
Serena, though, is not one for cowering and one 49-second blitz summed up her intentions. She fired four thunderbolt aces to win the fourth game of the third set and from then on her opponent never got a look in.
Serena followed up her 102nd ace of the tournament with a screaming service winner to bring up match point, and seconds later it was all over.
"I think it was not my day, but I'll try again next year," a sobbing Radwanska said.
Serena then rounded off a successful day for the Williams clan as she and Venus joined forces to capture a fifth Wimbledon doubles title, beating Czech sixth seeds Andrea Hlavackova and Lucie Hradecka 7-5, 6-4.
Jonathan Marray kicked off what could be a weekend of national euphoria for British tennis when he became the first home player since 1936 to win the Wimbledon men's doubles title with Danish partner Frederik Nielsen.
Just a day before near-namesake Andy Murray hoped to end Britain's 76-year wait for a Wimbledon men's singles champion, wild-cards Marray and Nielsen sent the Centre Court crowd into a frenzy after downing fifth seeds Robert Lindstedt and Horia Tecau 4-6, 6-4, 7-6 (7/5), 6-7 (5/7), 6-3.
Comments will be moderated. Keep comments relevant to the article. Remarks containing abusive and obscene language, personal attacks of any kind or promotion will be removed and the user banned. Final decision will be at the discretion of the Taipei Times.