Youkilis' RBI single sees off Texas
AMERICAN LEAGUE
Chicago's Kevin Youkilis hit a game-ending RBI single in the bottom of the 10th inning to give the White Sox a 5-4 win over the Texas Rangers on Wednesday in a clash of American League divisional leaders.
In the 10th inning, Alejandro De Aza, who fouled a ball off his right knee during the at-bat, led off the inning with a walk against Rangers reliever Mike Adams (1-3), then stole second. On the ninth pitch, Youkilis ended the game with an RBI single to score De Aza, prompting the crowd to shout "Youuuuk" for the player acquired in a trade from the Red Sox on June 24.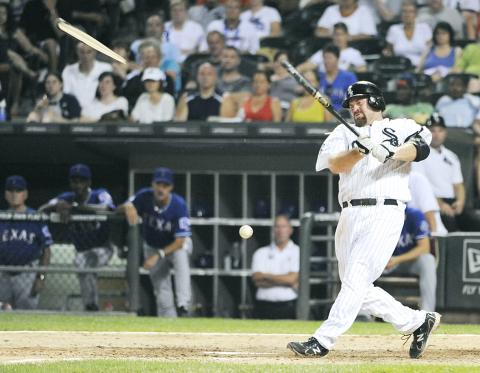 Kevin Youkilis of the Chicago White Sox breaks his bat against the Texas Rangers in the 10th inning of their American League game in Chicago, Illinois, on Wednesday.
Photo: AFP
The Rangers had won their previous seven series.
Addison Reed (2-1) pitched a scoreless 10th for the White Sox to take the win.
YANKEES 4, RAYS 3
In St Petersburg, Florida, Robinson Cano hit a two-run single during a three-run eighth as New York downed Tampa Bay.
Cano has driven in at least one run in a career-best eight consecutive games, helping the American League East leaders stop a nine-game road losing streak against the Rays.
Alex Rodriguez cut the Yankees' deficit to 3-2 when he drew a one-out bases-loaded walk, the fourth freebie issued by Kyle Farnsworth (0-1) in the eighth. Jake McGee replaced Farnsworth and allowed Cano's single that put New York up 4-3.
ORIOLES 4, MARINERS 2
In Seattle, Chris Tillman gave up just two hits in 8-1/3 innings in his first start of the year as Adam Jones hit his 20th home run of the season for Baltimore.
Jones' homer leading off the second inning came on a 2-0 pitch from Seattle starter Hector Noesi (2-11) and it landed well back in the upper level seats. That was all Tillman needed, as the one-time Seattle prospect shut down his former organization after getting called up from the minors.
Tillman (1-0) took a one-hitter into the ninth, but Michael Saunders reached on an error and John Jaso's one-out double on Tillman's 125th pitch ended his day.
INDIANS 12, ANGELS 3
In Cleveland, Ohio, Derek Lowe won for the first time in more than a month as Cleveland beat the Los Angeles Angels.
Lowe (8-6) gave up three runs and 11 hits in six innings for his first win in six starts since June 1.
The 39-year-old right-hander was 0-3 with a 7.71 ERA in five outings between victories.
Michael Brantley hit a three-run homer in the first inning off Ervin Santana (4-9) and Casey Kotchman had a three-run shot in a six-run second as Cleveland took a 9-1 lead.
Johnny Damon had a season-high three of Cleveland's 14 hits.
The Indians totaled 21 runs in two wins after being shut out 3-0 in the series opener.
Wednesday's other results:
‧ Athletics 3, Red Sox 2
‧ Blue Jays 4, Royals 1
‧ Tigers 5, Twins 1
NATIONAL LEAGUE
AP, WASHINGTON
Ryan Zimmerman's line drive to right-center field kept going — and going and going — until it landed in the first row, highlighting another big July 4 for the resurgent third baseman as the National League East-leading Washington Nationals beat the San Francisco Giants 9-4 on Wednesday.
Zimmerman missed another home run by centimeters — he had to settle for an RBI double — on a humid day when the ball carried well at Nationals Park. He is 10-for-20 with four homers and 13 RBIs in six Independence Day games.
DODGERS 4, REDS 1
In Los Angeles, Aaron Harang pitched seven strong innings against his former team, leading Los Angeles past Cincinnati.
Harang (6-5) allowed one run, struck out five and walked just one in his second career start against the team he pitched for from 2003 to 2010. His previous appearance against the Reds came in 2002 when he played for Oakland.
The Dodgers took two out of three against the Reds to snap their skid of four straight series losses.
Wednesday's other results:
‧ Phillies 9, Mets 2
‧ Pirates 6, Astros 4
‧ Marlins 7, Brewers 6, 10 inns
‧ Cardinals 4, Rockies 1
‧ Cubs 5, Braves 1
‧ Padres 8, Diamondbacks 6
Comments will be moderated. Keep comments relevant to the article. Remarks containing abusive and obscene language, personal attacks of any kind or promotion will be removed and the user banned. Final decision will be at the discretion of the Taipei Times.