US team braces for assault from China
LOSING GROUND: While the US led the medal count in Beijing, China won 51 gold medals to the US' 36 and the US team suffered its worst-ever showing in athletics
The US, long an Olympic medal machine, looks toward the London Games with a host of other nations — China chief among them — poised to challenge US sporting might.
Gone are the days when US Olympic Committee (USOC) officials confidently predicted a medals tally, with USOC chief of sport performance Alan Ashley vowing only that the US would be at — or near — the top.
"I can't tell you where the number is going to end up," Ashley said. "We're going into this to be the best-prepared team we possibly can be. We want to go in and win the medal count, that's our objective. What the number is, I honestly can't tell you."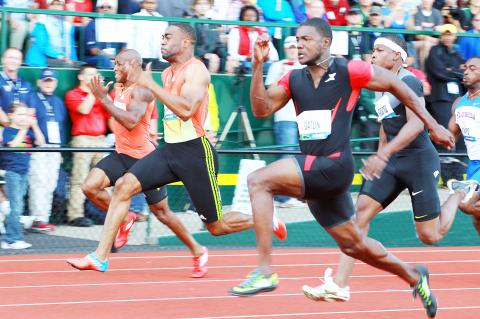 Justin Gatlin, third left, competes against Tyson Gay, second left, during the men's 100m dash final on day three of the US Olympic Track and Field Team Trials on June 24 in Eugene, Oregon.
Photo: AFP
China emerged as a sports superpower at the Beijing Games four years ago. While the US won the most total medals, with 110, China's 100 medals included 51 golds, to the US' 36.
USOC chairman Larry Probst said he had "chastised" London organizing committee chief Sebastian Coe after Coe predicted China would top the table this year.
"Hopefully, we can prove him wrong," Probst said.
Even as USOC officials hemmed and hawed about the numbers, US athletes gave every indication they would walk with their usual swagger into London.
"The US will always be favorites," women's soccer player Lauren Cheney said. "I look at the USA, not just soccer, I look at Team USA from track, gymnastics from anything. You see the American flag, I feel like you get labeled a favorite. A target is always going to be on our backs. We do embrace it."
However, even in events in which the US traditionally excels, the gap has narrowed.
"One bad night, there goes the gold medal," US Olympic women's basketball coach Geno Auriemma said.
The US' 36 golds in Beijing were one more than in Athens, but behind their totals of 2000, 1996 and 1992.
Men's and women's basketball remain strong gold possibilities for the US — despite a raft of injuries that has depleted the ranks of NBA stars making the trip to London.
Swimming superstar Michael Phelps will not try to emulate his unprecedented eight-gold feat of four years ago.
However, Phelps will defend four individual titles in a seven-event program, with teammates Ryan Lochte and Missy Franklin also set for multiple medal campaigns.
US athletics officials emerged from their 10-day trials saying they could achieve their goal of 30 medals in London.
"There's a real opportunity for that," US Olympic men's coach Andrew Valmon said. "We have a strong team. If we are clicking on all cylinders, anything is possible."
Although the US athletics tally of seven golds, nine silvers and seven bronzes for 23 total medals eclipsed all rivals in Beijing, it was among the worst ever showings for the US and included a humbling by Jamaica in the prestigious sprint events.
Last year's world championships showed Jamaica — led by Usain Bolt and Yohan Blake — remain the men and women to beat on the sprint track.
Justin Gatlin, the 2004 Olympic 100m champion who could not defend in 2008 while serving a doping ban, and Tyson Gay, the former world champ coming off a hip injury, will lead the US in the 100m.
The US' women's gymnasts, led by reigning all-around world champion Jordyn Wieber and featuring the exciting Gabby Douglas, will try to follow up a world championships triumph with Olympic team gold, while a youthful men's squad will try to improve on the team bronze they won in Beijing.
The US are hoping for a reversal of fortune in boxing after struggling to win just one bronze in 2008.
The US have qualified nine out of a potential 10 boxers for London, a team that includes flyweight Rau'shee Warren, a 2007 world champion who will be the first US boxer to compete in three Olympics.
In 2008, USOC officials said medals were not the only gauge of Olympic success, with then chief executive Jim Scherr saying that officials took pride in the fact that the US team was drug-free.
This year's US team includes competitors who have served bans, including Gatlin, 400m runner LaShawn Merritt and swimmer Jessica Hardy.
Ashley said the USOC remained "on the more hawkish side" in the push for increased sanctions for doping, even though it was the USOC that sought a ruling from the Court of Arbitration for Sport that served to re-open the Olympic door to Merritt, who won the 400m in Beijing before serving a 21-month drugs ban for positive tests late in 2009.
"We do believe in tougher sanctions, but we think uniformity is also very important," Ashley said. "We would want to work very hard with the IOC to try to enact tougher sanctions in a way that would work for everybody."
Comments will be moderated. Keep comments relevant to the article. Remarks containing abusive and obscene language, personal attacks of any kind or promotion will be removed and the user banned. Final decision will be at the discretion of the Taipei Times.