EURO 2012 GROUP A: Czech Republic's Kadlec wants to emulate his father
Czech Republic defender Michal Kadlec does not have to look very far to find a role model.
His father, Miroslav Kadlec, captained the Czech Republic to a surprise runner-up place at the 1996 European Championship. In the semi-finals, the central defender scored the decisive penalty in a shootout that sent the Czechs to the final against Germany.
The elder Kadlec played in the Bundesliga for Kaiserslautern, and his son followed him to the German league with Bayer 04 Leverkusen.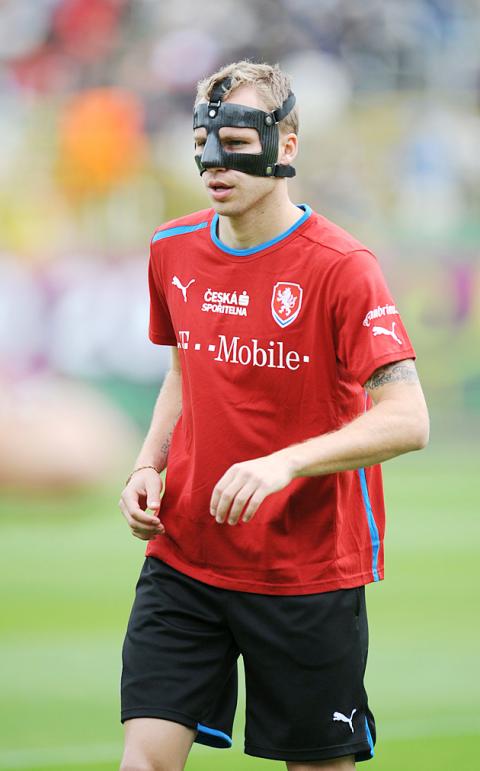 Czech defender Michal Kadlec takes part in his team's first training session in Wroclaw, Poland, on Sunday.
Photo: AFP
Michal Kadlec plays at left back for his club. However, in the national team, coach Michal Bilek tends to play him at centerback, his father's old position.
Before the team's Group A opener against Russia at Euro 2012 tomorrow, Kadlec said he wants "to be on the field, no matter where."
"It's important for me to be trusted by the coach," he said.
Kadlec still has a long way to go to match his father's results at major international tournaments or club level. Besides appearances at the Euro '96 final and a 1990 World Cup quarter-final, Miroslav won the Bundesliga title twice and added the German Cup trophy.
However, the 27-year Michal has achieved something his father cannot beat.
He established himself as a reliable scorer and was the most prolific of all Czechs in Euro qualifying with four goals, in what is quite a result for a defender. He has already scored eight goals in 34 internationals, while his dad managed to find the back of the net just twice in 64 matches.
"It's great to score," Kadlec said. "It feels good, but the team's success is much more important. It doesn't matter who scores."
Kadlec has worn a protective face mask for nearly five weeks, after an attack by two fans of Bundesliga rival Cologne in April left him with a broken nose. He can take the mask off just before the match against Russia.
Comments will be moderated. Keep comments relevant to the article. Remarks containing abusive and obscene language, personal attacks of any kind or promotion will be removed and the user banned. Final decision will be at the discretion of the Taipei Times.