Celtics on brink of finals after edging Heat
Kevin Garnett scored 26 points and grabbed 11 rebounds to power Boston to a 94-90 win over Miami on Tuesday, moving the Celtics to within one victory of reaching the NBA Finals.
Paul Pierce added 19 points as the Celtics took a 3-2 lead in the best-of-seven Eastern Conference Final.
A victory in Boston today will see the Celtics advance to play either Oklahoma City or San Antonio in the NBA Finals starting on Tuesday next week.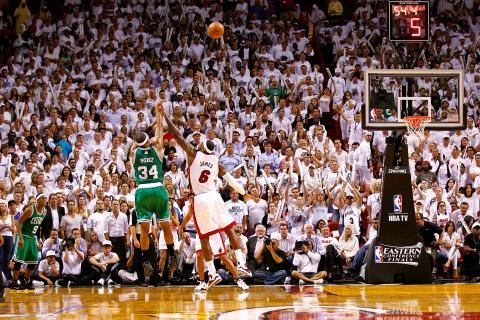 The Boston Celtics' Paul Pierce, second right, makes a three-point basket in the final minute of the fourth quarter against the Miami Heat's LeBron James, right, in Game 5 of the Eastern Conference Finals in Miami on Tuesday.
Photo: AFP
NBA Most Valuable Player LeBron James scored 30 points and grabbed 13 rebounds, while Dwyane Wade added 27 points, but the Heat superstars, united to bring an NBA title to Miami, were pushed to the brink of elimination.
The Heat reached the NBA Finals last year, losing to the Dallas Mavericks.
Miami's Chris Bosh returned from an abdominal strain suffered in the opening game of a second-round series against Indiana, but the lanky forward was not on court in the closing minutes when the game was decided.
Miami led 42-40 at halftime before the Celtics pulled back to 50-50. The Heat then scored nine points in a row, only to have Boston end the third quarter with a 15-1 run that put them ahead 65-60 entering the fourth quarter.
The Heat came back with another nine in a row to seize a 78-72 edge, but Garnett sank a jumper to put the Celtics on top 81-80, with Ray Allen adding a free throw to boost the advantage.
Miami's Mario Chalmers and Boston's Mickael Pietrus exchanged three-pointers before Wade evened the game at 85-85 with a bank shot over two defenders.
Pierce answered with two free throws and, after a free throw by Miami's Udonis Haslem, sank a three-pointer while being guarded by James to give Boston a 90-86 advantage.
After Wade and Allen traded two free throws each, James scored on a layup to pull Miami closer, but Haslem fouled Garnett and the Boston big man sank two clutch free throws to give the Celtics a 94-90 edge.
Comments will be moderated. Keep comments relevant to the article. Remarks containing abusive and obscene language, personal attacks of any kind or promotion will be removed and the user banned. Final decision will be at the discretion of the Taipei Times.