Coyotes beat Predators 4-3 in overtime
MIRROR MATCH-UP: Phoenix and Nashville are known for their strong defensive play, so the second round is expected to be a contest of who can play the style best
Phoenix's Ray Whitney scored in overtime as the Coyotes survived conceding a late goal in regulation and beat the Nashville Predators 4-3 on Friday to open the Western Conference semi-finals.
Phoenix were 33-1 when leading after two periods during the regular season, but has struggled to close out playoff games. The Coyotes allowed four tying third-period goals against Chicago in the first round of the playoffs and did it again, giving up Martin Erat's goal on a power play with 4 minutes, 42 seconds left.
Despite spending most of the third period and overtime in their own zone, the Coyotes won their first-ever second-round playoff game when Whitney slipped a backhander between Pekka Rinne's pads after Martin Hanzal won a faceoff in Nashville's zone.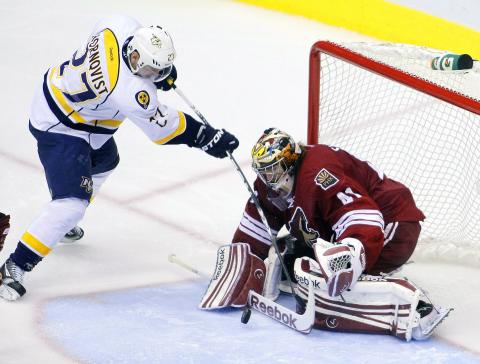 Phoenix Coyotes goalie Mike Smith, right, makes a save on the Nashville Predators' Patric Hornqvist in the third period of Game 1 of their NHL Western Conference semi-final in Glendale, Arizona, on Friday.
Photo: Reuters
Mike Smith made 39 saves, Rostislav Klesla had a goal and an assist, Radim Vrbata and Mikkel Boedker also scored, and Phoenix won despite being outshot 25-7 after the second period.
Nashville's Brandon Yip had his first goal of the playoffs, Andrei Kostitsyn also scored and Erat got the tying goal late, but the Predators couldn't finish it off, despite controlling the play after the second period.
Both teams have superb goaltenders, smart coaches and a defense-first style — attributes they used to get by more-skilled opponents in the first round. This mirror-image matchup was expected to come down to which team could play the same style best.
Sluggish and out of sync, Nashville were on their heels early, leading to a power play midway through the first period. Vrbata capitalized, flipping a wrister from the left circle that skipped off Rinne's mask and over his stick shoulder.
The Predators snapped into action after that and had better puck control, tying it late in the period thanks to an awkward bounce. Francis Bouillon sent a pass along the left boards that shot almost 90° to the right. With Smith in back anticipating the pass, Yip had it easy, flipping into an empty net.
Phoenix went back up early in the second period on a good bounce of its own. This one came off the back of Predators defenseman Roman Josi, who dived to block a pass and knocked it down right in front of Klesla at the edge of the crease.
Nashville again had an answer, using a turnover in Phoenix's zone midway through to set up a goal by Andrei Kostitsyn, who poked the puck under a sprawled out Smith after he couldn't cover a rebound.
Boedker scored his goal late in the period, waiting and waiting on a 2-on-1 before ripping a wrister past Rinne.
That made it 3-2 — not quite what was expected between two of the NHL's best defensive teams.
Nashville turned up the pressure in the third period, outshooting Phoenix 16-1. The flurry led to Erat's tying goal on a rebound.
Phoenix somehow pulled it off, playing its rope-a-dope game to perfection again to steal a game from the Predators.
Comments will be moderated. Keep comments relevant to the article. Remarks containing abusive and obscene language, personal attacks of any kind or promotion will be removed and the user banned. Final decision will be at the discretion of the Taipei Times.