Federer, Azarenka win in California
BIG PRIZE: The Swiss and Belarussian tennis players took home the biggest purses in the tournament's history at US$1 million, while the runners-up each got US$500,000
Roger Federer defeated John Isner 7-6 (9/7), 6-3 to win his record fourth BNP Paribas Open title on Sunday, avenging a loss to the American who beat him in Davis Cup play.
Victoria Azarenka routed Maria Sharapova 6-2, 6-3 for the women's title in the WTA Tour's first final between the No. 1 and No. 2 players since 2008.
Federer and Azarenka each earned US$1 million, the richest winner's checks in the tournament's history. The runners-up earned US$500,000 each.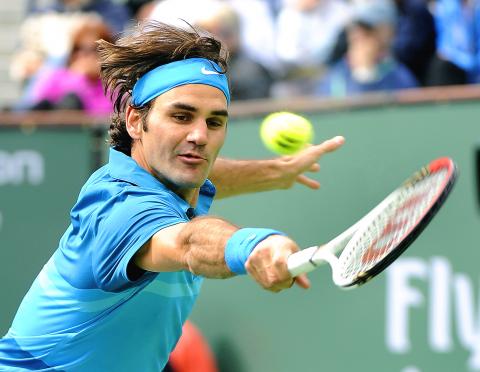 Roger Federer of Switzerland reaches out for a return against John Isner of the US in their final match at the BNP Paribas Open in Indian Wells, California, on Sunday.
Photo: EPA
Federer improved to 39-2 since last year's US Open, with his only losses to No. 2 Rafael Nadal in the semi-finals of the Australian Open and the 11th-ranked Isner, who won on the Swiss star's home turf last month.
Federer, ranked third, avenged both those defeats in consecutive days at Indian Wells, putting away Nadal in the rain-delayed semi--finals on Saturday and then Isner.
Federer's victory tied him with Nadal for most ATP World Tour Masters 1000 career titles at 19. Federer won three straight titles in Indian Wells from 2004 to 2006 and his fourth snapped a tie with Jimmy Connors and Michael Chang.
Isner had a breakthrough two weeks in the desert, beating top-ranked Novak Djokovic in the semi-finals to reach his first Masters 1000 final. That assured him of entering the top 10 for the first time at No. 10 when the latest rankings came out yesterday.
"I'm going to remember this one for a long time, so getting into the top 10 is nice," Isner said. "The hard thing now is staying inside of the top 10. That's what I've got to work on."
The big-serving American actually had three fewer aces than Federer's seven, with his fastest serve clocked at 217kph, slower than the 217kph to 230kph he was hitting against Djokovic. Federer broke him on Isner's netted backhand volley to go up 4-3 in the second. He closed out the match on Isner's forehand that landed in the net.
"I served pretty well," Isner said. "I don't think I lost the match because I didn't serve as well. He was on top of me and his forehand was way too good."
In the tiebreaker, Isner was serving at 7-all when Federer managed a backhand lob over his 2.05m opponent and Isner let it go, with the ball landing on the baseline. Federer won that point and the next to take the set.
"A little bit unlucky there," Isner said. "I'm not complaining. I had a lot of things go my way this week."
Azarenka broke Sharapova six times in improving her record to 23-0 this year, the best start to a season since Martina Hingis went 37-0 to open 1997. The top-ranked Belarusian won her Tour-leading fourth title of the year.
"It's important to stay humble and to know that what I have been doing is working," Azarenka said. "Don't forget those little details, and being disciplined, professional off the court is as important as being determined and really hard working on the court."
The women's final was a rematch of the Australian Open final, which Azarenka won 6-3, 6-0 in January to keep Sharapova from regaining the No. 1 ranking. This time, Sharapova was error-prone during the one-and-a-half-hour match on an unusually cold, windy day in the desert. The second-ranked Russian kept hitting close to the lines and missing.
"She's extremely solid and she makes you work for every point," Sharapova said. "Maybe she forces you to want to do a little bit more than either you should or would want to. She's really fit, playing with a lot of confidence, and you can definitely sense that when she's moving around the court and hitting the ball. I just made too many unforced errors at the wrong time and wasn't solid enough."
Azarenka broke Sharapova in the final game, when the Russian double-faulted then shanked a forehand to set up Azarenka's first match point. She won after forcing Sharapova into a desperation defensive shot that sailed beyond the baseline. Azarenka dropped her racket, pumped her right arm and broke into a brief dance while smiling broadly.
She joked that the best thing about being No. 1 is "you don't really have to find yourself in the draw anymore. It's the first one."
It was yet another dominant performance by Azarenka, who improved to 5-3 against Sharapova, including 4-0 in finals. Sharapova hasn't beaten Azarenka in a completed match since 2009; she won last year in Rome when Azarenka retired in the second set with a right-elbow injury.
"What was important for me was to try to put as much pressure on her, not to really let her into the match because when she has a little window open, she [is] always going to take the opportunity and she's going to fight no matter what the score is," Azarenka said.
Sharapova twice had aces to hold serve in the first set, but her groundstrokes were inconsistent. Azarenka led 4-1 in the second set when Sharapova won two straight games to get to 4-3, capped by a swinging forehand volley winner. However, Sharapova won just two points in the final two games to fall to 13-3 on the year.
"I still don't think I was as aggressive as I should be," Sharapova said. "But it's OK. We're going to play against each other a few more times, so I'll have time to change that."
Comments will be moderated. Keep comments relevant to the article. Remarks containing abusive and obscene language, personal attacks of any kind or promotion will be removed and the user banned. Final decision will be at the discretion of the Taipei Times.