Corruption allegations end soccer chief's reign
Ricardo Teixeira, the powerful boss of the Brazilian Football Confederation (CBF), resigned on Monday following a spate of corruption allegations and he also stepped down as head of the country's organizing panel for the 2014 World Cup.
The CBF's acting president, Jose Maria Marin, made the announcement to reporters at a press conference at the confederation's headquarters in Rio de Janeiro.
Teixeira, who last week was granted medical leave, said in a letter read out by Marin: "Today, I am definitively relinquishing the presidency of the CBF."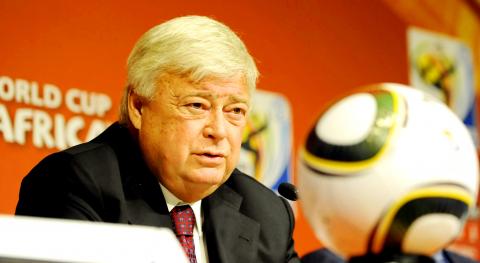 Ricardo Teixeira, then-president of the Brazilian Football Confederation, listens to a question at a press conference in Johannesburg, South Africa, on July 8, 2010.
Photo: AFP
Teixeira, who had been CBF chief since 1989 and who revamped the body after it struggled financially, has faced accusations that he took millions of dollars in bribes in the 1990s from the Switzerland-based ISL sports marketing company that later went bankrupt.
He was also accused of diverting public funds from a friendly match played by Brazil in 2008.
Teixeira, 64, whose term was to expire in 2015, has always maintained his innocence.
During his tenure, Brazil won the 1994 and 2002 World Cups, and the confederation became one of the most valuable in the world.
In his letter, Teixeira said Marin, at 79 the CBF's oldest vice president and the interim chief since Thursday, would succeed him.
Marin said there would be no change, promising: "Continuity in a management respected the world over."
Marin added that he would join former Brazil stars Ronaldo and Bebeto on the board of directors of Brazil's World Cup national organizing committee.
"Today, we can celebrate," said Brazil's former striker and 1994 World Cup winner Romario, now a lawmaker and a frequent critic of organizational progress for the World Cup.
"We are extirpating a cancer from Brazilian football," he said in a reaction on his Facebook page, in which he also called for a "thorough cleanup at the CBF."
"It's a victory for the Brazilian people. It's a clear victory for the government of [Brazilian President] Dilma Rousseff, who made clear since she took office that she would not work with him. We can now look forward to a more transparent World Cup," said sports analyst Juca Kfouri, who has for years tracked Teixeira's career.
Brazilian Sports Minister Aldo Rebelo, meanwhile, said the government "would continue to work in harmony on the common tasks needed to ensure the success" of the World Cup.
Teixeira's stewardship has been filled with controversy and there have been repeated calls for his resignation, amid allegations of irregularities in Brazil and abroad.
"I did my very best during all these years, even to the point of sacrificing my health," Teixeira said in his letter.
The accusations against him buried his dream of succeeding Sepp Blatter as head of FIFA, world soccer's governing body, after the 2014 World Cup.
Teixeira secured the CBF leadership thanks to his former father-in-law Joao Havelange, who was FIFA boss from 1974 to 1998.
In 2010, the BBC alleged that Teixeira had taken bribes in the 1990s regarding the awarding of contracts for the sale of television rights to the World Cup.
Last year, authorities launched a probe into possible money laundering by Teixeira through the CBF and the daily Folha de Sao Paulo newspaper recently reported that prosecutors allegedly found evidence linking him and a company that organized a friendly between Brazil and Portugal in 2008 in Brasilia. The company is being probed for irregularities in organizing the match.
Comments will be moderated. Keep comments relevant to the article. Remarks containing abusive and obscene language, personal attacks of any kind or promotion will be removed and the user banned. Final decision will be at the discretion of the Taipei Times.