NBA: Knicks slump to their sixth consecutive defeat
The heady days of "Linsanity" are fading further from New York fans' memories after the Knicks slumped to their sixth straight defeat with a 104-99 loss to NBA leaders the Chicago Bulls on Monday.
Jeremy Lin, whose meteoric rise from unknown benchwarmer to NBA sensation set the Knicks alight last month, scored 15 points and had eight assists, but his impact on the team continues to dwindle as New York fell into a tie with Milwaukee for eighth in the Eastern Conference.
Derrick Rose attacked Lin and the Knicks relentlessly for 32 points and seven assists, while the Bulls (35-9) abused New York in the rebounding battle to keep control.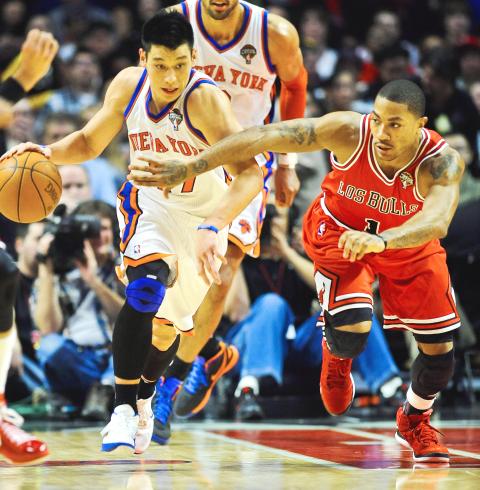 New York Knicks guard Jeremy Lin, left, takes off with the ball after Chicago Bulls guard Derrick Rose, right, gave it up in the second half of their NBA game in Chicago, Illinois, on Monday.
Photo: EPA
"The whole game they had us on the offensive glass," Knicks coach Mike D'Antoni told reporters. "We played well for long stretches, but the second-chance points got us."
New York stayed in touch for three quarters and trailed by one point heading into the fourth, but they were overwhelmed in the crucial closing stages.
The Knicks (18-24), who enjoyed a seven-game winning streak last month, have struggled since Carmelo Anthony returned to the lineup from injury and their schedule has intensified.
Chicago, winners of 10 of their past 11 games, have had no such worries as they sit top of the NBA standings, despite nagging injuries.
Luol Deng and Richard Hamilton both missed Monday's game, but the hosts picked up the slack with hustle and effort as the Bulls outrebounded New York 56-38 and grabbed 22 offensive rebounds.
Chicago started the fourth quarter with a 12-6 run, punctuated by a drive and monster dunk through the lane from Rose, and held the visitors off the rest of the way.
"I usually don't dunk it, but I was just mad I wasn't getting any calls," Rose said. "No matter who I'm playing against, I'm trying to win the matchup."
Taj Gibson had 15 points and 13 rebounds off the bench for the Bulls, while Carlos Boozer added 15 points.
Anthony finished with 21 and Amar'e Stoudemire tallied 20 for New York in the loss.
TIMBERWOLVES 127, SUNS 124
In Phoenix, Arizona, Kevin Love scored 13 of his game-high 30 points in the fourth quarter as the Minnesota Timberwolves outlasted the Suns.
Nikola Pekovic scored 24 points and Derrick Williams added 19 to help the Timberwolves end a nine-game losing streak in Phoenix.
Jared Dudley scored a season-high 28 points, Steve Nash had 25 and Channing Frye added 18 for the Suns, who snapped a three-game winning streak.
Sebastian Telfair scored six points in seven seconds — converting a four-point play, then stealing the ensuing inbound pass and scoring a layup — to give the Suns a 111-107 lead with 6 minutes, 38 seconds left.
Luke Ridnour put Minnesota ahead for good, 121-120, with 1:50 to go and the Timberwolves made six straight free throws in the final 37.8 seconds.
CELTICS 94, CLIPPERS 85
In Los Angeles, Paul Pierce scored 10 of his 25 points in the fourth quarter and Kevin Garnett added 21 points and eight rebounds as Boston made an impressive late rally to win for the second time in their past nine road games.
Ray Allen scored 15 points, while Rajon Rondo had 12 points and 10 assists for the Celtics, who recovered after blowing a 10-point lead in the final minutes.
Blake Griffin had 24 points and nine rebounds for the Clippers, who have lost four of five while falling behind the Lakers atop the Pacific Division. Chris Paul had 14 points on three-for-12 shooting in his second game wearing a clear protective mask over his broken nose.
Monday's other results:
‧ Jazz 105, Pistons 90
‧ Spurs 112, Wizards 97
‧ Bobcats 73, Hornets 71
‧ Bucks 105, Nets 99
Comments will be moderated. Keep comments relevant to the article. Remarks containing abusive and obscene language, personal attacks of any kind or promotion will be removed and the user banned. Final decision will be at the discretion of the Taipei Times.