SBL: Taiwan Beer beat Mobile Cloud Leopards 84-61
Overcoming 22 turnovers with a superior inside game, Taiwan Beer easily muscled their way past the Taiwan Mobile Cloud Leopards 84-61 at the Sinjhuang Sports Complex in New Taipei City last night to start the weekend on a high note.
The win not only put behind an ugly loss to Pure Youth Construction for the defending champs on Sunday, but more importantly, improved their record to a season-best two games above the .500 mark at 10-8 as they looked to solidify a playoff spot in the final four weeks of play.
Hired gun Kibwe Trim of Trinidad was virtually unstoppable inside the paint, with 24 points and 12 rebounds against an inferior Leopard interior defense that seemed a step behind throughout the game.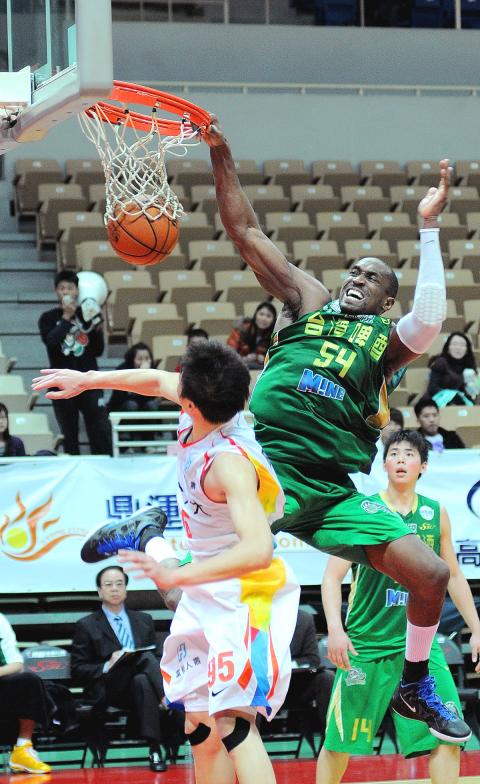 Taiwan Beer's Kibwe Trim dunks over the Leopards' Chen Jing-huan in New Taipei City yesterday.
Photo: courtrsy of SBL
His dominant presence was the main reason the Brew Crew were able to secure the win despite a minus-nine differential in the turnover margin (22-13).
Taiwan Mobile opened the game with an 8-5 lead, but quickly lost it, with Trim and Cheng "Qoo" Ren-wei combining for 13 of their team's 22 points in the first to take a 22-13 lead.
The Brew Crew maintained leads no smaller than seven in the second quarter and upped it to a dozen midway in the third before an 11-0 run by the Leopards toward the latter part of the quarter to cut the deficit to one point.
That was as close as they got, as Taiwan Beer answered with a basket from Trim and Cheng to up their lead back to five to set the stage for what ended up being a 34-16 outpour that ran the Leopards out of the building.
Four Taiwan Beer players scored in double digits, with Trim leading the way, while Chen Jing-huan's team-best 17 made him the lone Leopard reaching double figure in scoring.
Kinmen 74, Bank of Taiwan 64
In the second game in Sinjhuang last night, Kinmen Kaoliang toppled Bank of Taiwan in a 74-64 decision to win their third of the last four games.
Comments will be moderated. Keep comments relevant to the article. Remarks containing abusive and obscene language, personal attacks of any kind or promotion will be removed and the user banned. Final decision will be at the discretion of the Taipei Times.