Paul's late basket lifts Clips to win
RARE WIN: Meanwhile, Toronto defeated Boston to notch their third win in 20 games against the Celtics, with point guard Jose Calderon's double-double leading the way
Los Angeles' Chris Paul hit a 17 foot jumper with 3.2 seconds left to lift the Clippers to a 78-77 win over the Philadelphia 76ers on Friday in a clash of NBA divisional leaders.
Paul finished with 24 points and Blake Griffin had 16 points and 11 rebounds for the Clippers, who improved to 16-8 and remained on top of the Pacific Division despite having lost star guard Chauncey Billups for the season.
Elton Brand had 12 points and 10 rebounds for the 76ers.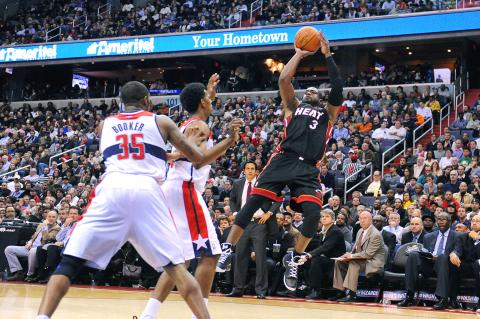 Miami Heat shooting guard Dwyane Wade shoots over Washington Wizards shooting guard Nick Young and power forward Trevor Booker during the first half of their NBA game in Washington on Friday.
Photo: EPA
Raptors 86, Celtics 74
In Toronto, DeMar DeRozan scored 21 points to lead Toronto to a rare win over Boston.
Jose Calderon had 17 points and 14 assists for the Raptors, who had won only two of 19 against the Celtics going in and lost their most recent meeting by 36 points at the start of this month.
Kevin Garnett scored 17 points for the Celtics, who were without center Jermaine O'Neal because of a sore left shoulder.
Thunder 101, Jazz 87
In Salt Lake City, Utah, Russell Westbrook scored 28 points to lead Oklahoma City over Utah.
The Jazz seemed determined to limit Kevin Durant's offense — he took only 10 shots — but Westbrook found extra room to drive to the basket and created some fast breaks with five steals and finished with 19 points.
Al Jefferson's 20 points led Utah, who lost for the fifth time in six games.
Mavericks 104, Timberwolves 97
In Minneapolis, Minnesota, Dirk Nowitzki scored a season-high 33 points, bettering Kevin Love on his return from suspension in a clash of Western Conference All-Star power forwards.
Nowitzki topped 24 points for the fourth straight game by shooting 11-for-19 from the floor, including four-of-seven from three-point range.
Love finished with 32 points and 12 rebounds, going 14-for-14 from the free throw line, and sparked a late-third-quarter surge by the Wolves to slash a 17-point deficit to 78-75.
Heat 106, Wizards 89
In Washington, Dwyane Wade scored 26 points and dominated during a second-quarter run to lead Miami over Washington.
Wade either scored or got the assist on 20 consecutive Heat points in that surge, combining with LeBron James to score Miami's last 18 points of the first half, including a pair of one-handed throw-down alley-oop Wade-to-James dunks during a 10-0 spurt.
JaVale McGee had a season-high 24 points and 13 rebounds to lead the Wizards.
In other NBA action, it was:
‧ Bulls 95, Bobcats 64
‧ Hawks 89, Magic 87, OT
‧ Grizzlies 98, Pacers 92
‧ Bucks 113, Cavaliers 112, OT
‧ Trail Blazers 94, Hornets 86
‧ Pistons 109, Nets 92
Comments will be moderated. Keep comments relevant to the article. Remarks containing abusive and obscene language, personal attacks of any kind or promotion will be removed and the user banned. Final decision will be at the discretion of the Taipei Times.