NFL: Rugged defense hands 49ers win
MEAN MACHINE: The 49ers have not allowed a rushing touchdown all season, the first time any NFL club has gone 14 games without doing so
San Francisco's top-rated defense forced four turnovers from Pittsburgh's Ben Roethlisberger as the 49ers beat the Steelers 20-3 on Monday in an NFL game hit twice by stadium power outages.
The playoff-bound foes nearly needed candlelight at Candlestick Park. The start was delayed 20 minutes after an electric transformer exploded 25 minutes before kickoff and play stopped for 16 minutes after a second-quarter blackout.
San Francisco improved to 11-3, matching New Orleans for second in the National Conference in the fight for a first-round playoff bye and home-field advantage in the second round.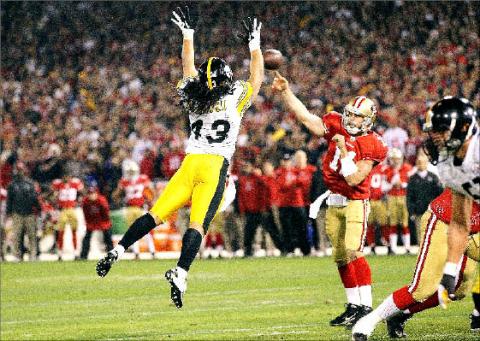 Strong safety Troy Polamalu of the Pittsburgh Steelers, left, leaps to attempt to deflect a pass thrown by Alex Smith of the San Francisco 49ers in their NFL game at Candlestick Park in San Francisco, California, on Monday.
Photo: AFP
The 49ers have already clinched their first winning season, division title and playoff berth since 2002.
"It was a big game. It was a game about respect," 49ers quarterback Alex Smith said. "We knew it was going to be a battle. Our defense played great and we came out on top. We're playing well right now."
The Steelers, who entered in control of their playoff destiny, fell to 10-4 and dropped level with Baltimore atop the AFC North division, needing a loss by their rivals the Ravens for any hope of claiming the division title and a first-round bye.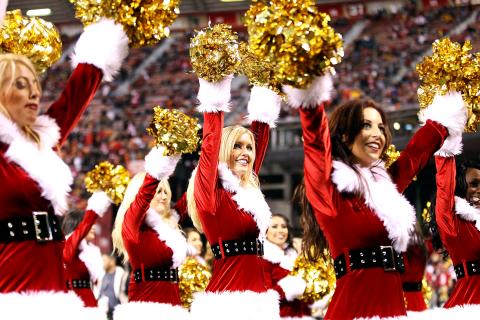 The Gold Rush San Francisco 49ers cheerleaders perform during their team's NFL game against the Pittsburgh Steelers in San Francisco, California, on Monday.
Photo: AFP
"We had an opportunity. We didn't seize it," Steelers coach Mike Tomlin said. "We will accept responsibility for that."
Steelers quarterback Roethlisberger started despite a sprained left ankle, wearing a custom-made brace, but he was intercepted three times and lost a fumble as well to help spark the 49ers' attack.
"Him not being as mobile as he wanted hurt them a little bit," 49ers defensive end Justin Smith said. "We took advantage of it."
David Akers kicked field-goals of 22 and 38 yards to give the 49ers a 6-0 halftime lead, each scoring drive being set up by an interception of a Roethlisberger pass.
The stadium lights went out 2 minutes, 47 seconds into the second quarter, halting the game until power could be restored and the lights were illuminated once again.
"It was unusual," Alex Smith said. "You don't expect to have to deal with that once, let alone twice. It wasn't too bad. It was the same for both teams."
"For everybody out here, I don't think it was a big deal," Justin Smith said.
The NFL's top scoring defense lived up to their reputation, keeping the Steelers out of the end zone. The 49ers have not allowed a rushing touchdown all season, the first time any NFL club has gone 14 games without doing so.
"That's huge. Congratulations to our defense for that," 49ers coach Jim Harbaugh said. "The turnovers were really huge for our offense. It was really great for our guys coming up with four turnovers."
Pittsburgh's Shaun Suisham booted a 51-yard field-goal 8:52 into the third quarter to lift the Steelers to within 6-3, but the 49ers answered by marching 79 yards, with Vernon Davis catching a one-yard touchdown pass from Alex Smith to boost their lead to 13-3 with 3:44 remaining in the third quarter.
Suisham was wide left on a 48-yard field-goal attempt for the Steelers with 54 seconds to go in the third quarter and the 49ers, the NFL's best at forcing turnovers, recovered a Roethlisberger fumble early in the fourth quarter to set up a five-yard touchdown run by Frank Gore for the final points.
"That was 49er football," Mike Tomlin said. "They created turnovers. They controlled the ball offensively. They did what they needed to do."
The Steelers' defensive unit was without linebacker James Harrison, who was serving a one-game ban for a helmet-to-face-mask hit last week.
Comments will be moderated. Keep comments relevant to the article. Remarks containing abusive and obscene language, personal attacks of any kind or promotion will be removed and the user banned. Final decision will be at the discretion of the Taipei Times.