Ligety wins Beaver Creek giant slalom
American Ted Ligety avenged his defeat to Marcel Hirscher two days ago when he beat the Austrian in a World Cup giant slalom at Beaver Creek on Tuesday.
Ligety turned the tables on his emerging rival to win his second race from three events this season with a combined time of 2 minutes, 40.01 seconds over the two runs.
"For me, it's more than a victory. It's a revenge," Ligety said.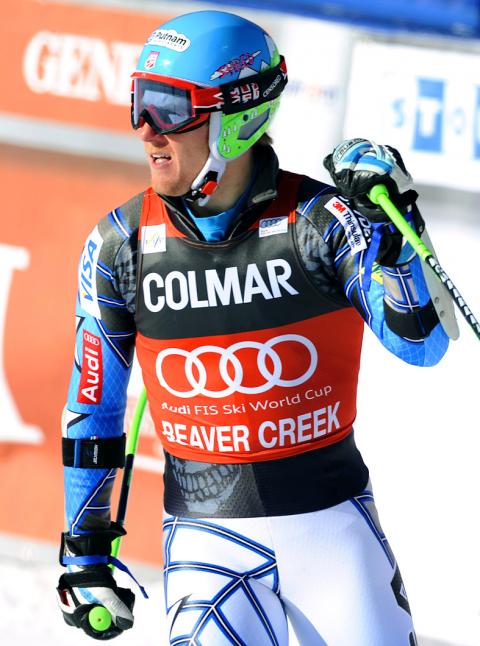 Ted Ligety of the US celebrates winning the World Cup giant slalom in Beaver Creek, Colorado, on Tuesday.
Photo: Reuters
"Today, I didn't leave anybody a chance. After Sunday's disappointment, I simply didn't want to be second again," he said. "I gave everything I had, especially in the second run. This is the kind of race which tells me why I love alpine skiing so much."
Hirscher, who won on the same piste on Sunday, finished second, just 0.69 seconds behind the reigning world champion, to show that he is looming as a contender this year after missing part of last season with injury.
"It's some comeback. To be second after winning the other day, I could hardly expect any better," Hirscher said. "I'm on the way up, I'm back from injury, I really needed a week like this."
Norway's Kjetil Jansrud was third in an exact repeat of the same top three from last year when Ligety won his first event on home snow.
After three races, Ligety leads the standings with 280 points from Hirscher (220) and Alexis Pinturault of France (159).
World Cup skiing continued yesterday when the women were set to race on the Birds of Prey course for the first time, with local Lindsey Vonn the favorite after winning three of the four events this season.
"I was always jealous of the men for racing in Beaver Creek. I grew up here and it's a great opportunity for me," Vonn said. "I've never won a race in the US in the past and I want to change that."
Comments will be moderated. Keep comments relevant to the article. Remarks containing abusive and obscene language, personal attacks of any kind or promotion will be removed and the user banned. Final decision will be at the discretion of the Taipei Times.