Argentina win Davis Cup doubles to stay in hunt
Argentina beat Spain in doubles to cut their Davis Cup World Group final deficit to 2-1 on Saturday, although the South American team will have to beat Rafael Nadal on his favorite clay surface to keep their chances of a maiden title alive.
David Nalbandian and Eduardo Schwank, partnering for the first time, eased to a 6-4, 6-2, 6-3 victory over Spanish pair Fernando Verdasco and Feliciano Lopez at Estadio Olimpico de Sevilla.
Argentina broke five times and repelled each of the three they faced against their Spain counterparts to extend the tie into yesterday. The visitors need to sweep reverse singles to become the first team in 72 years to rally from a 2-0 deficit.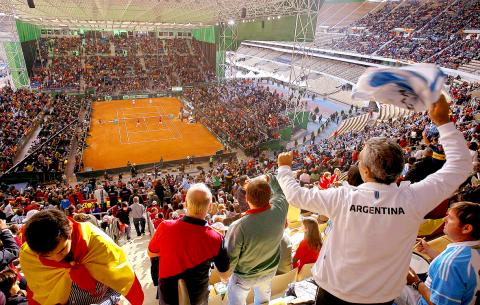 Spectators cheer during the doubles match of the Davis Cup World Group final between Spain and Argentina at Estadio Olimpico de Sevilla in Seville, Spain, on Saturday.
Photo: EPA
"We played a great game. We're in very good shape and the series is still alive," Nalbandian said after helping Argentina to their first doubles point in a final, on the fourth try. "Our hope is intact."
However, such an achievement appears difficult with Nadal, unbeaten on clay in the competition, opening for the four-time champions against Juan Martin del Potro. The 11th-ranked del Potro has to bounce back from his exhausting near five-hour singles loss and hand 10-time major champion Nadal his first loss on clay in 16 Davis Cup matches.
As of press time yesterday, del Potro won the first set 6-1.
"It's normal [del Potro] feels tired, but I think he's ready for the challenge tomorrow," Argentina captain Tito Vazquez said. "To take it to a fifth match we have to win the fourth and that means we have to beat Rafa Nadal."
Nadal and Spain teammate David Ferrer trained normally on Saturday. The pair is a combined 27-0 on clay for Spain, who haven't lost a home tie on clay since 1999.
"I'm not pessimistic. Tomorrow we have Nadal and Ferrer to win one point," said Spain captain Albert Costa, who expected Nalbandian to replace Juan Monaco should the final stretch to a fifth match.
Lopez and Verdasco again failed to follow up an impressive sweep of the opening singles by Nadal and Ferrer. They also lost in the semi-finals against France in which they won only three games.
"Today was one of those days I'd like to forget," Lopez said. "It was my worst ever Davis Cup match."
The Argentina section of fans was boisterous throughout, with Nalbandian volleying home the winner to break Lopez's serve in the fifth game as the visitors served out the set.
Nalbandian, playing for the first time since October, and Schwank were barely bothered after that as they got out to 4-0 in the second to take command of the match.
In the third set, just when the Spanish pair managed to get the crowd of more than 20,000 fired up with a break chance in the sixth game, Argentina saved two break opportunities before Schwank ended the suspense with a volley at the net to hold serve.
Schwank served out the victory in just less than two hours when Verdasco volleyed into the net to help Nalbandian to his 12th doubles victory in the competition, equaling Guillermo Villas' record. Nalbandian improved his overall cup record to 34-10 in his third final appearance.
Argentina have never won in three previous final appearances, including in 2008 when they lost to Spain in Mar del Plata.
Australia are the only team to have rallied from a 2-0 deficit when they beat the US in 1939.
In the middle of the doubles clash that they were watching from the sidelines, Nadal and Ferrer were forced to undergo doping tests.
Nadal and Ferrer had to leave the action after being summoned by drug testers.
"We have said that we are happy with the tests and controls so that there is a clean sport because nobody wants to play against a doped player, but there are different ways of doing things," Verdasco said. "I don't think it's nice that during a game they take colleagues out to go to a test. They could wait until the end of the match and they could have allowed them to cheer us and then do the test afterwards."
"I don't think they were doping during the match," Lopez joked.
Drug testing has already caused ructions at the final.
On Thursday, Argentina's squad was woken early to undergo doping tests.
"Today was a rest day for us, but we didn't get any rest," Vazquez complained.
Nadal came out in support of Spain's rivals.
"All athletes want sport to be clean, but that's not the way to go about it," he said.
Additional reporting by staff writer
Comments will be moderated. Keep comments relevant to the article. Remarks containing abusive and obscene language, personal attacks of any kind or promotion will be removed and the user banned. Final decision will be at the discretion of the Taipei Times.