Brady and Belichick try for record win against Steelers
New England Patriots quarterback Tom Brady and head coach Bill Belichick can become the most successful partnership in the NFL with a victory over the Pittsburgh Steelers tomorrow.
With a victory, Brady and Belichick will surpass the record number of wins for a quarterback-head coach partnership, which stands at 116 and was set by the Miami Dolphins pair of Dan Marino and Don Shula.
A recent NFL Network documentary showed the close way Brady and Belichick prepare for each game — analyzing opponents, working out game plans — and the quarterback believes he has benefited from the continuity of 12 seasons working together.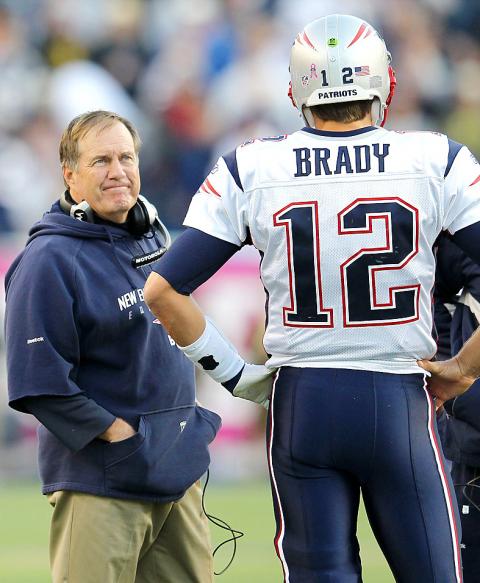 New England Patriots head coach Bill Belichick, left, chats with quarterback Tom Brady during their game against the Dallas Cowboys in Foxboro, Massachusetts, on Oct. 16.
Photo: AFP
"It's been very important for me to never really change offenses or learn new terminology and I think we've just built on it over the years — things I learned 12 years ago when I came here," Brady said this week.
"There are certain plays in our offense that I've literally run thousands of times. You make a lot of mistakes over the course of those plays and you learn from them and hopefully you don't make them again. It's great for a quarterback to have that continuity with coaching and obviously the terminology of the plays. It's been a huge benefit," he added.
A victory tomorrow will have to be a very hard-earned result as Pittsburgh, beaten in the Super Bowl by Green Bay last season, might have been written off in some circles, but they are putting together another solid season (5-2).
Steelers quarterback Ben Roethlisberger has passed for 1,937 yards and after some injury problems hampered him in the early weeks, he is starting to look like the mobile and aggressive player who is such a threat.
The Patriots (5-1) and Steelers have been two of the dominant forces in the AFC during the past decade — eight of the past 10 AFC championship games have featured one of the teams and they met each other in the 2001 and 2004 editions.
Last year's regular season meeting at Pittsburgh ended in a 39-26 win for New England with Brady throwing three touchdowns and running in another and Steelers receiver Mike Wallace expects another high-scoring encounter.
"You can't go out and score seven points and beat the Patriots," he told reporters.
Comments will be moderated. Keep comments relevant to the article. Remarks containing abusive and obscene language, personal attacks of any kind or promotion will be removed and the user banned. Final decision will be at the discretion of the Taipei Times.