Wozniacki keeps top spot despite loss
RANKINGS: The world's top-ranked female tennis star could shrug off a loss to Zvonareva with a smile, as Sharapova's withdrawal removed her only challenger
Caroline Wozniacki celebrated in defeat on Wednesday after injured Russian Maria Sharapova's withdrawal from the season-ending WTA Championships made sure the Dane would end the year as world No. 1.
Wozniacki lost 6-2, 4-6, 6-3 to Russian Vera Zvonareva, but with Sharapova already packing her bags for home, the loss in her second round-robin match in the Sinan Erdem Dome did nothing to weaken her grip on the top ranking she has enjoyed for 36 weeks.
World No. 2 Sharapova, who began the day as the only player still able to topple the Dane in the rankings, quit after losing 7-6, 6-4 to China's Li Na in the White Group.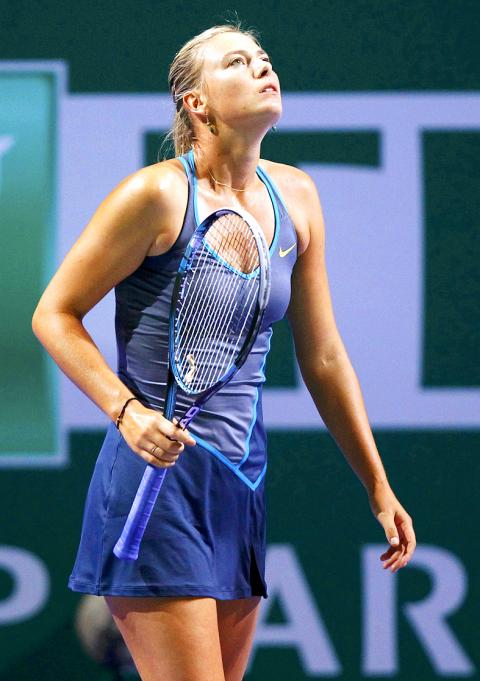 Maria Sharapova reacts during her WTA Championships match against Li Na in Istanbul, Turkey, on Wednesday.
Photo: Reuters
Wozniacki, 21, was to face Wimbledon champion Petra Kvitova yesterday needing victory to have a chance of reaching the semi-finals of the US$4.9 million event.
However, Wednesday was all about the rankings, so she could shrug off the defeat to Zvonareva with a smile.
"I like to play long matches," the world No. 1 told reporters after a presentation by the WTA. "I like to give the crowd a little bit for their money."
"Five hours of tennis in two days, that's perfect. It's good conditioning. I need to keep in shape because when I go on holiday, I probably won't do too much," said Wozniacki, who beat close friend Agnieszka Radwanska in three sets on Tuesday.
Wozniacki, whose father and coach, Piotr, was urging his daughter on at the changeovers, said the No. 1 ranking was just as important as winning Grand Slams — a feat that has so far proved beyond her.
"I think people do realize the true importance of it," she said. "If you ask any little girl or any little boy, everyone will know what it means to be No. 1."
"Maybe not everyone will understand what a Grand Slam [is] because you have to be into tennis to know that. If you're No. 1, it means you've done something remarkable."
Wozniacki has spent all but one week as No. 1 since October last year, briefly losing it to Kim Clijsters in February.
While the Dane could bask in her achievement of finishing top of the rankings for the second consecutive year, Sharapova suffered a sad end to a season that propelled her back to the top of the game after shoulder surgery.
"The ankle didn't recover as well as I had hoped after my first match," the former world No. 1 told reporters. "It limits my movement a lot and it's not something I really want to risk. I tried to push it as much as I could, but I think it was a little too soon."
Sharapova injured her ankle in Tokyo recently and only just recovered in time to compete in Istanbul. She will be replaced by first alternate Marion Bartoli of France, who will face Victoria Azarenka today.
Comments will be moderated. Keep comments relevant to the article. Remarks containing abusive and obscene language, personal attacks of any kind or promotion will be removed and the user banned. Final decision will be at the discretion of the Taipei Times.