Holland throws a gem as Rangers shut out Cardinals
Derek Holland threw a dazzling World Series gem as the Texas Rangers shut out the St Louis Cardinals 4-0 on Sunday to level the best-of-seven championship at 2-2.
Mixing a darting breaking ball and a beguiling change-up with his fastball, Holland gave up just two hits in 8-1/3 innings, before closer Neftali Feliz secured the win by striking out Matt Holliday with two men on.
The 25-year-old Holland struck out seven and walked just two in a superlative effort that earned a standing ovation from the Rangers Ballpark crowd of more than 50,000 when he came off the mound in the ninth.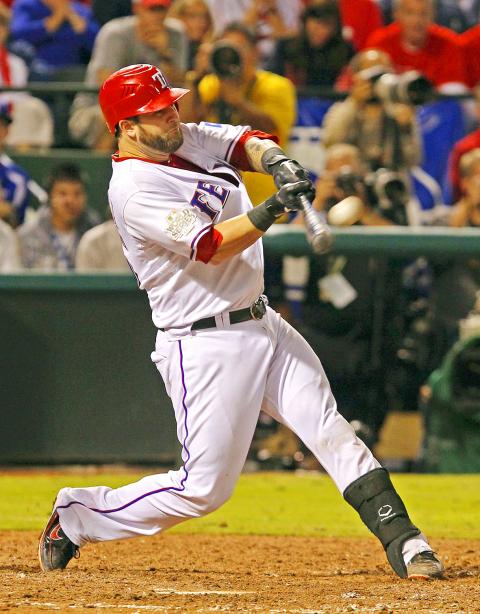 Mike Napoli of the Texas Rangers hits a three run homer against the St Louis Cardinals in Game 4 of the World Series in Arlington, Texas, on Sunday.
Photo: Reuters
Catcher Mike Napoli struck the decisive blow for Texas, belting a three-run homer in the sixth inning.
Rangers manager Ron Washington gave all the credit to the pitcher-catcher combination for shutting down the Cardinals, who scored 16 runs in a Game 3 rout.
"It was Holland and Mike Napoli," Washington said. "He was able to use all his pitches all around the strike zone. He had good off-speed stuff tonight, kept them off balance, move them in, move them out, up, down. He was just outstanding. He and Napoli worked outstanding tonight."
St Louis manager Tony La Russa agreed that pitching made all the difference.
"I would just say he worked us over. Give him credit," La Russa said. "He just worked us over and shut us down."
Holland said he was determined not to be cowed by the Cardinals, particularly Albert Pujols, who had blasted three home runs and drove in six in Saturday's game.
"I know he's a great hitter. He's one of the best in the game, there's no doubt about it, but I wanted him to see my 'A' game, as well," Holland said. "I'm going to try to do everything I can and try to go right after him. I felt like I did a good job of that today."
Pujols went none-for-four. Both Cardinals hits in the game came from Lance Berkman on a double to right-center in the second and a single to center in the fifth.
Texas got a run in the first off St Louis starter Edwin Jackson with an RBI double by Josh Hamilton.
After that, Jackson matched zeros with Holland. He yielded no hits after a second-inning single by Ian Kinsler, but battled control problems.
The right-hander walked two in the first, but stranded the bases-loaded. He gave up two more free passes in the fourth, but left the two men on base.
After giving up back-to-back walks to Nelson Cruz and David Murphy with one out in the sixth, La Russa removed him from the game and brought on Mitchell Boggs to face Napoli.
Napoli promptly crushed the first pitch from the reliever deep into the seats in left to pad the Rangers lead to 4-0.
Rangers Ballpark erupted in a frenzy that also swept up Hall of Famer Nolan Ryan and former US president George W. Bush, the current and former owners of the Rangers, who high-fived each other from their seats near the Texas dugout.
Holland carried his shutout into the ninth, but after walking Rafael Furcal on his 116th pitch, Washington came to the mound to take him out.
The left-hander told reporters he begged Washington to let him finish the game.
"Very fair description," Washington said. "He was begging. I just told him: 'If you want to stay out here, get on your knees.' He walked off the field."
Feliz came on and walked Allen Craig, but got Pujols to fly to center and then blew a fastball by Holliday to end it.
Comments will be moderated. Keep comments relevant to the article. Remarks containing abusive and obscene language, personal attacks of any kind or promotion will be removed and the user banned. Final decision will be at the discretion of the Taipei Times.