Wang looking forward to MLB exhibition games
US Major League Baseball pitcher Wang Chien-ming arrived in Taiwan yesterday, where he will take part in a series of MLB exhibition games to be held from Nov. 1 to 6.
Wang, his wife and son arrived at the Taiwan Taoyuan International Airport at about 6am. They then took a High Speed Rail train to Greater Tainan, where he was born.
"It has been a long time since I last played with Taiwanese players," Wang said at the airport, adding that he will do his best.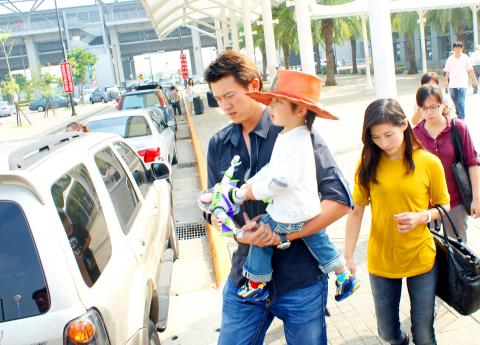 Wang Chien-ming carries his son at the Tainan High Speed Rail station as he returns home to Greater Tainan with his family yesterday.
Photo: Wu Chun-feng, Taipei Times
Wang also expressed joy at returning to his home country, though he appeared tired because of the long flight.
"The first thing I want to do now is go home and take a rest," he said.
Asked about his comeback this season after two years of rehabilitation from injuries, Wang only said he hopes his arms will become stronger and that he will stay healthy.
He has not yet recovered to his best condition, he said.
"There is still ample room for improvement," he said.
As to whether there will be a new contract with his team, the Washington Nationals, or any adjustment to his salary, Wang said his agent will take care of everything.
Wang finished the season 4-3 with a 4.04 ERA.
Nationals manager Davey Johnson called it "a remarkable season" for Wang.
The pitcher's one-year contract with the Nationals is set to expire in February.
Comments will be moderated. Keep comments relevant to the article. Remarks containing abusive and obscene language, personal attacks of any kind or promotion will be removed and the user banned. Final decision will be at the discretion of the Taipei Times.