Kinmen Liquor go on scoring binge in fourth quarter to down Bank of Taiwan
Overcoming an eight-point deficit in the fourth quarter, Kinmen Liquor outscored Bank of Taiwan by a 23-10 margin to run away with a 65-60 win in the second round of play at this year's Hualien Probation Cup Basketball Tournament at the Hualien County Sports Complex yesterday afternoon.
The win not only earned the Distillers a chance to take on the Yulon Luxgens this afternoon for a fifth-place finish, it also provided them with some much needed confidence for the upcoming SBL season.
"It was good to be able to come from behind to win it in the end. It adds another dimension to our team," rookie Kinmen Liquor skipper Hsu Chih-chao said.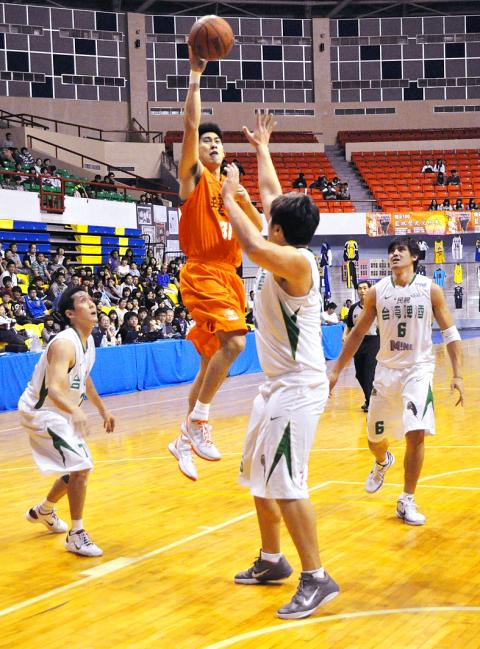 Pure Youth Construction's Mao Chia-en, center, shoots over the Taiwan Beer defense during their game in Hualien yesterday.
Photo: Yeh Shih-hung, Taipei Times
His young troops showed some rare poise for an inexperienced squad.
Unlike all three of their previous contests, the Bankers got off to a decent start and held the lead for most of the first three quarters, before a defensive collapse early in the fourth led to a game-turning 10-0 run for Kinmen Liquor.
"We seemed a little lost during the fourth," Bank of Taiwan head coach Lai Liang-chung said after the game.
His Bankers take on Malaysia today in the battle for seventh place.
Elite Talent Exchange 89, Tigers 67
The Elite Talent Exchange from the US remained unbeaten at 5-0 with an 89-67 win over the Dacin Tigers. Even though the Tigers' hired gun, Ronald Allen, had a good game shooting the ball from the perimeter, it was not enough to lead the Cats past his compatriots.
Pure Youth 104, Taiwan Beer 89
Breaking the century mark for the second time in as many days, Pure Youth Construction downed the defending champs Taiwan Beer in a 104-89 decision to earn themselves a ticket to this afternoon's title game against the Elites, while the Brew Crew had to settle for a chance to finish third with a battle against the Tigers.
Yulon Luxgens 85, Malaysia 59
The Yulon Luxgens salvaged a winning record in an otherwise disappointing showing during this year's competition with an 85-59 trouncing of Malaysia earlier yesterday. The win helped the Luxgens improve to a 3-2 mark and earned them a chance to close out with a fifth-place finish if they can beat Kinmen Liquor this afternoon.
Comments will be moderated. Keep comments relevant to the article. Remarks containing abusive and obscene language, personal attacks of any kind or promotion will be removed and the user banned. Final decision will be at the discretion of the Taipei Times.