NHL: Sabres beat Kings 4-2 in NHL's Germany debut
WILLKOMMEN, NHL: Luke Adam had two goals for Buffalo in front of a 'home' crowd that mainly cheered for his team, whose roster features two Germans and an Austrian
Luke Adam's two goals led the Buffalo Sabres to a 4-2 win against the Los Angeles Kings on Saturday, in the first NHL game to be played in Germany.
After killing off a penalty, Buffalo took control of the game at the O2 World arena with a second-period burst that began with Adam sending a wrist shot over goalie Jonathan Bernier's glove.
The Canadian forward scored his second just more than two minutes later after tapping in Thomas Vanek's pass from in front of goal.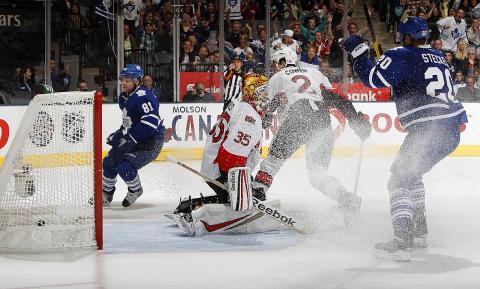 The Toronto Maple Leafs' Phil Kessel, left, scores his third goal against Ottawa Senators goalie Alex Auld, second left, in their game in Toronto on Saturday.
Photo: AFP
Sabres center Nathan Gerbe collected Marc-Andre Gragnani's bouncing pass before firing a shot that was deflected by Paul Gaustad past Bernier for 3-0.
The Kings finally beat Ryan Miller with 39 seconds left in the period when Anze Kopitar snapped a shot past the US goalie's glove side on the power play.
Drew Stafford beat Bernier on the power play for Buffalo's fourth before Kopitar scored his second from a backhand with less than five minutes to play.
"It's been great. We came here with the goal of playing good hockey and winning two games and we did," said Sabres forward Thomas Vanek, who has five points from two games.
With two Germans and one Austrian on their team, the Sabres enjoyed better support in Berlin despite forward Jochen Hecht being unavailable because of a head injury sustained in practice.
"It was a fantastic atmosphere today," said Sabres defenseman Christian Ehrhoff, one of Buffalo's two Germans.
Buffalo beat the Anaheim Ducks 4-1 on Friday in Helsinki to leave Europe with two victories.
The Kings had opened with a 3-2 win over the New York Rangers in Stockholm on Friday.
DUCKS 1, RANGERS 0, SO
In Stockholm, Bobby Ryan scored the only goal in a shootout as Anaheim overcame a stellar performance by New York goalie Henrik Lundqvist.
Andrew Cogliano opened the scoring for the Ducks midway through the first period, which stood until Brad Richards tied it with 2:15 left in the third period.
Lundqvist, playing before his "home" Swedish fans, kept the Rangers close and rewarded the sellout crowd with an outstanding game in the net, stopping 27 of 28 shots. Jonas Hiller made 14 saves for Anaheim.
RED WINGS 3, AVALANCHE 0
In Denver, the Detroit Red Wings beat Colorado to spoil a night in which the Avalanche retired the jersey of Peter Forsberg.
Johan Franzen scored the opening goal, with Henrik Zetterberg and Pavel Datsyuk also finding the net for the Red Wings.
Detroit goalie Ty Conklin was sensational in net as he filled in for Jimmy Howard, making 29 saves.
Semyon Varlamov made 36 saves in his Avalanche debut.
In a pregame ceremony, the Avs raised a banner with Forsberg's name and number to the rafters, where it will hang alongside those of Joe Sakic (19), Patrick Roy (33) and Ray Bourque (77).
MAPLE LEAFS 6, SENATORS 5
In Toronto, Phil Kessel had three goals and an assist as Toronto held off Ottawa for their second victory in two games this season.
Joffrey Lupul had a goal and two assists, Mikhail Grabovski and Colton Orr also scored, and James Reimer made 27 saves for Toronto, which led 5-1 midway through the third period.
Daniel Alfredsson scored twice for the Senators. Colin Greening, Jason Spezza and Stephane Da Costa, with his first NHL goal, also scored.
PENGUINS 5, FLAMES 3
In Calgary, Evgeni Malkin, Craig Adams and Tyler Kennedy scored to lead Pittsburgh over Calgary.
Defenseman Matt Niskanen had a goal and an assist for Pittsburgh and Jordan Staal added an empty-netter.
Curtis Glencross, Rene Bourque and Olli Jokinen scored for the Flames in Calgary's first game of the season.
In other NHL action, it was:
‧ Bruins 4, Lightning 1
‧ Capitals 4, Hurricanes 3, OT
‧ Flyers 3, Devils 0
‧ Sharks 6, Coyotes 3
‧ Wild 4, Blue Jackets 2
‧ Predators 4, Blues 2
‧ Blackhawks 5, Stars 2
‧ Panthers 2, Islanders 0
Comments will be moderated. Keep comments relevant to the article. Remarks containing abusive and obscene language, personal attacks of any kind or promotion will be removed and the user banned. Final decision will be at the discretion of the Taipei Times.