Cardinals and Brewers win thrilling Game 5s
PITCHING GEMS: Chris Carpenter went the distance to beat former Toronto Blue Jays teammate Roy Halladay to cap the Cardinals improbable upset over the Phillies
The St Louis Cardinals produced a major upset by beating the Philadelphia Phillies 1-0 on Friday, eliminating the World Series favorites from the postseason and moving into the NL Championship Series.
Chris Carpenter tossed a shutout to give the Cardinals a famous victory in the decisive fifth game of their NL Division Series.
St Louis scored the sole run in the first inning, when Rafael Furcal led off with a triple and Skip Schumaker followed with an RBI double.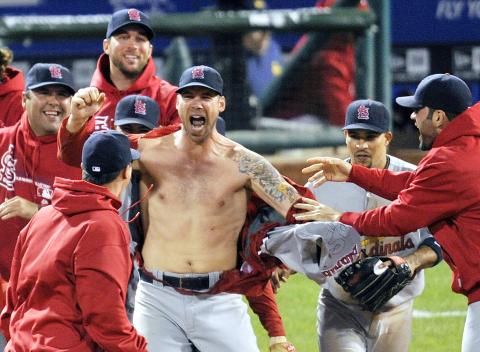 St Louis Cardinals starting pitcher Chris Carpenter celebrates after winning Game 5 of the NL Division Series against the Philadelphia Phillies on Friday in Philadelphia.
Photo: Reuters
Heavily favored Philadelphia never broke through against Carpenter. Ryan Howard grounded out to end the game, crumpling to the ground with a leg injury and being carried to the dugout as St Louis started to celebrate.
The Cardinals are the most unlikely team to have made it into the final four. They needed a monumental collapse by Atlanta in the final month of the regular season just to pip the Braves to the wild-card spot.
Now they're heading to Milwaukee for the NLCS starting today after beating three of Philadelphia's formidable four-ace pitching rotation: Roy Halladay, Cliff Lee and Roy Oswalt.
"We put ourselves into position where everybody was expecting us to have no chance and we just started playing like the team we knew we were," Carpenter said. "And we were fortunate to get some help back into it with Atlanta losing and we were playing well the rest of that month."
Three of baseball's four opening-round matchups went to a deciding Game 5 and all of them were pitching-rich thrillers. Detroit held off the New York Yankees 3-2 on Thursday and Milwaukee beat Arizona in 10 innings earlier on Friday.
Carpenter had already thrown more than 100 pitches when he took the mound in the ninth. He retired Chase Utley on a fly to the warning track in center and got Hunter Pence on a grounder.
Howard was next, and Carpenter got the big slugger to end a most improbable series win, leaving the Phillies to reflect on where it went wrong.
"We played 162 games and definitely we had the best record in baseball," Phillies manager Charlie Manuel said. "I know that we're capable of going farther in the playoffs."
BREWERS 3, D'BACKS 2, 10 INN
In Milwaukee, Nyjer Morgan drove in the winning run in the 10th inning to give Milwaukee a memorable victory in Game 5 against plucky Arizona.
Morgan grounded a ball straight past Diamondbacks closer J.J. Putz and Carlos Gomez sprinted home from second base to comfortably beat a wild throw to home plate.
Milwaukee had lost their lead in the ninth inning, but came back to record just the second playoff series victory in franchise history and first since 1982.
"We've heard all about 1982, so it's nice to start our own legacy," slugger Ryan Braun said.
Arizona did all they could to extend their surprising season and looked capable of it when tying the game in the top of the ninth, but ultimately fell short.
"This was a great baseball game today. I'm not happy to be on this end of it. Yet I'm proud of my team and they played true to the way they played all year," Arizona manager Kirk Gibson said. "And the Brewers, they cashed in on their opportunities, what can we say? We had tonnes of opportunities."
With a 2-1 lead and their tough bullpen combination of Francisco Rodriguez and John Axford lined up for the eighth and ninth, the Brewers appeared to have their ticket punched to the NLCS.
However, the Diamondbacks had the most comeback victories in the majors this season (48) and weren't about to go away easily.
They loaded the bases with two outs in the eighth, bringing up Ryan Roberts, one of two Diamondbacks players to hit a Grand Slam in the series, but Rodriguez got Roberts to ground into a forceout at second base, ending the threat.
Axford pitched the ninth, allowing a leadoff double to Gerardo Parra. Then pinch-hitter Sean Burroughs blooped a single to put runners on first and third.
Willie Bloomquist followed with a bunt, which Brewers first baseman Prince Fielder raced in to field. He nearly collided with Axford and stumbled, unable to throw to the plate as the tying run scored.
Arizona's Justin Upton then grounded into a forceout at second and Henry Blanco followed with a grounder to shortstop. Yuniesky Betancourt fielded the ball and barely beat the speedy Upton to second base to end the inning — although Betancourt paid for it, getting spiked in the left leg.
Comments will be moderated. Keep comments relevant to the article. Remarks containing abusive and obscene language, personal attacks of any kind or promotion will be removed and the user banned. Final decision will be at the discretion of the Taipei Times.