Tigers top Yankees; face Texas in ALCS
MISSED OPPORTUNITIES: The Yankees loaded the bases with one out twice, but they only managed one run from both chances on a night they stranded 11 men on base
The Detroit Tigers pounced early and held on to beat the New York Yankees 3-2 on Thursday to reach the American League Championship Series against the Texas Rangers.
The victory gave Detroit a 3-2 winning margin in their best-of-five divisional playoff series and sent the Yankees, who had the best regular season record, into the off-season.
Don Kelly and Delmon Young blasted back-to-back home runs in the first inning off starter and loser Ivan Nova and three relievers finished up for Tigers starter Doug Fister to secure the victory. Jose Valverde, who was a perfect 49 for 49 in save chances during the regular season, notched the save.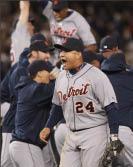 The Detroit Tigers' Miguel Cabrera, center, celebrates after defeating the New York Yankees in New York on Thursday.
Photo: AFP
"The Yankees are so good that I would be lying if I said it didn't give me a little extra satisfaction to be able to do it here in the fifth game," Tigers manager Jim Leyland said. "I don't mean that disrespectfully, I mean that respectfully. It gave me a great thrill to be able to do it here in Yankee Stadium."
Central Division champions the Tigers pitched superbly in the clutch as they kept New York from scoring with the bases loaded and one out in the fourth inning. They later gave up just one run with the bases full and one out in the seventh.
"These guys have pitched all year long, Detroit," New York manager Joe Girardi said after 11 Yankees base runners were left stranded in the game. "I look at this game and it was one hit, maybe one sac fly. That was the difference. They made some huge pitches when they had to."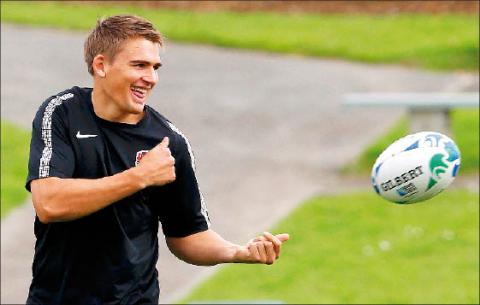 The Detroit Tigers' Alex Avila, left, celebrates after the New York Yankees' Alex Rodriguez struck out to end their American League Divisional Series in New York on Thursday.
Photo: AFP
Nova left after two innings because of some tightening in his forearm and the Yankees paraded in six relievers, including Game 3 starter C.C. Sabathia, who made his first relief appearance after 370 major league games as a starting pitcher.
Sabathia yielded the third run for Detroit in the fifth inning when he gave up a broken-bat double to Austin Jackson, who came around to score on a single by Victor Martinez.
New York failed to cash in on their first golden chance when Fister got Russell Martin to pop out to first and Brett Gardner to pop to third with the bases jammed in the fourth.
Robinson Cano finally got New York on the scoreboard with a solo home run in the bottom of the fifth off Fister. New York scored another run on a bases-loaded walk to Mark Teixeira in the seventh, but they left three men on in with Alex Rodriguez and Nick Swisher striking out.
In the ninth, Valverde, who finished all three Detroit wins, got Curtis Granderson to fly to left, retired Robinson Cano on a fly to center and ended with a flourish by striking out Alex Rodriguez, who fanned for the third time in the game.
The visiting clubhouse was a wild scene, with players jumping up and down, whooping in joy and spraying champagne in all directions, bubbly dripping off their protective goggles.
Down the wide gray corridor in the sombre Yankees' clubhouse, players were slow to make their way to their lockers after the stinging home loss.
"It's disappointing. I think there's no other way you can put it," Yankees captain Derek Jeter said. "We come here to try to win and we didn't get it done."
"This is devastating. We had chances. This one hurts. This is a major loss, a major failure for us," Rodriguez said.
Comments will be moderated. Keep comments relevant to the article. Remarks containing abusive and obscene language, personal attacks of any kind or promotion will be removed and the user banned. Final decision will be at the discretion of the Taipei Times.