Tigers beat Yankees in Big Apple
ALL SQUARE: The right-handed Max Scherzer held New York hitless at Yankee Stadium until one out in the sixth inning as Detroit tied the series 1-1 before it shifts to Michigan
The Detroit Tigers beat the New York Yankees 5-3 behind the masterful pitching of Max Scherzer and the hitting of Miguel Cabrera to level their best-of-five American League Division Series at 1-1 on Sunday.
A last-ditch New York rally from a 5-1 deficit fell short when Game 1 hero Robinson Cano grounded out with men on first and second to end the threat and eliminate New York's home-field advantage as the series shifts to Detroit.
"This is an unbelievable atmosphere," Tigers manager Jim Leyland said after the exciting finish against the team that owns a record 27 World Series titles. "Unbelievable history. It's not easy to do what we did. I'm awful proud of them."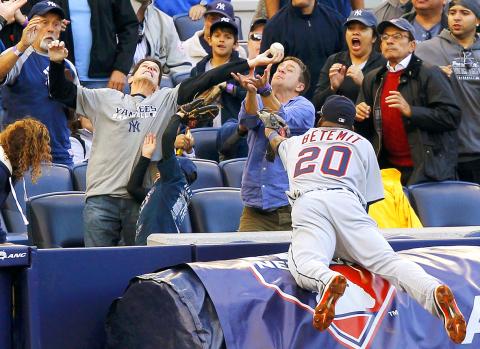 Wilson Betemit of the Detroit Tigers, front, dives into the crowd to try to catch a foul ball hit by Nick Swisher of the New York Yankees in the fifth inning of Game 2 of their American League Division Series at Yankee Stadium in New York on Sunday.
Photo: Reuters
The right-handed Scherzer held the Yankees hitless until one out in the sixth, when Cano blooped a single to left, and registered the win in his post-season debut.
Cabrera stroked a two-run homer in the first inning and singled home another run in a two-run sixth off New York's soft-throwing veteran Freddy Garcia, cashing in on opportunities provided by Magglio Ordonez, who had three hits.
Scherzer said he was relaxed and confident in the big game, and pleased to put Detroit in a favorable position.
"That was our No. 1 goal, to come here and split," Scherzer said, eyeing the next two games. "We have to like where we're sitting."
The Tigers carried a 5-1 lead into the ninth, but New York made it interesting against closer Jose Valverde, stirring up a crowd of 50,000 that had been quietened by Detroit's dominance.
Nick Swisher led off with a home run and Jorge Posada, second on the all-time list of post-season games played, drove a triple to center, the first playoff three-bagger ever for the slow-footed former catcher.
The roars at Yankee Stadium rose another notch after Russell Martin drew a walk and Andruw Jones followed with a sacrifice to make it 5-3.
Valverde struck out Derek Jeter, but walked Curtis Granderson after the former Tiger was given a second life when catcher Alex Avila slipped on the wet on-deck circle while drifting over for what should have been a routine catch of a foul pop-up.
That brought Cano to the plate as the potential winning run, but Cano, who drove in six runs in Saturday's 9-3 Yankees win, grounded harmlessly to second to end the game.
Detroit slugger Cabrera, who had three hits, and Scherzer combined earlier to give the Tigers the necessary cushion.
Scherzer, 15-9 in the regular season with an earned run average of 4.43, left after putting the first two men on in the seventh. He gave up just two hits, walking four and striking out five.
"Scherzer was really stingy against all our guys," Yankees manager Joe Girardi said.
Tigers reliever Joaquin Benoit stamped out the Yankees' seventh-inning rally by getting Martin to fly out, before striking out pinch-hitter Eric Chavez and Jeter.
Granderson, who went to New York in a three-way trade that took Scherzer to Detroit from Arizona, homered in the eighth inning off Benoit to make it 4-1.
Detroit padded their lead with a run in the ninth, before the dramatics in the bottom of the ninth.
SEE NETHERLANDS ON PAGE 19
Comments will be moderated. Keep comments relevant to the article. Remarks containing abusive and obscene language, personal attacks of any kind or promotion will be removed and the user banned. Final decision will be at the discretion of the Taipei Times.