Nationals stall the Braves' playoff race
BETTER AND BETTER: Washington manager Davey Johnson said Taiwanese pitcher Wang Chien-ming's return to MLB was remarkable as he keeps improving
NATIONAL LEAGUE
Taiwan's Wang Chien-ming pitched six solid innings and drove in his first career run on Saturday as the Nationals' 4-1 victory slowed Atlanta's chase for a wild-card playoff berth.
Wang, making his 11th start since returning from a two-year layoff in the wake of a shoulder surgery, allowed one run and four hits in six innings. He struck out four and walked none.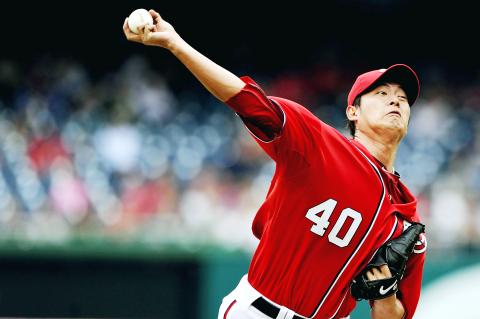 Starting pitcher Wang Chien-ming of the Washington Nationals works the first inning against the Atlanta Braves at Nationals Park in Washington on Saturday.
Photo: AFP
Wang returned in July and endured a couple of rough outings. However, in his last nine starts he is 4-1 with a 3.71 ERA.
"It was just a remarkable season," Washington manager Davey Johnson said. "He got better every time out."
Wang said he'd like to get more work this season.
"I wish I still can pitch a couple more games this season," Wang said. "Because with each outing I get, I feel my shoulder's stronger and then my breaking ball is coming back."
Wang's RBI single off Brandon Beachy — after Atlanta intentionally walked Ivan Rodriguez to bring him to the plate — capped a three-run fourth inning that gave Washington a 4-0 lead.
He had been 0 for 32 at the plate in his career.
"I was kind of lucky," Wang said.
The Braves lost for the 16th time in their last 26 games and remained two games ahead of St Louis for the National League wild card with four games remaining.
"When we beat the Braves, it's a good feeling. We want to fight for something," said Washington's Danny Espinosa, who singled in two runs in the fourth.
"If we keep them out of the playoffs, we'll keep them out of the playoffs. No hard feelings," Espinosa said.
CARDINALS 2, CUBS 1
In St Louis, Missouri, the Cardinals kept their faint wild-card hopes alive when Carlos Marmol forced home the tying run with a bases-loaded walk to Ryan Theriot with two outs in the ninth inning, then threw a game-ending wild pitch to give St Louis a victory over the Chicago Cubs.
The Cardinals pulled within two games of wild card-leading Atlanta. St Louis was to play the Cubs again yesterday, then closes with three games in Houston, Texas.
Jason Motte (5-2) got two outs for the win. Marmol (2-6) blew a save for the 10th time in 44 opportunities.
The Cubs had three of their six hits in the first, including Alfonso Soriano's RBI single off Kyle Lohse.
Cardinals star Albert Pujols walked in the sixth and has reached safely in 40 consecutive games, breaking a tie with Johnny Damon for the longest in the majors this season.
In other NL play, it was:
‧ Mets 2, Phillies 1, 1st game
‧ Mets 6, Phillies 3, 2nd game
‧ Pirates 4, Reds 3
‧ Rockies 4, Astros 2, 13 innings
‧ Brewers 6, Marlins 4
‧ Diamondbacks 15, Giants 2
‧ Padres 3, Dodgers 0
AMERICAN LEAGUE
AP, NEW YORK
Derek Jeter capped a six-run second inning with a three-run homer, rookie Jesus Montero had four RBIs in finishing a triple shy of the cycle and the New York Yankees stunned the reeling Boston Red Sox early in a 9-1 victory on Saturday.
Boston dropped to 4-15 since holding a nine-game lead over the Rays in the AL wild-card race on Sept. 4. Tampa Bay went into Saturday night's game in Toronto -trailing by two games.
Freddy Garcia (12-8) pitched six innings of six-hit ball, making his case for the No. 3 spot in the Yankees' post-season rotation. Jon Lester (15-9) allowed eight runs and eight hits in 2-2/3 innings as Boston starters fell to 3-10 with a 7.34 ERA during the slump.
RAYS 6, BLUE JAYS 2
In St Petersburg, Florida, Tampa Bay moved within 1.5 games of Boston in the AL wild-card race after Johnny Damon's three-run homer gave it victory over Toronto.
Damon connected with two out in the eighth, giving the Rays a four-run lead. Damon's third hit of the game came after shortstop Mike McCoy mishandled Evan Longoria's grounder for an error and Ben Zobrist flied out for the second out in the inning.
Rookie reliever Alex Torres (1-1) threw five shutout innings to earn his first big league win in his fourth game this season. The left-hander replaced Jeff Niemann to start the second and allowed three hits.
Damon also had a run-scoring double in the first as the Rays won for the second time in six games.
Jose Bautista hit his major league-leading 43rd homer for the Blue Jays, who had won seven of 11. Ricky Romero (15-11) gave up six runs — one earned — and six hits over 7-2/3 innings.
In other AL play, it was:
‧ Rangers 7, Mariners 3
‧ Orioles 6, Tigers 5
‧ Angels 4, Athletics 2
‧ White Sox 6, Royals 3
‧ Indians 8, Twins 2, 1st game
‧ Indians 7, Twins 6, 2nd game
Comments will be moderated. Keep comments relevant to the article. Remarks containing abusive and obscene language, personal attacks of any kind or promotion will be removed and the user banned. Final decision will be at the discretion of the Taipei Times.