Worley pitches Phillies past Mets 9-4
ON A ROLL: Even without Jimmy Rollins and Ryan Howard, Philadelphia smacked 13 hits to combine with Vance Worley's career-high nine strikeouts to dump New York
NATIONAL LEAGUE
Philadelphia pitcher Vance Worley kept New York scoreless until the seventh inning, laying the foundation for the Phillies' 9-4 win over the Mets on Tuesday.
Worley (9-1) finally allowed one run and had a career-high nine strikeouts to win his seventh straight decision.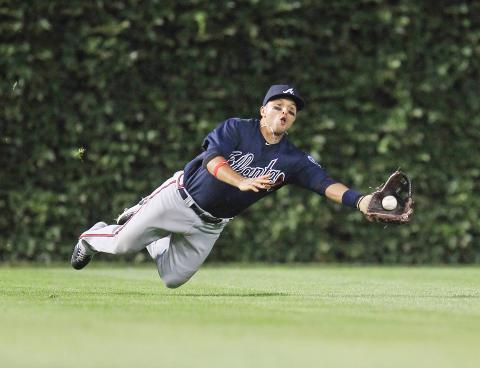 Martin Prado of the Atlanta Braves dives to make a catch on a hit by the Chicago Cubs' Alfonso Soriano at Wrigley Field in Chicago on Tuesday.
Photo: AFP
Playing without Jimmy Rollins, Ryan Howard and Raul Ibanez, the Phillies still got 13 hits. The red-hot John Mayberry and Shane Victorino both hit homers, and each had two hits and three RBIs.
Mets starter Jonathon Niese (11-11) gave up eight runs in four-plus innings in his worst start of the season. He is likely to go on the disabled list with a rib injury.
New York have lost five straight.
Brewers 11, Pirates 4
In Pittsburgh, Pennsylvania, Casey McGehee homered during Milwaukee's seven-run second inning, as the Brewers powered past Pittsburgh.
McGehee's homer came with Ryan Braun on base and accounted for the final two runs of a dreadful inning for Pittsburgh's Ross Ohlendorf (0-1), who was making his first start since April 8.
Braun had a two-run double earlier in the inning. Nyjer Morgan finished 4-for-6 with two runs and two RBIs, while Jonathan Lucroy had three hits.
Milwaukee starter Marco Estrada (4-8) allowed two runs over seven innings, beating the Pirates for the second time in 11 days. The Brewers (78-53) surpassed last season's win total and topped Pittsburgh for the 14th time in the past 15 meetings.
Braves 5, Cubs 4
In Chicago, Craig Kimbrel tied a major league rookie record with his 40th save, preserving Atlanta's win over Chicago.
Kimbrel worked the ninth for his 40th save in 45 opportunities, tying a mark set by Texas' Neftali Feliz last season. He ran his scoreless streak to 31-2/3 innings, as Atlanta won their sixth straight.
Jason Heyward hit his first career Grand Slam among his three hits. He connected after Alex Gonzalez drew a two-out bases-loaded walk off Casey Coleman (2-6), making it 5-0.
Chipper Jones also had three hits for the Braves, who almost gave the game away.
Alfonso Soriano led off the Cubs' four-run fifth with a homer. Then in the ninth, Aramis Ramirez singled with two outs, giving him a career-high five hits, while extending his hitting streak to 12 games. He advanced to second to put the potential tying run in scoring position, but Tyler Colvin struck out to end the game.
Atlanta's Mike Minor (4-2) won his third straight start.
Diamondbacks 2, Nationals 0
In Washington, Ian Kennedy pitched seven scoreless innings to steer Arizona past Washington.
Kennedy (16-4) struck out eight and also added a single and a double with the bat. It was his eighth win in his past nine starts and it ended Arizona's six-game losing streak.
Sean Burroughs' two-run homer in the seventh inning was his first since 2005 and it provided all the scoring for the game.
Nationals starter Jordan Zimmermann (8-11) held the Diamondbacks scoreless through six innings before Burroughs' shot.
In other NL action, it was:
‧ Dodgers 13, Cardinals 2
‧ Padres 7, Giants 5
‧ Reds 8, Marlins 6
‧ Rockies 8, Astros 6
AMERICAN LEAGUE
AP, ARLINGTON, Texas
Boston's Adrian Gonzalez homered twice as the Red Sox finally got their first win of the season at Texas, beating the Rangers 11-5 in Tuesday's clash of AL divisional leaders.
Jacoby Ellsbury made an immediate impact in his return to the lineup, leading off the game with a single, stealing second and scoring on Gonzalez's first homer, putting the Red Sox ahead to stay. The All-Star center fielder had missed three games after getting hit by a pitch.
Boston, who had lost their first four games at Rangers Ballpark this season, moved within 2 percentage points of first-place New York in the AL East.
Red Sox starter John Lackey (12-9) pitched 6-2/3 innings for his seventh win in his past eight starts.
Texas starter Colby Lewis (11-9) allowed seven runs over six innings.
Tigers 2, Rays 1
In St Petersburg, Florida, Brad Penny pitched effectively into the seventh inning as Detroit edged Tampa Bay.
Penny (9-9) gave up one run over 6-1/3 innings, getting back to his best after shaky recent form.
Phil Coke struck out five over the final two innings for his first save.
Alex Avila had an RBI single for the Tigers.
Rays starter David Price (11-11) allowed two runs in eight innings to take the loss.
Athletics 6, Yankees 5
In New York, Brandon Allen hit two long homers and Eric Sogard connected for one that barely cleared the wall as Oakland hung on to beat New York.
Brandon McCarthy extended the A's stretch of superb pitching by going into the eighth before allowing a two-out, three-run homer to Nick Swisher. Those three runs were one more than Oakland had given up in the previous three games combined.
The Yankees, who had trailed 6-0 in the seventh, got two more runs in the ninth against closer Andrew Bailey, before Swisher flied out to the track in right-centerfield with the bases loaded to end it.
McCarthy (7-6) struck out six in 7-2/3 innings, improving to 6-1 in eight starts since the All-Star break.
Yankees starter Bartolo Colon (8-8) gave up five runs for the second straight start. He has not won in four starts.
In other AL action, it was:
‧ Indians 7, Mariners 5, Game 1
‧ Mariners 12, Indians 7, Game 2
‧ Angels 5, White Sox 4
‧ Royals, 6, Blue Jays 4
‧ Orioles 8, Twins 1
Comments will be moderated. Keep comments relevant to the article. Remarks containing abusive and obscene language, personal attacks of any kind or promotion will be removed and the user banned. Final decision will be at the discretion of the Taipei Times.