Twins bats send Yanks' A.J. Burnett running early
AMERICAN LEAGUE
The Minnesota Twins pounced on Yankees' starter A.J. Burnett's struggles for seven early runs and cruised to an easy 9-4 win over New York on Saturday.
Despite the loss, New York remained a half-game ahead of Boston in the AL East, as the Red Sox lost 9-4 to the Kansas City Royals.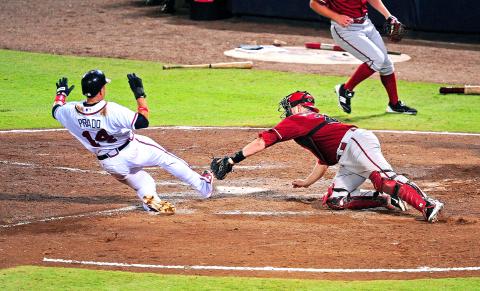 The Atlanta Braves' Martin Prado, left, is tagged out at home by Miguel Montero of the Arizona Diamondbacks at Turner Field in Atlanta, Georgia, on Saturday.
Photo: AFP
"It's kind of a long, overdue feeling," said Twins' third baseman Danny Valencia, who hit a solo home run to lead off the second inning. "We've played these guys tough, but at the same time we've come up empty-handed a bunch. So it's nice to come out and win and win kind of big."
Already trailing 4-0 in the second inning, Burnett loaded the bases with successive walks, which prompted Yankees manager Joe Girardi to replace his starter, who appeared to voice his displeasure as he left the mound.
"I was not talking to Joe, absolutely not," said Burnett, who indicated his displeasure was directed toward the umpire's call on his final pitch. "No matter how mad I get, that guy's taken my back every day I've been here."
Girardi supported his pitcher.
"Everyone always seems to want to blow up about A.J.," Girardi said. "Nothing happened between me and A.J. I went and looked at the pitch. And I'm tired of it. I'm tired of people looking for something between me and A.J."
Reliever Luis Ayala was unable to slow the Twins, as all three base runners left by Burnett scored and stretched the lead to 7-0.
Twins starter Francisco Liriano allowed one run on three hits, while striking out six in seven innings.
TIGERS 10, INDIANS 1
In Detroit, the hosts routed Cleveland to extend their AL Central lead over the Indians to three-and-a-half games.
Brandon Inge, whose 11-year career looked over when he was sent to the minors last month, homered in his return to the Tigers lineup and hit a 400-foot RBI double for his first game with two extra-base hits since this time last year.
Detroit's Alex Avila, catching his 14th straight game, went 2-2 with three walks. He's hitting .442 with a .567 on-base percentage this month.
RAYS 8, MARINERS 0
In St Petersburg, Florida, Jeremy Hellickson pitched eight scoreless innings to direct Tampa Bay's win over Seattle.
Hellickson (11-8) was coming off the shortest start of his 32-game career, a 4-1/3 inning outing against the Yankees.
Evan Longoria hit a two-run homer in the first and finished with four RBIs. He joined Hall of Famer Eddie Mathews as the only major league third basemen to have 20 or more homers in each of their first four seasons.
ATHLETICS 5, BLUE JAYS 1
In Oakland, Gio Gonzalez pitched eight stellar innings for his first win in more than a month, leading Oakland over Toronto.
Gonzalez (10-11) combined with closer Andrew Bailey to retire 25 of the final 27 Toronto batters.
Brandon Allen had two hits and scored the go-ahead run on a double play in the fourth inning, while Josh Willingham homered as part of a three-run eighth for Oakland.
Toronto played without majors-leading home run hitter Jose Bautista, who had a stiff neck.
Toronto starter Henderson Alvarez (0-1) took the loss despite a solid effort.
In other AL action, it was:
‧ Royals 9, Red Sox 4
‧ White Sox 3, Rangers 2
‧ Angels 9, Orioles 8 (12)
NATIONAL LEAGUE
AP, ATLANTA, GEORGIA
Atlanta's Dan Uggla homered twice and drove in three runs as the Braves beat Arizona 8-1 on Saturday, further frustrating the Diamondbacks' efforts to pull clear in the NL West race.
Uggla's two-run homer in the first gave Atlanta the lead. Uggla and Freddie Freeman hit back-to-back homers in the seventh.
Braves starter Brandon Beachy (6-2) gave up only one run and one walk in six innings while striking out seven; taking his third straight decision.
Arizona has lost four straight and has been unable to take advantage of San Francisco's own form slump, remaining a fragile two-and-a-half games ahead of the Giants.
PHILLIES 5, NATIONALS 0
In Washington, Roy Oswalt pitched eight scoreless innings to steer Philadelphia to victory over Washington.
Oswalt (6-7) was supposed to start for the Phillies on Friday, but a rain delay in that game meant he was moved back to Saturday. He showed no ill effect from the schedule change, striking out nine batters — his most since joining the Phillies a year ago — and walked only one.
Wilson Valdez and Jimmy Rollins each drove in two runs and Hunter Pence homered for the Phillies.
ROCKIES 7, DODGERS 6 (13)
In Denver, Dexter Fowler atoned for a crucial mistake by hitting an RBI single with two outs that gave Colorado a win over Los Angeles.
Fowler misplayed a line drive by Trent Oletjen into an inside-the-park homer in the 12th that gave Los Angeles a 6-4 lead.
However, Fowler led off the bottom half with a walk and scored when Todd Helton doubled. Helton, who earlier homered on his 38th birthday, helped set up a tying grounder by Eliezer Alfonzo.
Mark Ellis hit a two-out double in the Colorado 13th and Fowler lined a single off Blake Hawksworth (2-4).
BREWERS 11, METS 9
In New York, Prince Fielder hit a long home run early and a tying single in the ninth inning that lifted Milwaukee to a win over New York.
Casey McGehee followed Fielder's tying hit with a two-run single, capping a four-run rally.
Fielder, Ryan Braun and Yuniesky Betancourt all homered for the Brewers, who have won eight of their past nine games.
The Brewers led 7-1, but the Mets came back, with Angel Pagan hitting a two-run homer off former teammate Francisco Rodriguez (5-2) in the eighth. However, Mets reliever Jason Isringhausen (3-3) couldn't get an out in the ninth and left after a bases-loaded walk.
In other NL action, it was:
‧ Cubs 3, Cardinals 0
‧ Pirates 5, Reds 3
‧ Astros 7, Giants 5
‧ Padres 14, Marlins 1
Comments will be moderated. Keep comments relevant to the article. Remarks containing abusive and obscene language, personal attacks of any kind or promotion will be removed and the user banned. Final decision will be at the discretion of the Taipei Times.