David stamps authority on Australian Open
Malaysian squash queen Nicol David wasted little time in stamping her authority on the Australian Open in Canberra when she blitzed Australia's Samantha Davies in straight games on Tuesday.
David raced to an easy 11-3, 11-6, 11-2 first-round win over her unheralded opponent to set up a clash with 17-year-old Emily Whitlock of England, 11-9, 7-11, 11-4, 11-3 winner over 15th-seeded Kiwi Kylie Lindsay.
World No. 1 David has never played in an Australian Open before, but she is the overwhelming favorite to claim the title this year.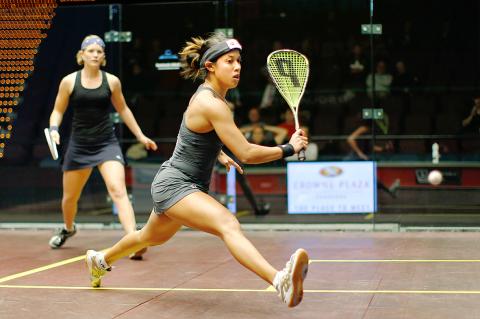 World squash No. 1 Nicol David, right, of Malaysia strides for the ball in her first-round 11-3, 11-6, 11-2 win over Samantha Davies of Australia, left, at the Australian Open in Canberra on Tuesday.
Photo: AFP
David said she did not much about her first round opponent.
"I had never played Samantha before so I didn't know what to expect," she said. "I knew she was a big shot player and she made some shots today, but I just stuck in there and played solid."
David had a rare loss at last week's Singapore Open to England's Laura Massaro, but said she had already put that out of her mind.
"Those days happen and I'm just moving forward," she said.
Massaro is not playing in Canberra, but her countrywoman Jenny Duncalf was just as -impressive as David as she cruised to an 11-5, 11-3, 11-3 win over Australian qualifier Vanessa Pickerd.
"You can never take any match lightly, but it's nice to get a feel for the court early," said Duncalf, the world No. 2.
The remainder of the top women's seeds all progressed with dominant displays.
Third-seed Rachael Grinham beat Lucie Fialova of the Czech Republic 11-6, 11-5, 11-2, Ireland's Madeline Perry (4) downed Malaysia's Siti Munirah Jusoh 11-5, 11-2, 11-3 and Kasey Brown (5) was too good for New Zealand's Amanda Cranston 11-2, 11-7, 11-3.
There were no surprises in the bottom half of the men's draw with second-seeded Egyptian Ramy Ashour, fifth-ranked Gregory Gaultier of France and Peter Barker, the sixth seed from England, all progressing in straight games.
Ashour downed Malaysian -qualifier Ivan Yuen 11-3, 11-7, 11-3, and Gaultier and Barker both overcame Australian challengers.
Barker was too steady for Aaron Frankcomb, winning 11-6, 11-8, 11-7, while Gaultier was in blistering form as he downed world No. 14 Cameron Pilley 11-6, 11-8, 11-7.
Gaultier's semi-final loss last year to Ashour is regarded as one of the finest squash matches ever played in Australia and he showed similar form against the dangerous Pilley.
"It was maybe the worst draw I could get for the first round," Gaultier said of his opponent. "But I was in really good shape and moving well, finding my length, I was really patient and I managed to play a little bit faster than him.
"I really played well here last year, I enjoy this venue and I hope I can do better this year," Gaultier added.
Comments will be moderated. Keep comments relevant to the article. Remarks containing abusive and obscene language, personal attacks of any kind or promotion will be removed and the user banned. Final decision will be at the discretion of the Taipei Times.