Extreme heat, pressure could make PGA a true gem
Tiger Woods is healthy. Rory McIlroy is ready. Lee Westwood, Luke Donald and Adam Scott are hungry. Temperatures are hot, the course is formidable and young guns are taking aim at a major title.
There's not much more golf fans could want when the 93rd PGA Championship tees off today at the Atlanta Athletic Club, a 7,467-yard (6,827.8m) par 70 layout where the world's finest meet in the year's final major tournament.
"The competition is strong," Scott said. "Luke Donald has played amazing, Lee Westwood is playing amazing and now we have Tiger healthy again, so this is going to be interesting for everyone to watch."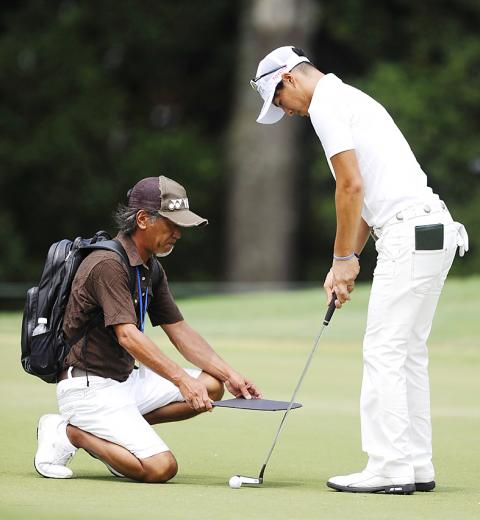 Ryo Ishikawa, right, from Japan practices his putting on the fifth green during practice for the 93rd PGA Championship at the Atlanta Athletic Club in Johns Creek, Georgia, on Tuesday.
Photo: EPA
Former World No. 1 Woods, a 14-time major winner chasing the all-time record 18 majors won by Jack Nicklaus, missed three months with left knee and Achilles tendon injuries before returning last week at a World Golf Championships event.
Woods said he was "absolutely encouraged" about his game even though he has not won a single title since the Australian Masters in November 2009 and has not won a major since the 2008 US Open.
"It would surprise me if he went on and won the next couple of weeks," said World No. 1 Donald, the Englishman citing the difficulty in coming back from an injury at a high level.
Tiger Woods of the US watches his tee shot on the seventh hole during a practice round for the 93rd PGA Championship at the Atlanta Athletic Club in Johns Creek, Georgia, on Tuesday.
Photo: Reuters
McIlroy, the Northern Ireland prodigy who won his first major title at the US Open in June, was hailed as the next Woods, but was unhappy with wind for the second British Open in a row and said he likely will play the US tour next year.
"I'm playing well," McIlroy said. "I'm really happy with the way I'm hitting it and [I'm] driving it a lot better than I have done the last couple weeks, so yeah, I'm ready for it."
Australian Scott comes off a World Golf Championship victory last week with new caddie Steve Williams, fired by Woods last month after serving as his bagman in 13 major wins.
"I've won a few times before a major and I've won a few times the week after a major as well, but it's very hard to peak for a certain week," Scott said. "With the way I've set it up, it shouldn't be as hard as it was in the past to carry a bit of form into a major."
Scott will play alongside Japan's Ryo Ishikawa and Italy's Matteo Manassero, teen titans threatening to claim a major title before the 31-year-old Aussie.
"We have some high-quality young players living up to their potential quickly, like Rory and Ryo and Matteo," Scott said.
England's second-ranked Lee Westwood has adopted a more relaxed attitude in his search for a first major crown after talks with Bob Rotella, the sports psychologist who helped Darren Clarke before his British Open victory last month.
"I've done all the hard work now, done it for 20 years," Westwood said. "It is time to just relax and let it flow ... have a free and clear mind and play like it doesn't really mean anything and try to have fun out there."
Westwood also hopes to complete the "Chubby Slam" for manager Chubby Chandler, who is also manager for the year's three prior -major winners — McIlroy, -compatriot Clarke and Masters winner Charl Schwartzel of South Africa.
"He has waited a long time to get a major champion and all of a sudden it has snowballed," Schwartzel said. "He deserves it."
The course has been renovated since offering up David Toms the lowest major 72-hole score of 15-under 265 to win the 2001 PGA Championship.
"It's quite long and demanding off the tee," Scott said. "Driving the golf ball this week is certainly going to be the only way to create opportunity for birdies. You must be in the fairway."
Considering the wet conditions in which McIlroy won the oft-punitive US Open, the PGA might produce the test Congressional Country Club did not.
"Very fast, slopey greens, which is going to be quite challenging," Donald said. "If they get them any firmer and faster, it's going to play more like the US Open than the US Open was."
Sweltering heat will test fitness, while the course takes its toll on golf skills.
"We have to conserve some energy this week and drink water because it is extreme heat out there," Scott said. "We're going to be out there for five-and-a-half hours and we're going to have to deal with it."
Westwood dropped 4kg with diet and exercise, deadlifting 160.6kg — "a Chubby and a quarter" — and said "In any conditions, it helps to be fit, but it's an advantage in heat like this."
Americans will try to end a record six-major win drought and prevent the first year since 1994 with no US major winner.
First-time major winners have taken nine of the past 10 majors, the lone exception being the most recent major title for an American: Phil Mickelson's Masters victory last year.
The last time a prior major winner won the PGA crown was in 2007 in extreme heat at Southern Hills when Woods took the title.
Comments will be moderated. Keep comments relevant to the article. Remarks containing abusive and obscene language, personal attacks of any kind or promotion will be removed and the user banned. Final decision will be at the discretion of the Taipei Times.