Worries over Brazil World Cup readiness
On Saturday, FIFA will fire the starting gun for the build-up to the 2014 World Cup in Brazil, with the qualifying draw in Rio de Janeiro.
However, lingering worries over security and the country's infrastructure continue to occupy the minds of organizers.
Several of the 12 venues, including the mythical Maracana in Rio, remain either behind schedule on construction or renovation, and/or over budget.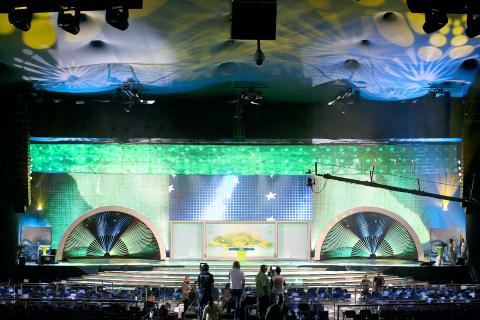 Crew members ready the stage for the preliminary draw of the 2014 FIFA World Cup Brazil in Rio de Janeiro on Tuesday.
Photo: AFP
A mooted new venue in Natal in the northeast of the huge country of almost 200 million people has yet to see the light of day and another in Minas Gerais state in the southeast is behind schedule owing to worker protests.
"If work goes on at its current rate, when we have the Confederations Cup a year before the World Cup, there won't be matches in Rio and Sao Paulo — the World Cup venues won't be ready," FIFA president Sepp Blatter said in March.
Organizers in Rio say they believe that the Maracana will finally be spick and span in time — but only after renovations costing US$625 million.
Brazilian President Dilma Rousseff said the construction program "will be duly completed on time," in the words of her Brazilian Ministry of Sports assessor Alcino Rocha.
However, above and beyond the stadium costs, further associated public funds of public investment are still required to the tune of an estimated US$11.4 billion.
Much of that will go to improving the road network, boosting hotel capacity, reinforcing security, modernizing telecommunications systems and also improving air traffic capacity with the current network's capacity already full to bursting point.
A major influx of tourism on a nationwide scale would likely see the system collapse, causing chaos to the travel plans of hundreds of thousands of fans.
"During June and July 2014, the Cup will generate an additional flow of some 2.25 million passengers through Brazilian airports," according to a report from the Getulio Vargas Foundation and consultancy Ernst & Young Terco.
That influx corresponds only to median passenger numbers for the summer of 2009, meaning extra capacity is sorely needed.
"To deal with this increase, investments of 1.213 billion reals" (US$777.5 million) will be undertaken, the report says.
Official reports warn that of 13 airports being expanded in time for the Copa to serve the 12 venues, nine will not be completed on time.
"One cannot see this issue just in terms of the Cup — there has to be planning so that the investments can be signed off and approved," said Marcos Nicolas, executive director of Ernst & Young Terco.
The government has already launched plans to privatize several major airports, including Guarulhos, serving Sao Paulo, Viracopos (Campinas) and Brasilia.
Although officials say things are coming together, respected sports journalist Celso Unzelte said that the country's "structural problems ... won't get resolved in three years."
"The event will go ahead as FIFA dropped the level of its demands" for the hosting of the jamboree, Unzelte said.
Unzelte added that despite former Brazilian president Luiz Inacio Lula da Silva saying that the country would pull it off, Brazil in reality "cannot aspire to host the best World Cup in history," even as it strains to modernize as fast as possible to meet expectations.
Former soccer star and current politician Romario agrees.
"Only Jesus can get Brazil to host the best ever World Cup. If he shows up in three years time, then it will be possible," Romario said.
Comments will be moderated. Keep comments relevant to the article. Remarks containing abusive and obscene language, personal attacks of any kind or promotion will be removed and the user banned. Final decision will be at the discretion of the Taipei Times.