Ryan Lochte sets the first swimming world record since high-tech suit ban
Ryan Lochte has not only beaten Michael Phelps in consecutive races — he has taken swimming to a new level.
The laid-back American edged Phelps for gold in the 200m individual medley at the world championships yesterday, setting the first world record since high-tech bodysuits were banned at the start of last year.
With Phelps putting pressure on in the final freestyle lap, Lochte sprinted to the wall and touched in 1 minute, 54.00 seconds to improve on his old mark of 1:54.10 set at the last worlds in Rome two years ago when polyurethane suits were still in use.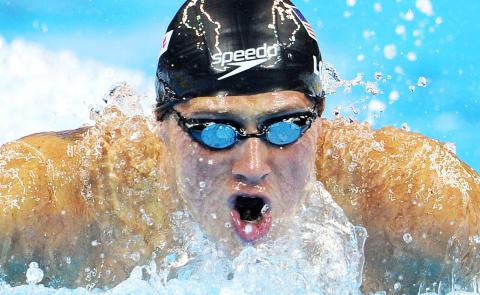 US swimmer Ryan Lochte competes in the final of the men's 200m individual medley at the FINA World Championships in Shanghai, China, yesterday.
Photo: AFP
"All I can say is summed up in one word — Jeah!" Lochte said, using his signature phrase. "I knew it was going to be a battle between Michael and I. I got the better end this time."
Phelps settled for silver in 1:54.16 and Laszlo Cseh of Hungary took bronze in 1:57.69.
"That one frustrated me more than anything," Phelps said. "I thought I was going to get that one."
Cseh took silver between Phelps and Lochte in both the 200m and 400m individual medleys at the 2008 Beijing Olympics, giving him close perspective on how Lochte has gained the upper hand.
"I think without Michael, he can't beat the world record," Cseh said. "He needs Michael to swim together and race against each other, and I think this is a good thing."
Lochte also beat Phelps in the 200m freestyle in both Americans' opening individual event on Tuesday. Lochte has two more events and Phelps one, although they will not go head-to-head again.
Phelps, who came into this meet with just six months of training, reached out and shook hands with Lochte at the finish.
"He's really done all the little small things right," Phelps said. "He has more comfortable speed now than he had before. He's super focused. He's just more prepared. Things are always won by people who are most prepared. ... To go faster than he did in 2009 is incredible."
Lochte also set two world records at the short-course worlds in Dubai in December, the only other individual marks set over the last 19 months, although swimming prefers to measure itself in the 50m Olympic-sized pool.
A record 43 marks fell at the 2009 worlds and with only three more days remaining, it was starting look like this meet might end without a single record. However, Lochte changed all that and even produced an uncharacteristic celebration, pumping his fist and waving to the crowd when he emerged from the pool as colored lights flashed inside the Oriental Sports Center.
"Anytime you break a world record, you got to be excited," the Floridian said. "I trained hard and it paid off."
Meanwhile, budding Australian standout James Magnussen won the 100m freestyle — swimming's signature event. Already dubbed the "The Missile" by Australian media, Magnussen took the lead from defending champion Cesar Cielo after 50m and touched in 47.63 seconds.
Brent Hayden of Canada took silver in 47.95 and William Meynard of France grabbed the bronze in 48.00, while Cielo, the Brazilian who was cleared of doping last week by the Court of Arbitration for Sport, finished fourth.
Competing in his first world meet, the 20-year-old Magnussen created a buzz with his sizzling opening split of 47.49 against Phelps in the 4x100m relay on the meet's opening night on Sunday, setting up Australia for gold.
"It means the world and I know it means a lot to Australian swimming as well," Magnussen said. "First person to win that event at a world championships from Australia, which is a pretty big deal. I think it puts men's sprinting in Australia back in the spotlight."
The women's 200m fly was won by Jiao Lliuyang of China in 2:05.55, with Ellen Gandy of Britain second and Liu Zige of China, the defending champion and world record holder, third. Jiao took silver behind Liu at the Beijing Olympics.
In a non-Olympic event, Anastasia Zueva of Russia won the women's 50m backstroke in 27.79, with Aya Terakawa of Japan second and Missy Franklin of the US third.
Fifty minutes after his record swim, Lochte was back in the water for the 200m backstroke semi-finals, which he led in 1:55.65.
Comments will be moderated. Keep comments relevant to the article. Remarks containing abusive and obscene language, personal attacks of any kind or promotion will be removed and the user banned. Final decision will be at the discretion of the Taipei Times.