Crunch time arrives for Southeast Asian hopefuls
With continental powerhouses Saudi Arabia and Iran virtually assured of advancing to the next stage of qualifying for the 2014 World Cup, much of the second-round drama is expected to center on Southeast Asia this week.
Of the fifteen second-round matches played last weekend, the few that remain finely balanced in today's return legs involve one of the continent's most passionate soccer regions.
The last time a country from Southeast Asia made the World Cup was 1938 — when Indonesia was known as the Dutch East Indies — and after none of its teams qualified for this year's Asian Cup in January, having just a single representative in the group stage of qualifying for Brazil 2014 would be another disappointment.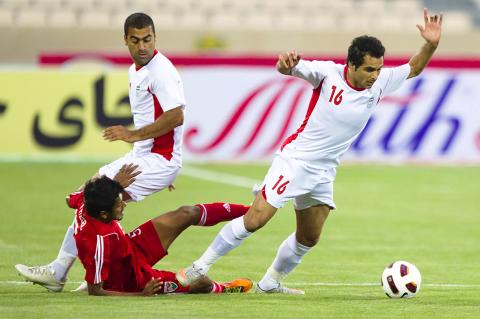 Hadi Norozi, right, and Maziar Zare, left, of Iran fight for the ball with Ibrahim Fazeel of the Maldives in their 2014 FIFA World Cup qualifying soccer match at Tehran's Azadi stadium on Saturday.
Photo: Reuters
One Southeast Asia spot in the next round is guaranteed as archrivals and neighbors Singapore and Malaysia were drawn together — Singapore winning a thrilling first leg 5-3 at home. Other Southeast Asian countries are still in contention after the first leg of the second round: Indonesia earned a 1-1 draw in Turkmenistan, Thailand takes a 1-0 advantage to Palestine; while in Yangon, Myanmar has to reverse a 2-0 opening loss to Oman.
Singapore may regret allowing a 4-1 lead become 5-3 in a game already being viewed as a classic. The return match promises more of the same with the 85,000 capacity Bukit Jalil Stadium in Kuala Lumpur expected to be full.
"I think Malaysia will progress to the next round," said B. Sathianathan, who left his post as Malaysian head coach in 2008. "The full capacity is extra motivation for Malaysia and will spur the players to go the extra mile to qualify for the next round. The fitness level of both teams will decide the outcome especially in the second half of the game."
With political wrangling off the field, it has been a tough year for Indonesian soccer. Those problems cost Alfred Reidl his job as head coach just over a week ahead of the Turkmenistan match. Despite the dismissal, Reidl believes his former charges will progress to the next stage.
"This was the squad that I assembled," Reidl said. "Indonesia deserved the draw and the players are clearly better than their opponents at an individual level. Indonesia had problems only in the first 20 minutes in defense, but after that, controlled the match, despite having to play on a terrible pitch."
"It would be a big surprise if Indonesia does not reach the next round," Reidl said.
Thailand's prospects of making the group stage — when seeded teams Australia, Japan and North and South Korea enter Asian qualifying — would be much better if Suchao Nutnum had not missed a last-minute penalty against Palestine.
Thailand, which parted company with former England captain Bryan Robson as coach last month, dominated the game, but only won 1-0 thanks to a first-half goal from Jakkraphan Kaewprom.
Zesh Rehman, a former Fulham defender who is now captain of Thai Premier League champion Muang Thong United, is confident the team will progress.
"I thought Thailand played very well in the first leg, it was solid at the back and looked a threat going forward," Rehman said.
Unfortunately for the Philippines and Vietnam, the group stage looks to be out of reach after losing 3-0 to Kuwait and Qatar respectively. Laos shocked China by taking a 2-0 lead in China, but ended up losing 7-2.
In the only other game that looks wide open, Tajikistan will try to overcome its 2-1 first leg defeat against Syria, a match that was played in Jordan because of political unrest in Syria.
The two highest-profile head coaches in Asian soccer enjoyed comfortable home wins in their first taste of competitive action on the continent and are almost -certain to be in the group stage.
Former Barcelona and Netherlands boss Frank Rijkaard led Saudi Arabia to a 3-0 win over Hong Kong, while ex-Portugal and Real Madrid head coach Carlos Queiroz saw his Iran team stroll to a 4-0 victory over the Maldives.
The western side of the continent performed well and almost certainly ended any South Asian hopes of progressing to the group stage.
Jordan thrashed Nepal 9-0, Lebanon defeated Bangladesh 4-0, while the United Arab Emirates take a 3-0 advantage to New Delhi after defeating nine-man India at home.
Comments will be moderated. Keep comments relevant to the article. Remarks containing abusive and obscene language, personal attacks of any kind or promotion will be removed and the user banned. Final decision will be at the discretion of the Taipei Times.