Braves win in 19-inning marathon
CONTROVERSY: The game lasted more than six hours, and ended on a controversial play in which Julio Lugo was called safe at home when he appeared to be out
NATIONAL LEAGUE
The longest game of the Major League season ended on a controversial play in the 19th inning, as the Atlanta Braves prevailed 4-3 over the Pittsburgh Pirates in a marathon affair that ended yesterday morning.
Atlanta's Julio Lugo scored the winning run from third base on an infield ground ball after he was called safe, even though it appeared Pittsburgh catcher Michael McKenry had tagged him out.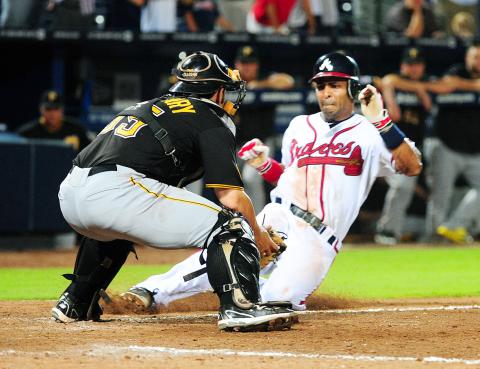 The Atlanta Braves' Julio Lugo scores the game-winning run in the 19th inning against Pittsburgh Pirates catcher Michael McKenry at Turner Field in Atlanta, Georgia, early yesterday morning.
Photo: AFP
Pirates manager Clint Hurdle furiously argued the call as the umpires retreated from a lengthy contest that started on Tuesday and carried over into the morning hours.
The Braves needed six hours and 39 minutes to outlast the Pirates, narrowly surpassing the previous longest battle this year.
Cincinnati and Philadelphia competed for six hours and 11 minutes during their own 19-inning marathon on May 25.
This matchup featured 15 pitchers and remained tied 3-3 through 15 scoreless innings.
Pittsburgh (53-48) tallied two runs in the first and one in the second to take a 3-0 lead, but the Braves (60-44) responded with three scores in the third to tie it up.
The longest game in the franchise history of both teams took its toll, however.
The Pirates fell one game behind first place in the NL Central and Atlanta's All-Star catcher Brian McCann strained his oblique in the 10th inning and is likely headed for the disabled list.
PHILLIES 7, GIANTS 2
Philadelphia rookie pitcher Vance Worley threw a complete game to steer the Phillies to victory over the San Francisco Giants in a clash of NL divisional leaders.
Worley (7-1) had five strikeouts and one walk, and has allowed two earned runs or less in 11 of his 13 career starts. It was his fifth straight win.
Chase Utley had a rare inside-the-park home run, while Ryan Howard, John Mayberry Jr and Raul Ibanez went by the standard route of clearing the fences.
Giants starter Barry Zito (3-3) — a late replacement for an ill Tim Lincecum — allowed six runs in seven innings.
METS 8, REDS 6
In Cincinnati, New York took advantage of one of Cincinnati's worst defensive performances of the season.
The Mets scored six unearned runs off Johnny Cueto (6-4) with the help of three errors, matching the Reds' worst for a game.
Jason Pridie put New York ahead with a two-run double, while David Wright continued his hitting surge since returning from a back injury, getting two more hits and driving in a run to improve to 10-for-24 with seven RBIs in his five games back.
Mets starter Jonathon Niese (10-8) went five innings, giving up five runs in five innings.
In other NL action, it was:
‧ Marlins 11, Nationals 2
‧ Diamondbacks 6, Padres 1
‧ Brewers 3, Cubs 2
‧ Dodgers 3, Rockies 1
‧ Cardinals 3, Astros 1
AMERICAN LEAGUE
AP, CLEVELAND, OHIO
Los Angeles' Jered Weaver asserted his claim to being the best pitcher in the AL by notching his eighth straight win, as the Angels edged the Cleveland Indians 2-1 on Tuesday.
Weaver (14-4) gave up one run over seven innings and lowered his ERA to 1.79, best in the Majors. In going 8-0 in 12 starts since May 23, he has a 1.27 ERA.
Los Angeles closer Jordan Walden, who blew a save Monday, earned his 24th save in 31 chances.
In the bottom of the ninth, Cleveland loaded the bases with no outs. Walden induced a double play, then a strike out to end it.
RED SOX 13, ROYALS 9
In Boston, David Ortiz had four hits and five RBIs to help power Boston past Kansas City.
With the previous night's game only ending at 2am, the teams backed up impressively, combining for 31 hits and 22 runs.
Dustin Pedroia had four of Boston's 16 hits; a total that forced the Royals to even turn to outfielder Mitch Maier for pitching and he rewarded the team with a scoreless inning.
Red Sox reliever Alfredo Aceves (6-1) threw 3-1/3 scoreless innings in relief to improve to 20-2 in his career. Nathan Adcock (1-1) got just one out for the Royals, allowing three earned runs and three walks.
YANKEES 4, MARINERS 1
In New York, Seattle slumped to a new low, managing only one hit and striking out 18 times against New York, going down to its 17th straight defeat.
Yankees starter C.C. Sabathia (15-5) did not allow a baserunner until the seventh inning and recorded his seventh straight win against Seattle. He struck out 14 of the 25 batters he faced — seven in a row at one point.
The Mariners are four shy of matching the Baltimore Orioles' AL-record 21-game losing streak to start the 1988 season. The 1961 Phillies dropped 23 straight for the modern major league mark.
Curtis Granderson homered off Doug Fister (3-12) to put New York ahead 1-0 in the fourth and Mark Teixeira connected for his 100th homer with the Yankees in the eighth.
In other AL action, it was:
‧ Twins 9, Rangers 8
‧ Tigers 5, White Sox 4
‧ Athletics 6, Rays 1
‧ Orioles 12, Blue Jays 4
Comments will be moderated. Keep comments relevant to the article. Remarks containing abusive and obscene language, personal attacks of any kind or promotion will be removed and the user banned. Final decision will be at the discretion of the Taipei Times.