Hairston helps Mets beat Phillies 11-3
NOT-SO-SECRET WEAPON: All-Star player Carlos Beltran was suffering from a fever, so he sat out from the game. Hairston was then inserted against the Phillies' starter
NATIONAL LEAGUE
Scott Hairston, subbing for ailing All-Star Carlos Beltran, hit a long homer and drove in a career-best five runs as the New York Mets hammered the Philadelphia Phillies 11-2 in the National League on Saturday.
Daniel Murphy also went deep to help the depleted Mets snap a three-game skid. Beltran sat out with a fever, so manager Terry Collins inserted a not-so-secret weapon against Philadelphia starter Cole Hamels (11-5).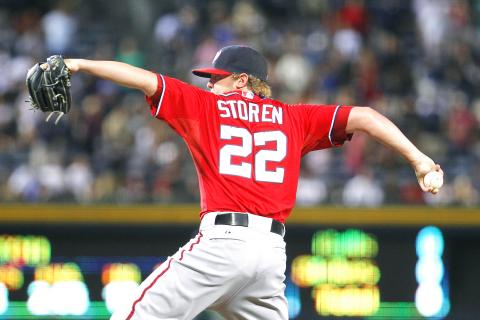 Drew Storen of the Washington Nationals closes the game against the Atlanta Braves at Turner Field in Atlanta, Georgia, on Saturday.
Photo: AFP
Hairston batted third in large part because he entered with a .353 career average (6 for 17) and three homers against Hamels.
New York starter Jonathan Niese (9-7) went seven innings, allowing one earned run and striking out six and walking one.
NATIONALS 5, BRAVES 2
In Atlanta, Georgia, John Lannan put in a strong pitching performance and had his first two hits of the season to help Washington beat Atlanta.
Lannan (6-6) gave up two runs in 5-2/3 innings and also drove in two runs, eight days after he -escaped with only a small cartilage break in his nose when he was hit by a line drive.
Wilson Ramos hit a two-run homer and run-scoring double for the Nationals.
Braves starter Tommy Hanson (10-5) was the loser.
DIAMONDBACKS 3, DODGERS 2
In Phoenix, Arizona, Brandon Allen hit a three-run homer in his first start back in the majors to help Arizona edge Los Angeles.
Allen, recalled from the minors on Friday, connected off Hiroki Kuroda (6-11) in the second inning.
Diamondbacks starter Ian Kennedy (10-3) overcame some late control problems to become Arizona's first 10-game winner. Fill-in closer David Hernandez worked a perfect ninth for his eighth save.
In other NL play, it was:
‧ Cardinals 4, Reds 1
‧ Padres 11, Giants 3
‧ Brewers 8, Rockies 7
‧ Marlins 13, Cubs 3
‧ Astros 6, Pirates 4
AMERICAN LEAGUE
AP, ST PETERSBURG, FLORIDA
Boston's Dustin Pedroia, Jacoby Ellsbury and Josh Reddick homered as the Red Sox rallied from an early three-run deficit to beat the Tampa Bay Rays 9-5 in the American League on Saturday.
Reddick's two-run homer got Boston rolling after Casey Kotchman, Matt Joyce and B.J. Upton all hit first-inning RBI singles to give Tampa Bay's All-Star pitcher James Shields (8-8) a quick lead.
Ellsbury went deep for the second day in a row with a solo shot off Shields in the fourth.
Boston starter John Lackey (7-8) struck out seven, while allowing four runs over 5-2/3 innings for the AL East leaders.
YANKEES 4, BLUE JAYS 1
In Toronto, C.C. Sabathia won his seventh straight start to -become the first 14-game winner in the majors, guiding New York past Toronto.
Sabathia (14-4) allowed one run in eight innings.
Brett Gardner had three hits, while Derek Jeter had two, matching Al Kaline for 26th place on baseball's career list.
Blue Jays starter Ricky Romero (7-9) has now failed to pitch into the seventh in three straight games after doing so in each of his previous eight outings. He allowed four runs in five innings as Toronto's five-game winning trot came to an end.
WHITE SOX 5, TIGERS 0
In Detroit, Michigan, Edwin Jackson pitched his first complete game since his no-hitter last year, steering Chicago past Detroit.
Jackson (6-7) earned his third career shutout, needing only 101 pitches, compared with the 149 he used as an Arizona pitcher last season to hold Tampa Bay hitless.
Juan Pierre had four hits and Carlos Quentin hit a solo homer for the White Sox.
Tigers starter Max Scherzer (10-5) allowed two runs in eight innings.
In other AL play, it was:
‧ Rangers 5, Mariners 1
‧ Angels 4, Athletics 2, 1st game
‧ Orioles 6, Indians 5
‧ Twins 4, Royals 3
Comments will be moderated. Keep comments relevant to the article. Remarks containing abusive and obscene language, personal attacks of any kind or promotion will be removed and the user banned. Final decision will be at the discretion of the Taipei Times.