Angles edge past Dodgers
DIVERGING? The Angles have won eight of their past 10, tieing them with Texas for first in the AL West, while the Dodgers have lost four of five and are last in the NL West
Russell Branyan's two-run homer in the seventh inning earned the Los Angeles Angels a 3-1 win over the Dodgers on Sunday, giving them the honors in the "Freeway Series" between the intra-state rivals.
The victory gave the Angels (44-41) four wins in the six-game season series with the Dodgers (37-48), and helped starting pitcher Ervin Santana end a month-long spell without a win.
Santana allowed a run-scoring double to James Loney in the sixth, but struck out eight batters in 7-2/3 innings to earn his first win since May 25.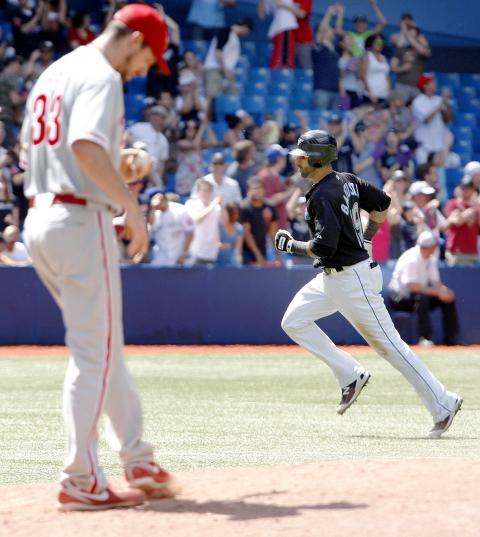 The Toronto Blue Jays' Jose Bautista, right, rounds the bases after hitting a home run off of the Philadelphia Phillies' Cliff Lee during their game on Sunday in Toronto.
Photos: AFP
"Whew — long time," a smiling Santana told reporters of his win. "It's OK. I've been pitching pretty good even though I haven't gotten wins. I have to keep it up, stay positive and keep pitching."
Jordan Walden made sure of the victory by pitching the ninth for his 19th save of the season.
The Angels' offense made their move in the seventh, tying the game on Bobby Abreu's run, before Branyan blasted the homer off Dodgers starter Chad Billingsley. Billingsley (7-7) pitched eight innings in the loss.
Branyan's timely homer was his first since the 35-year-old signed for the Angels as a free agent in May.
The Angels' eighth win in the past 10 games vaulted them into a tie for first place in the American League West with the Texas Rangers.
The Dodgers have lost four of their past five games and remain in last place in the NL West.
BLUE JAYS 7, PHILLIES 4
In Toronto, Jose Bautista hit his major league-leading 27th home run, one of three Toronto homers in a four-run eighth, as the Blue Jays ended Cliff Lee's scoreless innings streak at 34 to avoid a three-game sweep.
Edwin Encarnacion had a two-run shot and rookie Eric Thames also connected for the Blue Jays in the eighth to chase Lee.
Octavio Dotel (2-1) pitched 1-2/3 innings for the win.
Lee (9-6) gave up a season-high seven runs — six earned — and 10 hits in 7-1/3 innings. He walked none and struck out nine.
The left-hander extended his scoreless innings streak to 34, before giving up a run in the third.
MARLINS 6, RANGERS 4
In Arlington, Texas, Logan Morrison hit a tiebreaking two-run double in the eighth inning as Florida posted a winning road trip under interim manager Jack McKeon, who is 80.
Rangers starter C.J. Wilson, picked as an All-Star by his manager earlier in the day, struck out nine, but left with one out in the eighth and the tying run at third base. Florida got even and went ahead against three relievers.
The Marlins, last in the NL East, won two of three in the series to wrap up a 5-4 trip. They have a 6-6 win-loss record since McKeon became their manager again after Edwin Rodriguez resigned.
RED SOX 2, ASTROS 1
In Houston, Texas, Boston scored the go-ahead run on a walk by Mark Melancon in the ninth inning to secure a series sweep.
Josh Beckett (7-3) allowed five hits, a run and no walks while striking out a season-high 11 in eight innings.
Drew Sutton pinch-hit for Beckett to open the ninth and drew a one-out walk. Jacoby Ellsbury followed with a single to right field, before Dustin Pedroia grounded into a forceout to leave runners at the corners.
The Astros intentionally walked Adrian Gonzalez, the major league RBI leader, to load the bases, before Melancon (5-2), the Astros closer, walked Kevin Youkilis to make it 2-1.
In other interleague action, it was:
‧ Reds 7, Indians 5
‧ Rays 8, Cardinals 3
‧ Tigers 6, Giants 3
‧ Orioles 5, Braves 4
‧ Cubs 3, White Sox 1
‧ Twins 9, Brewers 7
‧ Royals 16, Rockies 8
‧ Mariners 3, Padres 1
‧ Mets 3, Yankees 2, 10 innings
‧ Athletics 7, Diamondbacks 2
In the National League, it was:
‧ Pirates 10, Nationals 2
Comments will be moderated. Keep comments relevant to the article. Remarks containing abusive and obscene language, personal attacks of any kind or promotion will be removed and the user banned. Final decision will be at the discretion of the Taipei Times.