Palestine set up qualifying clash against Thailand
The Palestine team made the most of their rare home advantage on Sunday, advancing to the second round of Asian World Cup qualifying after a 1-1 draw with Afghanistan gave them a 3-1 aggregate victory.
One of the few FIFA members which is not a UN-recognized state, Palestine face Thailand in the next round.
Palestine defender Hasam Wadi scored in the 11th minute, before Balal Arezou equalized in the 63rd minute for Afghanistan.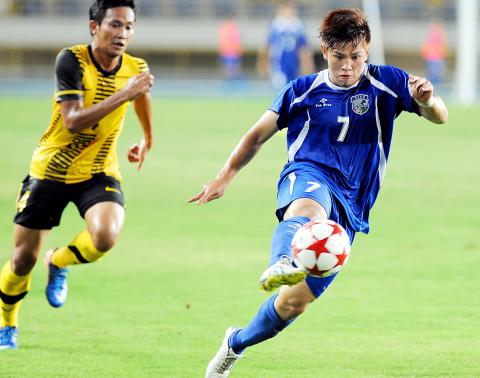 Taiwan's Chang Han, right, scores his side's first goal against Malaysia in their World Cup qualifying match in Taipei on Sunday.
Photo: Chu Pei-hsiung, Taipei Times
Palestine defeated Afghanistan 2-0 in the first leg of their World Cup qualifier, played in Tajikistan because of the security situation in Afghanistan.
In other first-round qualifiers, Malaysia scraped through on away goals despite losing 3-2 in Taipei; Laos advanced 8-6 on aggregate after scoring twice in extra-time against Cambodia for a 6-2 home win; Vietnam thrashed Macau 13-0 on aggregate; The Philippines won 4-0 at home to advance 5-1 over Sri Lanka; Myanmar scored twice at home to advance 2-1 on aggregate over Mongolia; Bangladesh held Pakistan 0-0 away to progress 3-0 on aggregate; and Nepal advanced 7-1 on aggregate over East Timor.
HIGH PROFILE
The World Cup qualifier was the highest profile soccer match on Palestinian territory to date.
"This is the most important game ever in Palestine," Palestinian Football Federation chief Jibril Rajoub said.
Rajoub is a former Palestinian security chief who spent 17 years in Israeli prisons. He left politics in 2006 and was appointed head of the Palestinian Football Federation and Olympic committee two years later.
Palestine remain a long shot to make it all the way to the 2014 World Cup in Brazil. Ranked No. 171 in the world by FIFA — just six spots behind Afghanistan — they need to make it through the second round to be included among the 20 teams entered in the main draw for World Cup qualifying.
Palestinian athletes need Israeli permits for most travel, either to cross Israel from Gaza or to enter or leave the West Bank — a hurdle that has often kept players from key matches.
Israel's Olympic Committee said it is trying to facilitate greater movement for Palestinian athletes and Israel's military said it began easing restrictions on Palestinian athletes last year. Israel competes in European qualifying for the World Cup.
COMPREHENSIVE
Le Cong Vinh scored eight goals to lead Vietnam to comprehensive home and away wins over Macau.
He scored a hat-trick in the 6-0 win in Ho Chi Minh City last week and matched that in the first half on Sunday, then added two more in the second half of the 7-1 win.
The first leg of the second round of Asian qualifying starts on July 23, with China hosting Laos, Iraq at home to Yemen, Saudi Arabia meeting Hong Kong, Iran taking on the Maldives, Nepal traveling to Jordan and Vietnam at Qatar among the 15 matches.
A draw for the third round, when the likes of Japan, South Korea and Australia enter qualifying, will be held July 30.
Comments will be moderated. Keep comments relevant to the article. Remarks containing abusive and obscene language, personal attacks of any kind or promotion will be removed and the user banned. Final decision will be at the discretion of the Taipei Times.