Sports Briefs
ICE HOCKEY
Richards signs with Rangers
Center Brad Richards, the biggest prize in this year's National Hockey League free agent sweepstakes, signed with the New York Rangers, NHL.com reported on Saturday. Richards, a proven and reliable scorer backed up with a championship pedigree, had been hotly pursued by several teams, including the Toronto Maple Leafs, Los Angeles Kings and Calgary Flames, but in the end decided on the Rangers and a nine-year deal worth a reported US$58.5 million, according to media reports.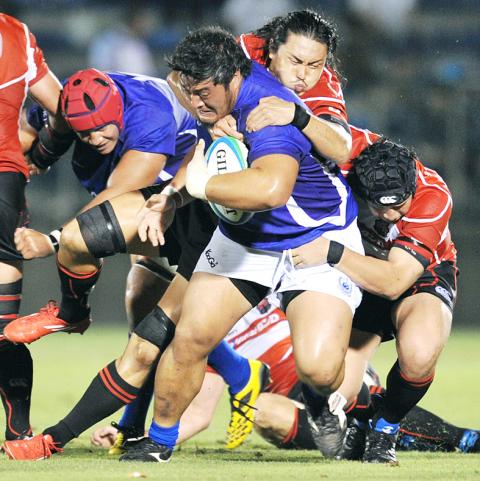 Samoa's Logovii Mulipola is tackled by Japan's Itaru Taniguchi, top, and Hisateru Hirashima, right, at the Prince Chichibu Memorial Ground in Tokyo on Saturday.
Photo: AFP
RUGBY UNION
Samoa defeat Japan 34-15
Wing back Alesana Tuilagi scored two tries to lead Samoa to a 34-15 victory over Japan in the four-team Pacific Nations Cup in Tokyo on Saturday. Tuilagi opened the scoring in the second minute with full back James Sooialo, making it 7-0. Sooialo added a penalty in the 12th minute before Tuilagi scored another try three minutes later which was successfully converted. Ryukoliniashi Holani pulled one back in the 20th minute to trail 5-17, but Samoa added two more tries to fend off the Japanese challenge.
SWIMMING
Teen rejects parents for love
A rising New Zealand teen swimming star has divorced himself from his parents so he can continue a relationship with a US gold medalist seven years his senior, it was reported yesterday. Justin Wright, 17, took legal action against his parents after they tried to block him from representing New Zealand because they disapproved of his relationship with Rhi Jeffrey, 24, the Sunday Star-Times said. Jeffrey, a member of the gold-medal-winning US 4x200m freestyle relay team at the 2004 Athens Olympics, retired in 2007, but has since moved to New Zealand to revive her career in an attempt to qualify for the 2012 Games in London. When Wright and Jeffrey struck up a relationship, his parents withdrew consent for him to compete in national swimming events and bombarded swimming club members with e-mails about the relationship. One e-mail claimed Jeffrey had "stolen [Justin] from the cradle," the report said. In what is believed to be a legal first in New Zealand, Wright has now won court permission to be a member of Swimming New Zealand against his parents' wishes. The 17-year-old schoolboy said he was not sure if he could mend his relationship with his parents, but he was now living with Jeffrey and would not give her up.
CRICKET
Serious dissent costs Broad
England's Stuart Broad has been fined 50 percent of his match fee for showing "serious dissent" at an umpire's decision during the second one-day international against Sri Lanka, the International Cricket Council (ICC) said yesterday. The paceman, England's Twenty20 captain, made "some unacceptable and offensive remarks" to umpire Billy Bowden as he left the field at the end of the Sri Lankan innings, the statement said. A Broad appeal for an LBW was turned down in the last over of the innings and the remarks were made regarding the decision.
Comments will be moderated. Keep comments relevant to the article. Remarks containing abusive and obscene language, personal attacks of any kind or promotion will be removed and the user banned. Final decision will be at the discretion of the Taipei Times.