FEATURE: Asians account for brunt of fishing deaths in Australia
Rock fishing is one of the most dangerous recreational sports in Australia, and it is mostly Asians who are dying.
It is a high-risk hobby, with anglers standing on exposed rock platforms, often with waves crashing around them, willing to take the risk in the hope of hauling in a better catch than they can get from fishing off a beach.
The problem is that the rocks can be slippery and the waves unpredictable, while many anglers fail to wear life jackets or other safety gear. The most recent figures available, for the 2009 to 2010 season, show that of the 82 coastal drowning deaths in Australia, nearly a quarter were from rock fishing and most of those who died came from an Asian background.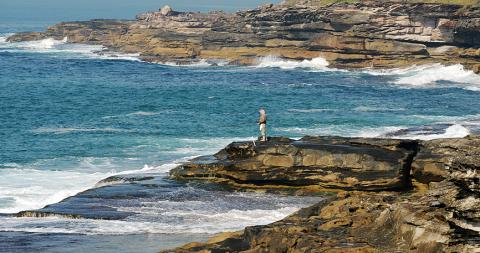 A man fishes from a rocky outcrop at Curl Curl on the northern beaches of Sydney, Australia, on May 20.
Photo: AFP
Last month, two Chinese men drowned after being swept off rocks in Sydney harbor, ignoring warnings just days before about the danger of large swells.
Their deaths continued a worrying trend from the previous year, which saw Asian anglers represent 84 percent of all rock fishing related drowning deaths, according to Surf Lifesaving Australia.
This included a group of five Chinese who were swept off rocks in 2009 at Catherine Hill Bay, south of Newcastle, in the worst fishing tragedy in New South Wales state in 20 years.
None were wearing life jackets and one body was never recovered.
"The peak period for rock fishing incidents begins now and we are urging families, particularly in high-risk Asian communities, to actively look after their loved ones," Surf LifeSaving Australia official Anthony Bradstreet said. "If in doubt the message is simple: Don't put your life on the line and avoid rock fishing all together."
Surf LifeSaving is so concerned it has begun working with fishing groups to deliver a multilingual education campaign in ethnic media.
It has also started rock fishing safety workshops for high-risk groups and a program to mentor bilingual educators.
The New South Wales government's Safe Waters Web site, meanwhile, now provides information in not just English, but Chinese, Korean and Vietnamese.
Stan Konstantaras, the president of the Australian National Sportfishing Association, said the attraction was getting fresh fish on the table without paying for it.
"It is a big drawcard for struggling migrants — putting fresh fish on the table for the family," he said, adding that most of those who died did not live locally and were unfamiliar with the surf and tides. "They travel for up to an hour to fish and they are not going to turn around and go home again if the conditions are not good."
"Many are non-English-speaking and not familiar with the dynamics of the coast. They also come from a culture where swimming is not really promoted as part of the lifestyle, so once they're in the water, they're in trouble," Konstantaras said.
Tran Anh Tu, a Vietnamese man who lives in Cabramatta, an inland suburb also known as Sydney's Little Saigon, likes to go fishing every weekend.
Scrambling up a cliff from a rock platform at North Head in Manly, he said he was prepared to take the risks to get fresh fish.
"I come here with my friends because we can easily catch fish to take home," he said. "I don't think it's so dangerous. I can't swim well, but I'm very careful. If the waves are too big, I won't fish."
However, Tran said he did not know how to read the tides or swells and was wearing no safety gear.
"The problem is it can be safe one day at a particular fishing spot and five or six hours later it can be deadly," said Konstantaras, adding that winter tends to be the deadliest time. "The water temperatures drop and people are wearing more clothes, making it harder to swim."
While it is Asians who make up the most fatalities, Konstantaras said he expected African deaths to start showing up soon.
"It is a trend thing," he said. "Twenty or 30 years ago, it was European migrants drowning on Australian coasts, now it is predominantly Asians, but we are now starting see African migrants rock fishing, particularly in Victoria state."
"They are also going to be a focus of our education campaigns in the years ahead," he said.
Comments will be moderated. Keep comments relevant to the article. Remarks containing abusive and obscene language, personal attacks of any kind or promotion will be removed and the user banned. Final decision will be at the discretion of the Taipei Times.