Yankees squeak by Cubs at Wrigley Field
The New York Yankees held off the Chicago Cubs for a narrow 4-3 win in interleague play at a sold-out Wrigley Field on Saturday.
Eduardo Nunez's double in the ninth inning scored Robinson Cano to push the Yankees lead to 4-2, but when Nick Swisher tried to extend the lead further from first base on the hit, he was thrown out at home plate for New York's final out.
The insurance run proved to be just enough as Mariano Rivera gave up a solo home run to Reed Johnson in the bottom of the ninth, but the Panamanian preserved the victory for Yankees starter A.J. Burnett with his 17th save of the season.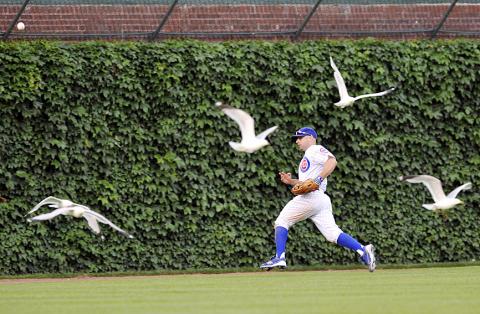 The Chicago Cubs' Reed Johnson chases down a ball in center field as seagulls fly by during their game against the New York Yankees on Saturday in Chicago.
Photo: AFP
Gardner's defense also played a pivotal role in New York's victory.
With the Yankees leading 3-2, Gardner caught a fly ball by Geovany Soto and threw a strike to home plate to get Carlos Pena out for an inning-ending double play.
Pena collided heavily with Yankees catcher Russell Martin in an attempt to knock the ball loose, but to no avail.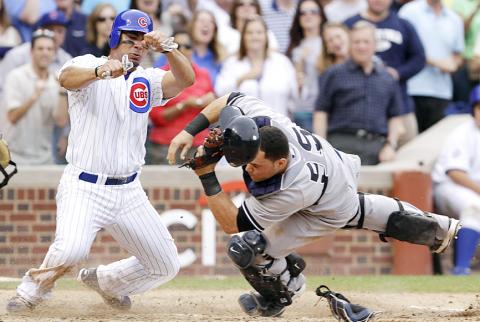 The Chicago Cubs' Carlos Pena, left, crashes into the New York Yankees' Russell Martin at home plate during the sixth inning of their game on Saturday in Chicago.
Photo: Reuters
The Yankees built a 2-0 lead in the third inning, but Pena's two-run homer pulled the Cubs even in the fourth. Nunez scored in the top of the sixth inning on a sacrifice fly by Curtis Granderson to give the Yankees a 3-2 lead.
Starter Ryan Dempster took the loss for the Cubs, allowing three runs on eight hits and six walks while striking out six in 5-1/3 innings.
Twins 1, Padres 0
In Minneapolis, Minnesota, Scott Baker struck out 10 over eight dominant innings, while Danny Valencia homered to lift surging Minnesota.
Baker (5-4) allowed four hits and walked one as the Twins won for the sixth time in a row and 13th time in 15 games. Matt Capps pitched the ninth for his 11th save.
Tim Stauffer (2-5) was nearly as good, allowing one run on six hits with five strikeouts in seven innings. However, the punchless Padres offense were no match for Baker and San Diego lost their fourth straight and eighth in 10 games.
Luke Hughes added two hits for Minnesota.
Nationals 4, Orioles 2
In Washington, Michael Morse put Washington ahead with a sixth-inning homer, Ryan Zimmerman also connected and Washington won their eighth straight.
Zimmerman had two hits, including a double that ignited a three-run burst in the sixth.
The Nationals' winning streak is their longest since an eight-game run in 2009.
Jordan Zimmermann (5-6) gave up two runs and eight hits in 6-1/3 innings to win a third consecutive decision.
Orioles starter Brian Matusz (1-2) absorbed his second straight loss and left in the sixth inning with cramping in his left hamstring.
Brewers 4, Red Sox 2
In Boston, Rickie Weeks and Corey Hart homered on consecutive pitches in the first inning to help Milwaukee spoil Jon Lester's bid to become the majors' first 10-game winner.
Randy Wolf (5-4) battled through seven tough innings, while George Kottaras also hit a solo homer for the Brewers, who won for just the second time in six games. Wolf scattered nine hits, walked one and fanned three, ending a string of four straight no-decisions.
John Axford got three outs for his 19th save.
Jarrod Saltalamacchia and Mike Cameron had consecutive RBI singles for Boston, who lost for the second time in 14 games. Lester (9-3) allowed four runs — three earned — and seven hits.
Indians 5, Pirates 1
In Cleveland, Ohio, Carlos Carrasco took a no-hitter into the sixth inning and won his third straight start for Cleveland.
Carrasco (7-3) extended his scoreless streak to 21-1/3 innings, before finishing up allowing one run and four hits in 6-1/3 innings. Rookie Michael McKenry broke up his no-hit bid with a leadoff single in the sixth off second baseman Orlando Cabrera's glove.
Cabrera hit a solo homer, while Grady Sizemore scored two runs and drove in another off Paul Maholm (3-8).
Cleveland have won four of six games after losing nine of 10. Pittsburgh lost their second straight following a four-game winning streak.
Cardinals 5, Royals 4
In St Louis, Missouri, Matt Holliday hit a two-run homer in the eighth inning that helped St Louis end a season-high seven-game losing streak.
Holliday hit an 0-1 pitch from reliever Greg Holland (1-1) and is 5 for 9 with two homers and four RBIs since coming back from a quadriceps injury.
Kansas City, who won the first game of the series, have lost three of four.
Jason Motte (3-1) earned the win in relief. Closer Fernando Salas converted his 12th save in 13 chances.
Blue Jays 4, Reds 0
In Cinncinati, Ohio, Jose Molina doubled and homered, while Brandon Morrow bounced back from one of his worst starts to help Toronto keep Cincinnati winless in interleague play.
Morrow (3-4) gave up five hits in 6-2/3 innings, two of them by Jay Bruce. Jose Bautista also had a pair of hits, including an RBI single off Edinson Volquez (5-7).
Cincinnati fell to 0-5 against the American League this season. The Reds were swept in Cleveland last month.
In other MLB action, it was:
‧ Rays 7, Marlins 4
‧ Mets 6, Angels 1
‧ White Sox 6, Diamondbacks 2
‧ Rockies 5, Tigers 4
‧ Astros 7, Dodgers 0
‧ Phillies 5, Mariners 1
‧ Athletics 4, Giants 2
‧ Rangers 5, Braves 4, 10 inn
Comments will be moderated. Keep comments relevant to the article. Remarks containing abusive and obscene language, personal attacks of any kind or promotion will be removed and the user banned. Final decision will be at the discretion of the Taipei Times.