James 'street fights' his way past Bulls
SCRAPPY: The Bulls, backed by an exuberant home crowd in Chicago, chipped away at the Miami Heat's lead in the final quarter, but failed to turn the tide before the end
LeBron James produced some more fourth-quarter magic to propel the Miami Heat to a scrappy 85-75 win over the Chicago Bulls on Wednesday, evening their NBA Eastern Conference final at a game each.
Dead-locked at 73-73 late in the fourth and the Bulls on the charge, James took over, scoring nine of Miami's final 12 points to earn the Heat a split in the Windy City.
The best-of-seven series moves to South Beach, Florida, for Games 3 and 4 on Sunday and on Tuesday.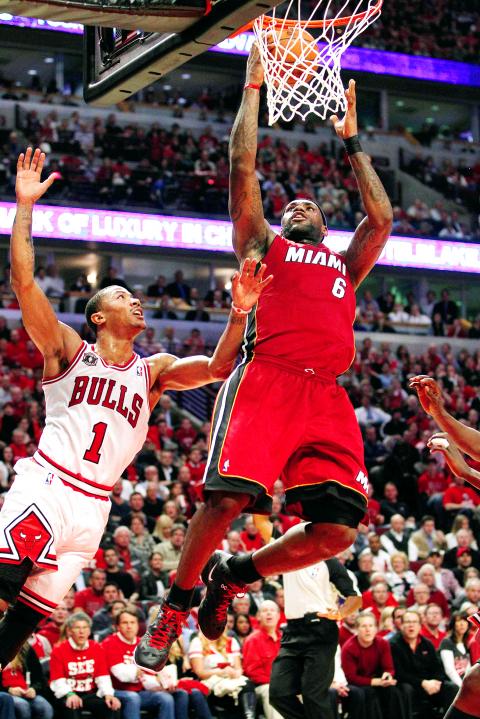 LeBron James of the Miami Heat, right, drives for a shot attempt against Derrick Rose of the Chicago Bulls in Game 2 of the Eastern Conference Finals in this year's NBA playoffs at the United Center in Chicago on Wednesday.
Photo: AFP
"I put it all on the line tonight, I did whatever it took for our team to win," James, who has been battling a cold, told reporters. "I'm glad we've got a few days to get back down into that great weather we have in Miami."
"Hopefully, I can get over it before we play Game 3. It's whatever it takes at this point," he said.
James has made a habit of coming through in the clutch for the Heat this post-season in his chase for an elusive first NBA title.
Wednesday's heroics mirrored those James delivered in the East semi-finals against Boston when he scored Miami's last 10 points in a 97-87 win that eliminated the Celtics.
James finished with a game-high 29 points and 10 rebounds, while Dwyane Wade contributed 24 points and nine boards.
Chris Bosh, the other member of the Miami's Big Three, chipped in with 10 points and eight rebounds.
"That fourth quarter is going to be what will epitomize this entire series," Miami coach Erik Spoelstra said. "It's an absolute street fight."
"I anticipate a lot of quarters like that fourth quarter," he said. "I've seen it enough with Dwyane and now with LeBron that they respond and often play their best when their back is against the wall."
Chicago got 21 points from Derrick Rose, but the NBA's most -valuable player had little help, Luol Deng the only other member of the Bulls to hit double figures with 13 points.
The Bulls misfired on their first five shots, but quickly found their groove, led by nine quick points from Deng, who sank a half-court three at the buzzer to give Chicago a 26-19 first-quarter advantage.
A driving layup from James with seven seconds left on the clock allowed Miami to head into the intermission with a slim 48-46 lead, which they built up to 11 points in the third.
However, the Bulls, backed by a vociferous capacity crowd, began to chip away at Miami's lead and trimmed the deficit to 71-65 going into the final quarter.
Chicago opened the fourth with an 8-2 run to get back on level terms at 73-73, but would never retake the lead as James caught fire, ending the threat with five consecutive points to spark a final 12-2 run that iced the victory.
Comments will be moderated. Keep comments relevant to the article. Remarks containing abusive and obscene language, personal attacks of any kind or promotion will be removed and the user banned. Final decision will be at the discretion of the Taipei Times.