Verlander throws no-hitter for win against Blue Jays
AMERICAN LEAGUE
Justin Verlander threw his second career no-hitter and the second in MLB this week as the Detroit Tigers beat the Toronto Blue Jays 9-0 in the American League on Saturday.
The only runner Verlander allowed came with one out in the eighth inning, when J.P. Arencibia walked on a full count.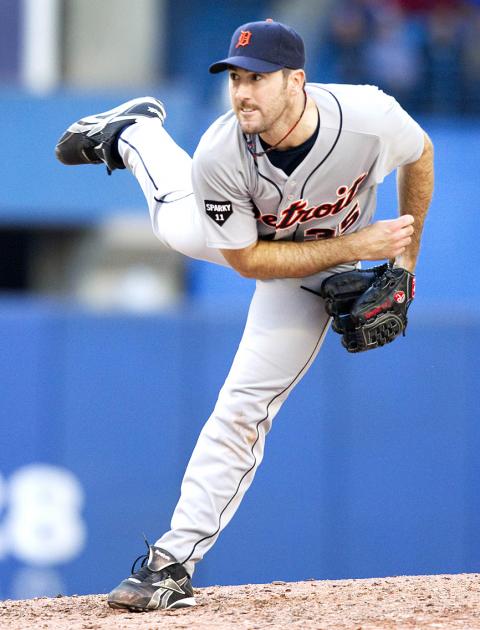 Detroit Tigers starting pitcher Justin Verlander throws against the Toronto Blue Jays in the ninth inning of their MLB game in Toronto on Saturday.
Photo: Reuters
Minnesota's Francisco Liriano pitched a no-hitter against Chicago on Tuesday night.
Verlander (3-3) struck out 12 in his first no-hitter against Milwaukee on June 12, 2007. This time, he fanned Rajai Davis to end it with his fourth strikeout of the game. The right-hander threw 108 pitches.
Alex Avila and Jhonny Peralta also homered for the Tigers, who have won four of five.
Ricky Romero (2-4), who has lost four of his past five starts, allowed six runs and five hits in 3-1/3 innings.
INDIANS 4, ANGELS 3
In Anaheim, California, Alex White pitched six innings for his first MLB win and South Korea's Choo Shin-soo doubled home two runs to end an 0-for-18 drought since his arrest on drunk driving charges.
White (1-0) allowed three runs and seven hits, including a two-run homer by Vernon Wells, in his second start in the majors. He struck out six and walked two.
Chris Perez worked a perfect ninth for his 10th save in 11 chances.
Jered Weaver (6-2) went six innings, allowing four runs, seven hits and two walks with no strikeouts.
Choo was arrested by Ohio police on Monday last week after he failed a field sobriety test.
RED SOX 4, TWINS 0
In Boston, Clay Buchholz combined with four relievers on a three-hitter as Boston bounced back from two lopsided losses.
Jacoby Ellsbury had two hits and drove in two runs for the Red Sox, who had lost three straight games, including the last two by a combined score of 20-2. Jed Lowrie and Kevin Youkilis each had RBI singles.
Minnesota, which had won three straight, managed just three singles.
Buchholz (3-3) allowed two singles and struck out six batters in five innings. Brian Duensing (2-2) pitched two innings, allowing one run and three hits.
In other AL play, it was:
‧ Rays 8, Orioles 2
‧ Royals 4, Athletics 3
‧ Rangers 7, Yankees 5
‧ White Sox 6, Mariners 0
NATIONAL LEAGUE
REUTERS, NEW YORK
A clutch hit from pinch hitter Justin Turner in the eighth inning gave the New York Mets a 4-2 win over the slumping Los Angeles Dodgers at Citi Field on Saturday.
Turner, batting for pitcher Tim Byrdak, drove a ball off the outstretched glove of centerfielder Matt Kemp to score Jason Bay and Jason Pridie for New York's third straight win.
Dodgers (15-19) left fielder Andre Ethier was 0-for-4 at the plate with a walk ending his consecutive game hit streak at 30 games.
Byrdak pitched a scoreless eighth inning to collect the win and Francisco Rodriguez pitched a perfect ninth inning for his ninth save of the season.
New York (15-18) scored two runs in the second inning to open a 2-0 lead for Dillon Gee, who was a late replacement for scheduled starter Chris Young who could not get loosened up in the bullpen.
In other NL action, it was:
‧ Cubs 3, Reds 2
‧ Brewers 4, Cardnials 0
‧ Phillies 3, Braves 0
‧ Pirates 6, Astros 1
‧ Nationals 5, Marlins 2
‧ Diamondbacks 6, Padres 0
‧ Giants 3, Rockies 2
Comments will be moderated. Keep comments relevant to the article. Remarks containing abusive and obscene language, personal attacks of any kind or promotion will be removed and the user banned. Final decision will be at the discretion of the Taipei Times.