New era of Formula One fails to materialize
Another season of playing catch-up with the blistering pace of Sebastian Vettel's Red Bull looks on the cards for his rivals after a new era of Formula One failed to materialize at the weekend's Australian Grand Prix.
Ferrari driver Fernando Alonso was one of those who had predicted that the switch to new tires at the season opener would lead to a radical overhaul of team strategies, with more chance of overtaking and some topsy-turvy races.
Instead, it all looked remarkably familiar as world champion Vettel blew away the opposition in qualifying and steered his Red Bull from pole to take the checkered flag 22 seconds clear of the field.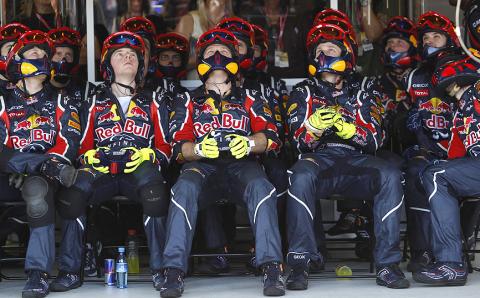 Red Bull Formula One technicians watch the Australian Grand Prix at the Albert Park circuit in Melbourne, Australia, on Sunday. Sebastian Vettel of Red Bull Racing won the race, followed by Lewis Hamilton of McLaren Mercedes in second place and Vitaly Petrov of Lotus Renault GP in third.
Photo: EPA
It was a third successive victory for the 23-year-old German and it would have been a fifth had his engine not blown up at the inaugural South Korean race.
Ominously for the other teams, reliability problems meant Vettel did not have the KERS power boosting system on his car and he used the other driver-activated innovation for this season, the adjustable rear wing, sparingly.
"Obviously we work very, very hard on that," Vettel said of the KERS system. "It's something we're not proud of, but we need to keep working hard and improve for two weeks' time. We have to get it working for Malaysia."
Briton Lewis Hamilton finished second and would surely have been more downbeat at such a comprehensive defeat were it not for the remarkable turnaround McLaren achieved in giving him a competitive car at all after a wretched pre-season testing.
The 2008 world champion and his 2009 champion teammate Jenson Button will be hoping that such rapid progress will be continued with upgrades for the next race, which will take place in the heat and humidity of Malaysia on April 10.
"I really can't wait to see what they can bring for me," Hamilton told the BBC. "That was one of the easiest races physically that I have ever had and I come here fitter than I have ever been, so I am looking forward to going to the next race, which is probably the toughest race of the year. Hopefully, with an even better car, I think we can challenge for a win maybe."
For Ferrari, fourth place for Alonso and Massa's ninth — upgraded to seventh after the Saubers were disqualified — was a poor return for the famous Italian team, who expected to be at least on the podium after a promising pre-season.
"There is no point in denying that we leave Australia with a sense of disappointment," team boss Stefano Domenicali said. "Now we will have to study everything carefully to work out what prevented us from being as competitive as we had expected this weekend. Then we will have to react immediately, starting with the next race in Malaysia."
As for the new Pirelli tires, which were designed to degrade more quickly and force teams into as many as four pit stops per race, they proved hardier than had been expected and the top three at Albert Park all ran a two-stop strategy.
That Sauber rookie Sergio Perez managed to get through the race with just one change of tires will concentrate minds among the team strategists as they draw up their plans for the next round at Sepang. Sadly for the Mexican, his brilliant drive to finish seventh on his Formula One debut was ruined when he and his Japanese teammate Kamui Kobayashi were disqualified because of a technical infringement in the rear wing of the Sauber.
Sauber will appeal.
Aside perhaps from Perez, no one was more disappointed with the season-opener than Vettel's teammate Mark Webber.
The 34-year-old, who famously said "not bad for a No. 2" on the team radio after winning last year's British Grand Prix, was mystified as to how he had been so slow compared with the world champion after finishing fifth in his home race.
"It's a very unusual gap to see such a big distance between the two guys," team boss Christian Horner said after Sunday's race. "We need to go through things with a fine tooth comb and understand where those differences are. We couldn't find it yesterday, but we will have certainly a very, very good look before Malaysia."
Comments will be moderated. Keep comments relevant to the article. Remarks containing abusive and obscene language, personal attacks of any kind or promotion will be removed and the user banned. Final decision will be at the discretion of the Taipei Times.