Kevin Harvick wins NASCAR's Sprint Cup after trailing for the entire race
Kevin Harvick overtook California king Jimmie Johnson on the final turn at the Auto Club Speedway on Sunday to win NASCAR's Sprint Cup event after trailing the entire race.
"I wish we could just go out there and wear 'em out one day, just not have to worry about waiting until the last lap," Harvick said. "It does kind of seem we wait until the last moments to really get going. It's probably somewhat of a bad habit I have, but I guess it worked out."
Kyle Busch had the dominant car most of the day and led a race-high 151 laps, including off a restart with nine laps left.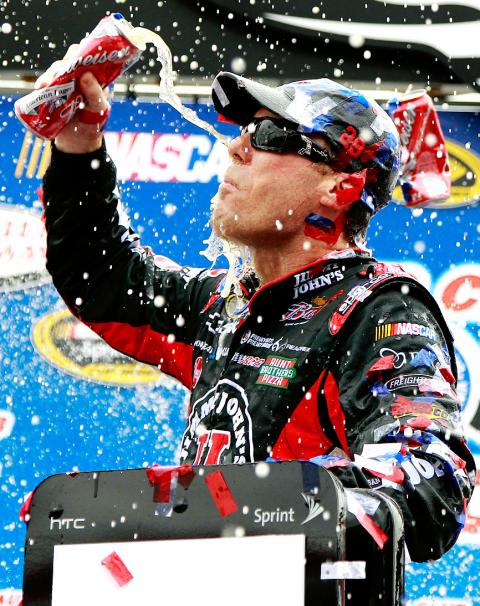 Kevin Harvick, driver of the No. 29 Jimmy John's Chevrolet, celebrates in the victory lane after winning the NASCAR Sprint Cup Series Auto Club 400 at the Auto Club Speedway in Fontana, California, on Sunday.
Warning: Excessive consumption of alcohol can damage your health
Photo: AFP
Johnson, a five-time winner at Fontana, had the late burst, chasing down Busch for the lead with two laps left.
However, it was Harvick — as he always seems to do — who nailed the finish. He started 24th and gradually worked his way to the front, pulling up behind Johnson after getting past Busch.
Taking advantage of a small gap to the outside, Harvick made his move on Johnson going into Turn 3, then completed it coming around Turn 4. Ahead going down the last straight, he finished off to take the checkers for the 15th time in his career.
"I really felt good when they had that restart because I knew his car was really fast on the long run," said Richard Childress, owner of Harvick's No. 29 car. "I knew if they didn't get too far out in front of us, we'd have a shot. All we needed was to get him side-by-side and start racing. That gave Kevin a chance to catch them and he made the right move going into 3."
There was not much change up front in the early stages because of a lack of cautions; the opening 75 laps came under green to set a track record. Overnight rain, which lingered as mist until a couple of hours before the race, also played a role. Drivers who were able to get the setup right were able to get out front and stay there while everyone else tinkered.
Busch had a rough start to his Sprint Cup weekend, forced to a backup car after sliding into the wall on his first practice lap on Friday, but still managed to qualify eighth.
Busch took his first lead on Lap 22 and lost it a few times on green-flag pit stops, but was back in front within a few laps, pulling away on each of the four restarts.
He just didn't have enough left after the leaders stayed out on the last caution, spoiling his chance to pull off the NASCAR weekend sweep two weeks in a row.
"It's real unfortunate and disappointing and frustrating all in one that we weren't able to seal the deal today," Busch said. "You ask a little bit more from your race car at the last moments and it just doesn't have anything left to give. We were just a sitting duck waiting for those guys to go around us."
Johnson looked as if he were going to notch his fourth win in six starts at California. He started 16th and worked his way toward the front, tracking Busch down for the late pass after losing a race off the line on the final restart.
Johnson just couldn't hold off Harvick on those final two turns, earning another solid finish at Auto Club Speedway that he had hoped would be one place higher.
"Looking back, maybe if I could have got by Kyle a lot earlier, maybe it could have made a difference," Johnson said. "But he [Harvick] was rolling off the top really, really fast."
Pole sitter Juan Pablo Montoya never had much of a chance at winning his first oval race. A two-time winner on road courses, he led the first six laps, but wasn't a factor after that, drifting deeper into the field before making a late charge to finish 10th.
Other than Busch, Joe Gibbs Racing had a forgetful day thanks to more engine problems.
Joey Logano qualified third, but had to start at the back after switching engines. He finished 25th. Denny Hamlin qualified second and led 15 laps early before dropping back quickly after engine problems hit around lap 80. He had to go off at the race's midpoint and never made it back.
Comments will be moderated. Keep comments relevant to the article. Remarks containing abusive and obscene language, personal attacks of any kind or promotion will be removed and the user banned. Final decision will be at the discretion of the Taipei Times.